Your Country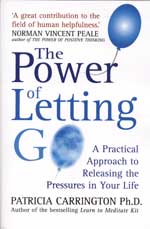 Have you ever wondered why the harder you try to do really well at something, that somehow the less you actually achieve? And why that whenever you are relaxed and just enjoy the game, exam, assignment, the results invariably turn out very well, even better that you had hoped for. The Power Of Letting Go by Patricia Carrington PhD, explains exactly why and takes you through a series of everyday situations as examples of how you can deploy this method to let go of outcome and thus regain some 'control' over how you react to an emotionally challenging situation.
If you are the type of person who finds it helpful to work with strategies and methods, then you will find this book potentially life changing as well as informative. Although as with any tool, the more practised the tool user becomes, the more useful the tools become.
It is evident that a great deal of thought and care has gone into the presentation coverage of situations that may be encountered. There is a chapter on 'Releasing on Pain, Illness or Death' and a section on 'For Those Taking Prescribed Medication', as well as those that might be expected such as dealing with evaluations, sexual and couples and parent-child problems.
Indeed it is in Part Two – where these topics are addressed, that I feel this book comes into its own, as it shows through numerous real life examples how the releasing methods fit into the bigger picture of our whole life, not just the specific situation, and as such begins to make more 'sense'. Which in turn made me want to go back and try out the techniques again with the desire of feeling the Releasing methods work – which had been absent when first reading part one.
It is also in part two that Dr Carrington touches on what I believe to be the truth of our experience, which is that it is our deep seated beliefs about self that are reflected back to us in our everyday experience. And this is achieved very powerfully through the illumination of this truth in the many different case histories quoted.
I feel that there is a much clearer, more concise, easier to understand book that lies within Part One of The Power of Letting Go. This section is written as though the method is more important than the wisdom it is meant to impart. Profound statements are glossed over and simplistic examples and illustrations laboured over. There are many, many types of release mechanisms, each with its own name and sometimes counter name, such as control and overcontrol which makes for a sense of weariness when reading and working to understand the methods as instructed. There are also statements such as the assertion that we do not have the power to change air pollution and the political economic situation that I fundamentally disagree with, and would no doubt cause organisations such as Geenpeace to shake their heads in exasperation.
Nonetheless The Power of Letting Go makes a valuable and practical contribution to helping people to use the power of their minds to change the way they react to any life situation. And I have no doubt that those who are prepared to learn this series of methods will experience the understanding that is personal freedom.
Reviewer

Publisher

Chrysalis Books Vega

Year

2001

Format

Paperback

Price

0

Isbn

1-84333-012-1