Your Country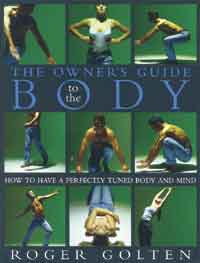 The highly eclectic and diverse subject nature of this book will be of interest to a wide audience, both professional bodyworkers and general readers alike.
The author is a Hellerwork practitioner, which, as is recounted, originated with Joseph Heller (who has written the Foreword). Joseph Heller trained with Dr Ida Rolf in 1972, became the first President of the Rolf Institute in 1976, and left the Rolf Institute in 1978 to create his own teaching. Along the way he organized workshops and seminars for Buckminster Fuller (of geodesic dome fame), John Lilly (human/dolphin communications), and Virginia Satir (NLP and family therapy).
Hellerwork, a synthesis of classic structural integration and personal growth work, attempts to integrate body and mind, and bring greater harmony and awareness to the individual.
Roger Golten discovered Hellerwork when, during the early 1980s he experienced a lot of back pain and had bodywork sessions with a visiting American Hellerwork practitioner. He found Hellerwork to be both a revelation and an inspiration – he could be helped without being disempowered.
Much of the book concerns topics of intense interest to anyone who has ever had a body problem – back pain, shoulder restriction, neck tension, slouched posture, and uses an approachable and readable combination of philosophy, facts (about gravity and structure), environmental content – for example the watery content of the human body and its constituent parts, and practical exercises.
According to the author 'this is not primarily a book of technique... the techniques which are offered are done so from the point of view of a larger context of understanding the vital principles of human movement....Joseph Heller has been more concerned with teaching his students to see what needs to be done than to teach specific techniques. If you cannot see what needs to be done, any amount of technique will not help – this is like the plumber who charges £99 for knowing where to hit the system with his hammer and £1 for the labour.'
The book is beautifully presented, with clear illustrations, exercise boxes, and sidebars with helpful and/or inspiring facts and quotations from the great and the good, even from Hamlet.
What is refreshingly original in this book is a combination of sometimes rambling discourse about seemingly unlikely topics, often rambling on for pages. For example the chapter about feet discusses pavement, foot structure, flat feet and regaining arches, the tortures inflicted by shoes, heels and boots, the ancient Chinese custom of binding feet, even trainers and Doc Marten shoes, and how to walk with loose ankles.
Further topics addressed include breathing, identification and disidentification, lying down, standing up, inverted postures, feet – structure, shoes, loose ankles, squatting – for giving birth and defecation, sitting – slouching, driving, active sitting, standing up, lifting, bending, walking, the importance of the psoas muscle, running, sports, fitness, exercise and the new somatic education.
Therapies encompassed within the new somatic education include Aston Patterning, Pilates, Method Putkisto, Alexander Technique, Feldenkrais, Frisbee, Hellerwork, Rolfing, Gabrielle Roth, Traeger, Tai Chi, Chi Kung, Rebounding and Yoga.
The bibliography is another eclectic treasure trove, combining books by Alexander, Batmanghelidj, Michel Odent and Arthur C Clarke.
Finally there is a useful list of internet addresses; however www.positivehealth.com was one omission which ought to be corrected.
Reviewer

Publisher

Thorsons

Year

1999

Format

Paperback

Price

0

Isbn

0-7225-3737-9