Your Country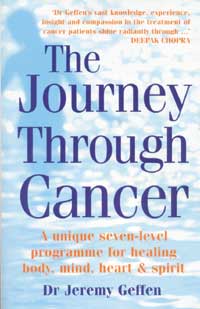 This book is an exceptionally inspirational and spiritually uplifting book, which I recommend to every person who has ever thought about their purpose and mission in life. I say this despite some serious differences of opinion I have with regard to his recommendations about diet, nutrition and herbal medicine.
Dr Jeremy Geffen originally trained as an oncologist, and while still in medical school, watched his father die, very quickly (within three and a half months) of metastatic gastric cancer. Despite all the latest medical technology and high-tech regimes, he watched his father's agonizing journey through rounds of cancer treatment, until he finally grew weaker and no longer wished to fight. Despite his demise, however, his father became transformed through a spiritual awakening, a true healing journey, and died, embracing the unknown with courage, grace and love.
Dr Geffen became a prominent and respected oncologist and founded the Geffen Cancer and Research Institute (www.geffencenter.com) in Florida. Along the way he trained in Ayurvedic and Tibetan medicine, yoga, meditation, massage, herbal and nutritional medicine, complementary approaches which he has built into the programmes at this centre.
The author's vast experience with treating cancer patients shines through this book, which is filled with heart-rending real-life stories of cancer patients, from the man who, deep down, felt that the real reason he had cancer was that Jesus hadn't forgiven him for his sins, to the Holocaust survivor 70-year old lady who was terrified to die, and finally found comfort in the image that dying from cancer (with proper pain relief) was like taking off tight shiny new shoes which were hurting – a relief.
The author describes his seven-level programme which embraces all aspects of cancer care, from basic cancer treatment options, the benefits of complementary approaches, the healing power of love and forgiveness, the power of our thoughts, the hopes, goals and purposes of our lives and the spiritual aspects.
The author's strong opinion regarding the most effective cancer treatments, no doubt based on his experience as an oncologist, is that conventional surgical, chemotherapy, radiotherapy and hormonal regimes are the most effective against cancer, and that he has never witnessed a nutritional, dietary or herbal regime which can defeat an established aggressive cancer. However, he does support nutritional, dietary and herbal, as well as other complementary approaches in a comprehensive cancer programme. He also posits that these complementary approaches have not been scientifically proven, a view, no doubt also supported from his professional position.
My fundamental argument against these contentions is that there are many highly validated scientific published reports of nutritional cancer approaches; however, as it is illegal in most countries in the world for physicians to treat cancer using nutrition, or anything other than conventional approaches, it is impossible to obtain scientific proof of efficacy in the absence of treatment of cancer patients. Dr Geffen may in fact be correct, but I would prefer if he could defer his pronouncement until after, not prior to the final results of scientific research.
Another strong opinion, which I wholeheartedly support, is that cancer patients get bogged down in the minutiae of their cancer treatments – diets, herbs, drugs, etc – that they never have the time to talk to their families and loved ones and consider some of the most important questions of their lives: What is the meaning and purpose of your life? What are your most important goals for the next year? and How do you want to be remembered after you are gone? The author eloquently makes the case that it is terribly important to really understand our understanding of these ultimate questions, to totally connect to our true feelings about our cancer treatment, our relationship with our families and loved ones. "By recognizing your real identity as the ocean rather than the wave – regardless of how healthy, diseased, powerful, or powerless the wave may appear – you can find freedom not only from cancer, but even from birth and death. That is the ultimate message of this book."
A truly exceptional book, there is also an excellent and extremely comprehensive Reference section (>40 pages) with hundreds of scientific papers, books and organizations covering every aspect of cancer, complementary therapy and healing. Certainly a must for every cancer patient.
This book can be ordered from the Positive Health bookstore. Please click the Bookshop image at the top of the column to your right, then click on Cancer.
Reviewer

Publisher

Vermillion

Year

2000

Format

Paperback

Price

0

Isbn

ISBN 0-09-185160-2