Your Country

Add as bookmark
The Essence of Self-Healing - How to bring health and happiness into your life
by Petrene Soames
listed in healing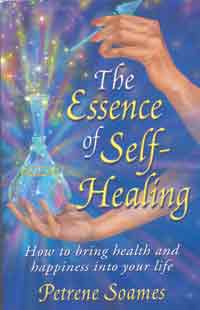 This book strikes just about the right balance between being authoritative and also being replete with common sense – an invaluable commodity in today's world of intuitive and esoteric wisdom.
Petrene Soames is evidently a highly experienced and gifted healer and possesses abilities (clairvoyance) to which I don't lay claim. However, she is also an extremely practical woman who is not fixated on rigid rules or dogmas regarding exact colours for the chakras or how to achieve relaxation. She provides a luxurious array of choices empowering us to go about using the many healing tools at our disposal, including crystals, colours, breathing, essential oils, meditation, rebirthing, regression, attitude, relationship, touch and love.
The book is filled with many true stories about real-life problems and how those individuals progressed in finding solutions to their illness, pain or emotional distress. Not only are there chapters devoted to exploring the many avenues to self-healing along with clearly written and practical explanations, but there are also guidelines and exercises about what to do – knowing yourself, dealing with your emotions, using the chakras, breathing, meditation. Additionally, there are many nuggets of wisdom recounting how we are often our worst enemy in delving in negative self-talk, sabotaging ourselves, and how to use positive thinking and affirmations, visualizations, bodywork, colours to effect the changes we want.
Because this book is all about self-healing, there are many suggestions for what we can do for ourselves when we are in the midst of an emotional or physical crisis. These include increasing our awareness while doing apparently mundane activities, such as looking at ourselves in the mirror, taking a foot bath, letting go using our focus on many points of our bodies. She discusses in detail ways of approaching common problems such as headache, nervous stomach and throat problems.
Perhaps the most compelling section of the book is the section devoted to True Stories, which, as they pertain to real people grappling with a variety of illnesses, make for compulsive reading. Finally, at the end of the book is a section devoted to Petrene Soames' future predictions about how the world of science, medicine, health and healing progresses up to the year 2050 (cancer, heart disease, Parkinson's disease and strokes were eradicated between 2030 and 2040). She has a great deal more courage than I to record these predictions; happily, we won't have to wait too many decades more to discover if she was correct.
Reviewer

Publisher

FleetStreet Productions, Texas, USA

Year

2000

Format

Paperback

Price

0

Isbn

0-9700444-0-2