Your Country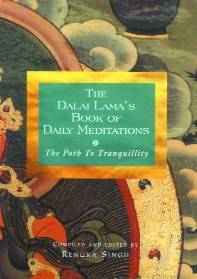 Foreword
As human beings, we all want to be happy and to avoid suffering. In my limited experience, if we are to achieve this, it is immensely valuable to be able to cultivate and maintain a positive state of mind. In the Buddhist tradition to which I belong, one of the most effective means of doing so is to engage in meditation. However, although meditation can sometimes mean sitting in a particular formal posture and stilling the mind, it can also include continuously familiarizing ourselves with positive thoughts. This is why we regularly read and recite the texts of scriptures and prayers. I myself have drawn great inspiration over the years from a short work called 'Eight Verses for Training the Mind'. It contains much useful advice, counselling us always to consider others as more important than ourselves, to face and oppose the disturbing emotions that endanger our peace of mind and to give whatever benefit arises to others, while shouldering whatever difficulties occur on ourselves.
This book contains daily quotations selected from my own writings and published works. I humbly pray that readers may find some inspiration in them to develop that warm hearted peace of mind that is the key to enduring happiness.The Dalai Lama26 February 1998
* Extracted with permission.
Eight Verses for Training the Mind
Regarding all sentient beingsAs excelling even the wish-granting gemFor accomplishing the highest aim,May I always hold them most dear.
When in the company of othersI shall always consider myself the lowest of all,And from the depth of my heartHold them dear and supreme.
Vigilant, the moment a delusion appears,Which endangers myself and others,I shall confront and avert itWithout delay.
When I see beings of wicked natureoverwhelmed by violent negative actions and sufferings,I shall hold such rare ones dear,As if I have found a precious treasure.
When others, out of envy, treat me with abuse,Insult me or the like,I shall accept defeat,And offer the victory to others.
When someone I have benefitedAnd in whom I have great hopesGives me terrible harm,I shall regard him as my holy spiritual friend
In short, both directly and indirectly, do I offerEvery benefit and happiness to all sentientbeings, my mothers;May I secretly take upon myselfAll their harmful actions and suffering.
May they not be defiled by the conceptsOf the eight profane concerns.And aware that all things are illusory,May they, ungrasping, be freed from bondage.
Reviewer

Publisher

Rider Books

Year

1998

Format

Hardback

Price

0

Isbn

0 7126 0898 2