Your Country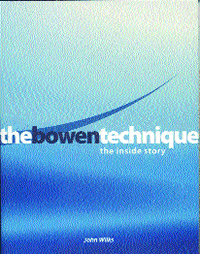 With his latest book, John Wilks provides us with a route map through the Bowen Technique. Not for the complete beginner – although much of the professional 'how to' advice will be invaluable to those starting up – the book does assume a reasonable level of knowledge about the technique – and indeed anatomy and physiology. Chapters 17-21 The Therapeutic Relationship are by Su Fox.

And whilst I am not sure about a couple of the chapter titles – Working with Chronic Pain and Facilitation and The Esoteric, because many people won't have the faintest idea what to expect from those chapters, this minor niggle doesn't detract from the fact this is a book that a newcomer can grow into, and be glad it's on their bookshelf. If you are already an established practitioner, the same applies – it's a great resource aid – interesting and informative.

So let's talk practicalities – and there is plenty of help on this very subject from Su Fox's contributions, especially in the Relationships Need Attention section – the statement she makes in chapter 20 – that is followed up with helpful advice and reminders – from Boundaries and Containment which includes an excellent Boundary Checklist (see how you rate…) and continues with sections on Money, Contracting, Client Records and Professional Boundaries.  There's a section on Clear Communication too, again with a checklist on listening skills.

In Chapter 17 Su Fox introduces 2 sample treatments – 2 good examples of good and bad practice. Which one is you? If you're not too sure, refer swiftly back to chapter 15 'Being Professional' for a quick refresher!

There's a running reference to the history of Bowen through the book, gently educating the reader – a much better approach than I've often encountered before, when you find can yourself confronted with a whole chapter devoted to the past when, if we're honest about it, we really want to get to 'the good bits' and are inclined to skip what is actually rather interesting and informative!!

This is a publication for the professional and provides many useful tips as well as answers to some questions you maybe haven't thought of yet. The illustrations are good too – and inform rather than simply pad out the number of pages.

The section on testing was very welcome and I think we'd all like to see more of this. Tests give therapists information and clients confidence, but, surprisingly, their teaching can sometimes be rather thin on the ground during the basic training of some therapies.

I particularly welcomed the scientific approach John has taken with this work – I've read enough books on various therapies that have left me asking the question "that's all very well, but WHY does it work?" John explains.

And of course 'The Procedures' are revisited as one would hope, with the benefit of modernization and useful add-ons. There's a great deal of detail in this book – and it passes the 'interesting read' test with flying colours.

A detailed Index in the back would have been a welcome addition – for example if I want to target something specific - and quickly, then the contents list doesn't lead you swiftly to specifics.

Unconscious processes in the Therapeutic Relationship was a great section, and Sex in the Therapeutic Relationship – How to Work Safely is a 'must read' for everyone. Well written and sound advice from Su Fox's contributions. As is most of the book.  It's a hybrid of interesting read and text book.

It's been quite a journey for Oxford trained Musician John Wilks to the world of the Bowen Technique and Craniosacral Therapy.  A Teacher of the Bowen Technique since 1999, John has a high profile within the profession and a depth of experience that is invaluable.  What is on offer in this, his latest publication does not disappoint.

I've selected sections at random, offered you my opinion and hopefully given a brief taste of what's between the covers. For anything extra you'll need to buy or borrow a copy of your own!

The acid test, of course, is would I recommend it? Or even better; part with my own hard earned cash to buy it?

Yes.


Further Information

Available from
www.cyma.org.uk
and
www.amazon.co.uk
Reviewer

Publisher

CYMA Ltd.

Year

2007

Format

Softback

Price

25

Isbn

978-0-9557063-0-1