Your Country

Add as bookmark
Soul Medicine: Awakening Your Inner Blueprint for Abundant Health and Energy
by Norman Shealy MD PhD and Dawson Church PhD
listed in mind body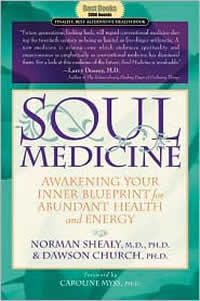 In North America, where there is much talk of the healthcare crisis, we clearly need a new paradigm. Many cultures today, including some branches of so-called Western medicine, are beginning to recognize that healing the body is essentially connected with healing the mind, the emotions and the spirit. Research into the ancient history of sacred healing explains how this works and how the contemporary healer can apply these principles, often reducing the need for invasive surgeries and powerful drugs.
 
As a cancer survivor, I found Soul Medicine to be an inspiring book that offers hope as it describes energy healing and its applications for the average reader. It is a particularly encouraging read for anyone who is grappling with chronic illness, simply interested in good health, or who is care taking a suffering friend or family member. Western medicine has limits, and a new consciousness can often take us beyond those limits. Through their own clinical examples, authors Shealy and Church, a neurosurgeon and health researcher respectively, show us how we can all access such healing and improve our lives. They also cite clinical studies that show improved recovery time and greater instances of complete healing in surgical patients who are given various forms of energy healing, once their allopathic treatment is completed.

In spite of the research and thousands of anecdotal accounts, the authors point out that Western medicine is slow to recognize or even acknowledge what many patients know to be true – that the body is made to heal and that each of us has an 'inner blueprint' that will take us back to physical health, if the mind and spirit receive the right kind of support. One section of the book is devoted to actions the authors believe will accelerate the pace of change and how soul medicine will look in the future.

They write:
"The pendulum has only begun its swing in the direction of soul medicine. The forces adding momentum to its movement are the exhaustion of the old system, its impossible costs, its inability to treat many systemic conditions, its lack of soul, and the enthusiasm of patients for soul medicine."

This book, while definitely engaging for the average reader, is actually the prescription for our healthcare crisis. It ought to be required reading for our government health departments, doctors and medical students as well.
Reviewer

Publisher

Elite Books Santa Rosa CA 2006. Hardback; Energy Psychology Press Paperback. 2008

Year

2008

Format

Hardback/Softback

Price

13.49

Isbn

1604150106