Your Country

Add as bookmark
Shattering the Cancer Myth - A Positive Guide to Beating Cancer - 4th Edition
by Katrina Ellis ND
listed in cancer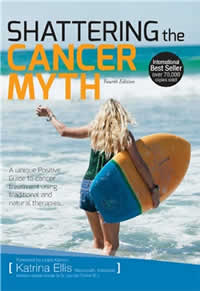 This inspiring, authoritative, highly researched  and substantive (450 pages) book combines the dramatic story of Katrina Ellis' survival and conquest of terminal ovarian cancer over 20 years ago, and is perhaps the finest compilation I have seen of imperatively vital facts for cancer patients, families and support networks and all disciplines of health practitioners:
The fourth edition of the book is comprised of three parts: Katrina's physical and spiritual journey to uncover the truth and determination to survive; A complete cancer manual ranging from successful natural treatments, the positives and negatives of orthodox treatments and useful techniques to harness the power of your mind; and a resource guide valuable for anyone in preventing this disease whilst maintaining brilliant health. Shattering the Cancer Myth has been rewritten to include new innovative cancer therapies, full supplement support and diet programs for various cancer types, also includes a new chapter by Dr Joachim Fluhrer MD,  an Integrative Medicine Practitioner combining General Practice with evidence based Gene Diagnosis and Complementary Medicine.
A Partial Description of the Contents Includes:
Surgery - preparatory steps and nutritional, herbal and mind-body exercises to enhance recovery;
Chemotherapy - detailed explanation and tables outlining the toxicities of chemotherapy drugs, how to monitor efficacy and natural solutions for side effects;
Radiation Therapy - explanation, improved techniques including Cyberknife and Gamma Knife and natural remedies to improve outcome and alleviate side effects;
Mind-Body Techniques including Guided Imagery and breathing exercises;
Immune Enhancement Nutrients;
Detailed description and comparison of Cancer Diets, Juicing, Foods;
Nutraceuticals - Nutritional Supplements, including little-discussed substances such as Artemisinin, Avemar, Beta-sitosterol, Cancell, Colostrum, DCA – Dichloracetate, Soy, IP-6 – inositol Hexaphosphate, Mushrooms – Coriolus, Cordyceps, Maitake, Shitake,  MGN-3 Biobran, MMS, Modified Citrus Pectin MCP, Shilajit, Aeolites;
Vitamin Supplements and Minerals and Herbal Remedies;
Genostics – Genetics, Advanced detection diagnostics including Circulating Tumour Cells (CTCs);
Alternative Cancer Texts including AMAS – anti-malignin antibody serum, telomerase, Navarro or HCG Urine Test;
Alternative Cancer Therapies including high pH therapy, Antineoplaston, Oleander, Breuss, Budwig, Contortrostatin - protein extracted from Southern Copperhead poisonous  snake, Cytoluminescent Therapy or PDT, Energy Medicine, Gerson, Hyperthermia, Immunotherapy, Naltrexone, Oxygen and Hyperbaric Oxygen Therapy;
Cancer Support Diets, Supplements and Recipes, 12-Day Purification Diet, Table of Acid / Alkaline Foods;
Books and Online Resources.
About the Author
Katrina Ellis ND graduated as a qualified naturopath, herbalist and iridologist in 1995. She worked for the ex-prime minister of Thailand in his five star health resort, Chiva-Som and managed the 'natural health department' and performed consultations, designed an organic food line and co-wrote the Chiva-Som cookbook. While in Thailand she developed a rare form of cancer, after exposure to a toxic agent. After many misdiagnoses and being told she would not live past the year, she embarked on a campaign to save herself with natural medicine. A few months later she was cancer free and from this experience wrote the 2003 international best seller Shattering the Cancer Myth. She is also the mother of 2 children, conceived and born following her curing her cancer.
Further Information
Available from Amazon and good bookshops:
www.amazon.co.uk/Shattering-Cancer-Myth-Positive-Beating/dp/0987466941
www.amazon.com/Shattering-The-Cancer-Myth-positive/dp/0987466941
http://katrinaellis.com.au/2013/12/its-arrived-the-fourth-edition-shattering-the-cancer-myth/
http://trove.nla.gov.au/work/36941227?selectedversion=NBD52284906
Reviewer

Publisher

Publicious Self-Publishing; 4th edition

Year

4th edition. Dec 2013

Format

Paperback

Price

£18.99 / $33.20

Isbn

ISBN-10: 0987466941; ISBN-13: 978-0987466945