Your Country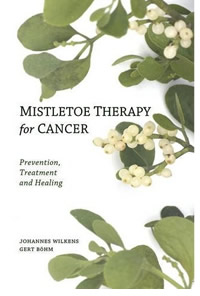 Although Mistletoe therapy is widely used for cancer patients in continental Europe, it continues to be controversially discussed, and more so in the UK. There seem to me at least three reasons for this: one is that the studies to evidence mistletoe therapy have been poorly conducted in the past, although this has improved; only one trial was done in the English speaking world. Another reason is that it is proving a challenge for mistletoe therapy to outgrow its naturopathic history and its association with homoeopathic dilutions. The anthroposophic mistletoe brands are technically herbal and have undergone a complicated manufacturing process.
Lastly, there is little consensus amongst the prescribing doctors as to how and which brand and type of mistletoe to prescribe. Also, there is little accessible information in English; Dr Wilkens' book provides a welcome addition.

The authors cover a range of aspects of mistletoe therapy which is a valuable contribution to the discussion. They present an accurate historic introduction and the main topics are presented in a readable manner - although it suffers from its translation from the German and its presentation would have been improved if it had been more edited for a UK readership. It is an informative and courageous book in that it boldly positions its Naturopathic, empiric perspective. And this is both its strength as well as its weakness.

The authors pull together the various characteristics from Naturopathic, Herbal and Homeopathic sources - to compose a people typology that is assigned to the different host trees that mistletoe grows on. He proposes this as an important way to optimize the therapeutic efficacy of mistletoe therapy; however, he doesn't provide the sound basis or references for this. The qualitative descriptions, including those of the metal additions, appear as poetic simplifications. This represents an empirical approach which leaves the reader in a quandary: love it or leave it.

Naturopathic tradition hails back to Paracelsus (1493 - 1541) who formalized the view that the inner nature of plants may be discovered by their outer forms, or signatures. Although this approach offers qualitative language, it doesn't provide the basis for a modern scientific dialogue and enquiry that is able to integrate spiritual-scientific aspects as well as modern tumour biology and immunology.

Wilkens also addresses the prophylactic use of mistletoe therapy and tackles features of a hypothetical pre-cancerous condition. He suggests that the existence of a pre-cancerous state is clinically apparent and can be reversed. Although this opens the debate on this topic - some doctors would argue that treatment (with mistletoe) should not replace life style measures, without which durable health is less likely to be achieved. Others convincingly argue that mistletoe is rendered less effective in the treatment of established cancer when patients have been pre-treated with mistletoe. Also, it is confusing to re-introduce an 'inoculation thesis' as a novel treatment principle in chapter 7 - as Mistletoe therapy is based on a repeated application of immune-modulating extracts, similar to vaccination principles.

Nevertheless, Mistletoe therapy for cancer is a work in progress and Dr Wilkens' efforts present a valuable attempt to develop a joined-up rationale for mistletoe therapy - and both patients and practitioners will find valuable material in this book.


Reviewer

Publisher

Floris Books

Year

2010

Format

Softback

Price

14.99

Isbn

978-086315-739-4