Your Country

Add as bookmark
Medicine Hands: Massage Therapy for People with Cancer
by Gayle MacDonald
listed in cancer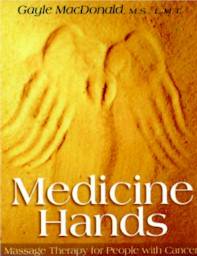 Gayle Macdonald has produced an exceptional treasure store of valuable information. Her book will certainly be joining my book reference shelf.
Medicine Hands provides an authoritative, compassionate and medically invaluable reference about cancer and bodywork which is unique to my experience. The seven comprehensive Appendices alone make the book extremely informative, providing extensive lists and explanations regarding Medical Terminology and Vocabulary, Abbreviations, Types of Cancers, Organisations, Publications, Patient Data and Evaluation Forms, Types of Bodywork and the Benefits of Bodywork for Cancer Patients.
The book discusses the aetiology of cancer in considerable biochemical and medical detail, and explains the different routes by which metastases occur. The author reviews the research literature of a variety of bodywork techniques, including Massage, Therapeutic Touch, Reiki and Shen, and discusses many central issues of enormous interest to cancer patients, bodyworkers and their caregivers. These include pain and pain relief, quality of life, major types of treatments such as chemotherapy, radiotherapy and surgery and their side effects including hair loss, oedema, nausea, constipation and radiation burns. There are extremely useful sections describing medical devices such as types of catheters, nasogastric tubes and colostomy pouches, and medical procedures used with cancer patients such as bone marrow transplants. and major alerts and contraindications for people with cancer.
The author explains in depth the reality of the hospital and home experience for cancer patients, and intersperses her explanations with many genuine and practical case studies from her own experiences which indicate how the application of touch can so enormously benefit the patient and the caregiver.
When I was training as a massage therapist, one of the contraindications drummed into our class was an absolute bar to performing massage on cancer patients. This climate of fear amongst medical professionals is discussed at length in the book, along with scientifically reasoned research indicating that the benefits of receiving most forms of bodywork far outweigh the risks. It is mentioned that in some rare cases, cancer may be spread using Manual Lymphatic Draining, although the basis for this possibility is speculative. The author is passionate about the huge benefit and need for touch in cancer patients, even in the stages of dying, and is adamant in trying to dispel the fear and phobia instilled into professionally trained bodyworkers regarding the dangers of massaging people with cancer.
I couldn't hold back the tears while reading the personal stories throughout this book, which is unusual in its compassion and information content. I cannot recommend it highly enough for anyone with an interest in Cancer and Bodywork.
This book can be ordered from the Positive Health bookstore. Please click the Bookshop image at the top of the column to your right, then click on Cancer.
Reviewer

Publisher

Findhorn Press

Year

1999

Format

Paperback

Price

13.95

Isbn

1-899171-77-0