Your Country

Add as bookmark
Master Your Diabetes - A Comprehensive, Integrative Approach for Both Type I and Type 2 Diabetes
by Dr Mona Morstein ND DHANP
listed in diabetes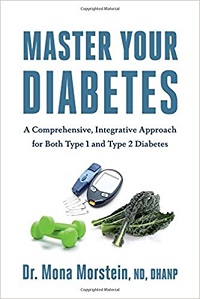 The evidence supporting the benefits of a high fat, low carbohydrate diet on various aspects of our health has been gathering momentum for years now and Dr Mona Morstein's ND DHANP, book Master Your Diabetes is a very comprehensive guide to applying the diet to both type 1 and type 2 diabetes. Her book is based on years of experience helping children and adults with type 1 diabetes better manage their condition and for people with type 2 diabetes to improve or reverse it. She has also founded the Low Carb Diabetes Association https://lowcarbdiabetes.org/ which promotes a low carb diet as a key to prevention and control of diabetes.
This is an in-depth guide that runs to 501 pages, covering the 'Eight essentials' of treatment - Diet, supplements, stress management, healing the gut, sleep, detoxification, exercise and medicine. Dr Morstein has poured all her impressive experience into this book and it is an invaluable guide for practitioners and patients alike. The following topics are covered in the book:
Types of diabetes
Type 2 Diabetes
Physical Exams
Lab Work
The Eighth essential: Medicine(Insulin)
The First Essential: Diet
Diabetic Low-Carb Diet Options
Essentials 2-6: Exercise, Sleep, Stress management, Healing the Gut & Microbiome & environmental detox.
The Seventh Essential: Diabetes supplementation
Diabetes and Pregnancy
Paediatric Diabetes
Diabetic Challenges
Diabetic Complications
Diabetic case studies & concluding summary
It is interesting to note that Dr Morstein considers that the use of medicines(insulins) to be the 8th essential aspect of treatment with diet being No. 1, followed by all the other aspects of addressing issues in the body.  Her approach is to first optimize how the body is functioning, then use medicines to support health, where needed. The section on diet addresses the essentials of doing a low carb diet, looking at how to test for ketones, calculating ratios of fat-protein-carbohydrates, low carb foods, basic recipes, advice for people who want to pursue a vegetarian or vegan low carb diet and other tips. The advice is enough to get started on the diet, however, I would also suggest combining it with other low carb books to give a broader range of recipes and ideas for implementing the diet. Primal Fat Burner by Nora Gedgaudas and Fat for Fuel by Dr Mercola are both excellent for going more deeply in to a low carb diet.
The importance and benefit of addressing the various life style factors, healing the gut and detoxification are well covered with information about how they can negatively or positively impact the body and advice for improving each aspect. The chapter on supplements has valuable information about how powerful certain supplements and herbs can be, specific guidance on doses for children and adults, including what to use to extend the type 1 'honeymoon' period that usually occurs during the initial stages of the disease.
Applying her integrative approach specifically during pregnancy and for children are both addressed in separate chapters and answers the many questions that would arise for these particular situations.
The chapter on Diabetic challenges covers how to correctly address diabetic ketoacidosis, hypoglycaemia, what to do when a diabetic patient is ill and how to manage when travelling. Finally she looks at dealing with the complications that may arise from having uncontrolled blood sugar levels (which will be unlikely if her advice is being followed) and several case studies, demonstrating the approach as applied in practice.
For myself reading this book as a practitioner was fascinating, giving key insights into testing and treatment, however just how good this book is, really struck home when my 5-year-old daughter pricked her finger by accident and asked if she could do a blood test. Having been on a ketogenic myself diet for nearly 2 years, my children have got used to seeing me measure my blood ketone and glucose levels and she thought it would be cool to test hers. Her blood glucose reading came out at 12 mmol/l, a normal postprandial level is below 7.8 mmol/l so this high level suggested she could have developed type 1 diabetes and a follow up reading the next day showed 16 mmol/l with raised ketones, potentially an emergency. Over these 2 days, I read the book as a very concerned parent; it contained everything we needed to know about managing the disease as effectively as possible, it felt like the book was an absolute Godsend. Fortunately testing at the hospital showed that my meter was giving false readings and my daughter's blood glucose was fine. This experience did, however, give me a brief insight into the real concerns of having to personally manage these diseases and the many questions that arise. Dr Morstein's book contains concise and clear guidance in every aspect of treatment that a practitioner or patient will need to understand and I cannot recommend this book enough.
Further Information
Available from Chelsea Green Publishing and Amazon
Reviewer

Publisher

Chelsea Green Publishing

Year

2017

Format

Paperback

Price

£22.50

Isbn

1603587373