Your Country

Add as bookmark
Jacqueline's Diary - When Cancer Came to Visit
by Jacqueline Clara Shephard
listed in cancer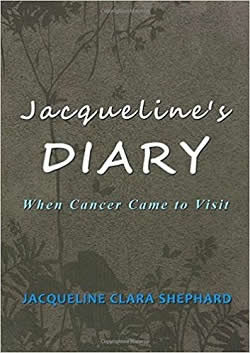 This is one of the most harrowing accounts by a cancer sufferer I have ever read; I have a collection of cancer books possibly numbered in the hundreds. From what Jacqueline went through, it is probably a miracle that she is alive, although she is now thriving. The book is written in the form of a diary and covers about 1 year. It is a sad tale of ineptitude in my view of some of the medical professionals and hospital staff who permitted this woman to endure extreme pain and the agony of virtually 'bleeding to death', which most definitely happened to Jacqueline. Jacqueline's mother features throughout the book in the starring role of a guardian angel.
Jan 2006: Jacqueline presented to her GP with really heavy periods in. Following a smear test and follow-up ultra sound scans in February, an ovarian cyst was diagnosed as the cause of her periods getting worse. Sept 2006: She was tested for ovarian cancer with a CA125 blood marker test. The result was elevated – 300 rather than 30. Nov 2006: She was referred to oncology specialists and underwent a CT and MRI scan both of which were negative. Early 2007: she felt fine, relieved she didn't have cancer. April 2007: attended a private hospital who were monitoring the cyst. August 2007: Felt really tired, exhausted with no energy. Sept 2007: a cold, then cough which persisted and other symptoms including painful lower legs, blotches and lumps on legs, nausea, blood on the tissue from blowing her nose. Sept 2007: blood test, results of which were lost. Oct 2007: attended walk-in NHS clinic – legs extremely painful, with lumps. She was told the lumps weren't clots and she should go home, rest and take aspirin. 14 Nov 2007: appointment booked.
11 Nov 2007: severe bleeding, haemorrhaging when on the toilet – blood flowing out of her. Had to call an ambulance. Taken to hospital and wheeled into cubical – blood rushing out of her. The consultant joked "let's just check you are not bleeding to death…When she realized I was actually bleeding to death, I saw the look on her face change…" Surrounded by 4 nurses and 2 anaesthetics, Jacqueline bled uncontrollably. Jacqueline had been pumped full of Tranexamic Acid  - to help reduce bleeding – and she had also said to 'spirit' – she is also a Reiki healer - that she was not ready to go (die) yet, and she hasn't died. More of the same chaotic scenes continued.
13 Nov 2007: The biopsy of Jacqueline's cervix revealed that she had a tumour which had been responsible for the bleeding. The CA125 blood marker test had risen to 900! There were further weeks of total chaos, trying to see physicians, having more diagnostic scans. It turned out that due to the Tranexamic Acid tablets Jacqueline had been given, her entire body was full of clots, any one of which could break off and cause a pulmonary embolism. Therefore she wasn't able to have surgery and would have to undergo chemotherapy - Carboplatin and Taxol once a week for 6 weeks and brachytherapy - internal radiotherapy - to start end of January.
This diary details an entire year, day by day of Jacqueline's experiences -  travelling to the hospital appointments by bus, taxi and trying to get hospital transport, the agonies of chemotherapy followed by radiotherapy. This is mixed in with Reiki healing and Theta counselling. It is very difficult and upsetting to read this book, because this is the unsanitized true experience of somebody going through agony, hell and bleeding of cancer treatment. I don't think I have ever witnessed the degree of disorganization and rudeness of the treatment of a patient which in my legally unqualified opinion could constitute medical negligence.
Side effects: sore mouth, stomach cramps, indigestion, diarrhoea, pain, nausea, exhaustion, violent dreams, palpitations, chest pains, headaches, sweating, hand numbness, tinnitus,
Long-term side effects: bowel, bladder, sexual effects of pelvic radiotherapy, menopause, infertility, pelvic pain, bone problems, emotional problems - loneliness.
4 April 2008: several Months, after completing her chemo and radiotherapy treatment Jacqueline very sagely says:
"I'm using conventional and complementary therapy to get well again. Realise I can use both. I don't have to choose between the two. I really didn't want to have chemo and radio but I felt I didn't have a chance without it… the complementary therapies are helping me over the side effects of the conventional treatment. This illness has really changed my attitude to medicine and complementary therapies. Before this happened to me I would have said NO to chemo and radiotherapy. Now I would say have it and use the complementary therapies to repair the body and mind. I couldn't much around with my life and play Russian roulette. Didn't have much of a choice. I had to go with it.
"It's all very well, therapists who haven't had cancer, saying don't have the chemo and radiotherapy, but it's not their life they are playing with. They are not God and neither is the medical profession. Everyone is different and some will benefit from the treatment and some won't but no only really knows until they try it."
Here are but a few of the complementary treatments Jacqueline has utilized:
Drawing, Crystals, Reiki, Budwig Diet, Meditation, Visualizations Theta Healing, wigs, whole foods broccoli, beetroot, prunes, mushrooms, nuts, juicing, herbs, vitamin c, Apple Cider Vinegar,  honey and lemon, castor oil packs, walks to the park, cancer support centre, acupuncture, Indian Head Massage, TV - Deal or No Deal, affirmations, Epsom salts,
8 July  2008:  Jacqueline was told that she was CLEAR of cancer.
May 2009: health has improved over the past 2 years. After Jacqueline left work she completed her Reiki Masters course and is qualified to teach Reiki.
2010 - Jacqueline developed an anal fissure as a result of the radiotherapy. Laser treatment, then hydrocortisone acetate. Enrolled in certificate in counselling.
2011: treatment finished 3 years, still clear of any disease. Enrolled in a felt jewellery course.
2012:  5 years on. Residual symptoms: tinnitus, loose bowels, bleeding, bleeding from the cervix, tiredness, hot flushes. More courses: Teacher Training Course, Life Coaching.
In publishing this diary of her account of her cancer and journey to better health and new life, Jacqueline aspires to give hope to those who are going through the treatment as it's not easy to come out the other end and not be a changed person.
Further Information
Facebook: Facebook.com/Jacqueline C Shephard
Paperback and Kindle formats of Jacqueline's Diary are both available on Amazon
https://www.amazon.co.uk/Jacquelines-Diary-When-Cancer-Visit/dp/1326495763
Reviewer

Publisher

PublishNation

Year

2015

Format

Softback

Price

£8.99

Isbn

978-1-326-49576-3