Your Country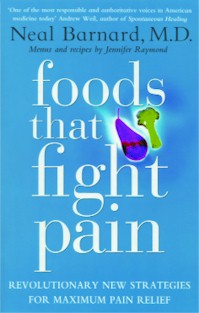 I cannot recommend this book highly enough to readers who wish to deepen their knowledge, understanding and practical application of nutrition to health problems, in this instance, pain.
Dr Neal Barnard, president of the Physicians' Committee for Responsible Medicine and editor-in-chief of the newsletter Good Medicine is a medical doctor who has made it his speciality to compile research findings regarding food and many common yet debilitating health conditions and communicate them in a highly readable format.
The book discusses the fundamental causes of, and nutritional approaches to, circulatory conditions such as back and chest pain, inflammatory conditions including migraine and other headaches, arthritis, stomachache and other digestive problems including ulcers, Crohn's, ulcerative colitis and diverticulitis, fibromyalgia, hormone-related conditions including menstrual pain, breast and cancer pain, and metabolic and immune conditions such as carpal tunnel syndrome, diabetes, herpes and shingles, kidney stones and urinary infections.
Each chapter has an in-depth yet easily understandable description of the particular health problem, the latest understanding of possible causes and then a discussion of how nutrition can dramatically help. Many varied topics are covered, such as food sensitivities, infections, how plaque (and clearing it) can be implicated in back pain, how oestrogen dominance can contribute to menstrual pain and how eating oestrogen "calming" foods such as starflower oil, and phytoestrogens such as found in vegetarian diets can alleviate pain. He also goes into considerable detail about the benefits of using Natural Progesterone transdermal cream (Progest) for treating menstrual pain and endometriosis.
Throughout, Dr Barnard advocates eliminating animal fats from the diets and adopting virtually a vegan diet. He arrives at this from the point of view that many of the inflammatory chemicals originate from arach-idonic acid and that pain can be reduced or eliminated by eliminating fats from meat, fish, dairy products and eggs. By discovering (by using an elimination diet) and eliminating trigger foods for conditions such as migraines and arthritis and by eating wholesome grains, vegetables, fruits and omega-3 and omega-6 essential fatty acids many of the painful symptoms of migraine and arthritis can be "cured" by changing diet.
Most chapters are prefaced by a real-life case history of a person suffering from the particular problem, discussing how they switched their diet and what happened to their condition. Much of what is discussed is within the context of clinical research. There is also considerable mention of foods such as ginger and capsaicin, as well as helpful dietary supplements such as probiotics.
There are about 100 pages of recipes prepared by Jennifer Raymond, herself a sufferer of joint stiffness, who developed delicious recipes for a wide variety of dishes.
Finally, and very importantly, the book is extensively referenced with hundreds of published scientific research articles and also provided are contact details for organisations and a recommended reading list.
This book is required reading both for nutritional practitioners as well as for sufferers of pain.
Reviewer

Publisher

Bantum Books

Year

1998

Format

Paperback

Price

0

Isbn

0 553 81237 8