Your Country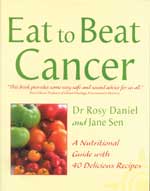 Dr Rosy Daniel and Jane Sen are a 'dream team' of authors, who complement each other's knowledge and skills in an amazingly effective way.
This important book, with a Foreword by Professor Karol Sikora, is an authoritative yet accessible book (175 pages) which summarizes the major aspects of food, our diet and cancer. Dr Daniel reiterates the nutritional factors contributing to our current cancer epidemic – our diet is out of proportion, we eat too much, have digestive and colon disorders and problems in absorbing what we eat. Additionally our soil is deficient in crucial vitamins and minerals, and is abused by intensive and chemically-based agriculture. Our food is subjected to additives such as antibiotics and hormones, is heavily processed, and our water may be seriously contaminated. We eat too much and eat to satisfy emotional cravings (comfort eating). Dr Daniel sets out accepted statistics and current knowledge pointing to the key role played by nutrition in developing and maintaining a strong immune and repair system, vital for the prevention of and treatment of cancers.
We are then taken through how we can make gradual changes in our diet that we can handle, with detailed lists of recommended foods – whole foods, fresh fruit and vegetables, raw food, high-fibre, cold-pressed oils – and foods to avoid as much as possible – intensively farmed red meat, dairy produce, excessive sugar, salt, fat and protein. There are important issues – such as margarine versus butter, vegan/vitamin B12, cutting out salt, the cost of organic food and alcohol.
There is a thorough treatment of cooking methods and kitchen equipment and review of foods – breakfast cereals, fruits, breads, fruit spreads and honey, drinks, juices, pulses, beans, rice, grains and pasta, nuts, seeds, oils and margarine, soya products and meat alternatives.
There is a practical section about planning and shopping, including useful and informative tables with nutrients, their function in the body and food sources. Useful shopping lists, ideal meals and tantalizing recipes for a week by Jane Sen. These include wonderful dishes such as Malay-spiced Tofu, Moroccan-style Braised Vegetables and Butter Beans, Wholemeal Bread or Pitta Bread Stuffed with Hummus.
An excellent chapter about Food as Therapy takes us through the benefits of Nutritional Therapy, including a thorough discussion of Detoxification techniques, such as colonic irrigation, simple spring-cleaning diets, cancer detox diets (Gerson, Breuss Juice fast, Kelly, Dr Moerman's, Dr Alec Forbes). Good treatment is given to the benefits of Raw Foods, and various ways to correct nutritional imbalances are provided, such as the Hay Diet, anti-Candida and anti-allergy diets. A superb table with anti-cancer foods and the phytochemicals contained within them is presented, including such categories as alfalfa, brassicas, ginger, linseeds, nettles, soy, green tea and turmeric. Finally there is a section about supplementation, containing recommended levels of nutritional supplements and various properties of supplements and their action to counter cancer therapies such as chemotherapy.
Lastly, but not least, are the wonderful recipes provided by Jane Sen. These truly are wonderful, although this section of the book is not illustrated, which would have presented them in their delicious glory.
References, suggested reading and index round up this highly recommended title, which I would advocate for practitioners and people with cancer alike.
This book can be ordered from the Positive Health bookstore. Please click the Bookshop image at the top of the column to your right, then click on Cancer.
Reviewer

Publisher

Thorsons Element

Year

2003

Format

Softback

Price

0

Isbn

ISBN 0-00-714704-X