Your Country

Add as bookmark
Conversations with the Body - The True Sixth Sense Story of a Medical Intuitive
by Robyn Elizabeth Welch
listed in mind body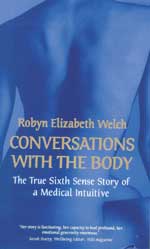 But the brain tumour was unchanged. I left it alone and asked God for direction. After Donna left I went on puzzling about what to do for her and prayed for guidance. As soon as I opened my eyes at six the following morning, I thought of Donna. Early in my journey towards healing I had discovered I could work on clients' bodies from afar. I tuned into her body. It was now receiving stronger energy from her partially cleared energy field.
Words flashed through my mind: It's time to operate on the tumour. Sever the arteries connected to it in order to cut its food supply. Fear swept through me: I had only operated once before, two months earlier, when I'd removed a small gristle tail protruding from the end of a woman's spine. But this was a person's brain.
For the first time during my healing journey I was frightened. I came to grips with the terrifying thoughts by telling myself, Robyn, if it's time, it's time, you would not even consider operating if the tumour was not ready for dissection.
I said a prayer. Then I went in and looked at the tumour.
I could see clearly that three arteries were attached to it.
The largest was just below the centre and a smaller one was at the bottom of the tumour. Yet another lurked behind Donna's right ear.
I focused all my concentration on the tumour, setting my sights on the smallest artery at the bottom of it. I used my energy ray as a fine cutting tool and slowly directed it through. I instinctively knew how to stop the bleeding by using my energy as a force to hold it, as if I were cauterizing the artery's own energy. I held for a moment, then came away. It worked! I felt a huge surge of confidence. You can do it, I said to myself.
Excited now, I approached the largest artery without hesitation. Sever, hold. My heart sang as I held, then I came away, as I had before. But blood was flowing. I dived back in. Hold, hold, hold. When I came away there was blood again. My God, where is this blood going? It will flood her brain. She'll die.
Panic overwhelmed me. Not knowing what else to do, I went in and held and held for what seemed an eternity. To this day, I don't know how I found the intensity of energy needed. God was with me. When I eventually let go, the bleeding had stopped.
By now, I was too exhausted to tend the remaining artery. But I sensed that I had done enough for the tumour to shrink and die. After several more sessions Donna was looking and feeling much stronger. She and her husband returned to Idaho and her tumour disappeared. She is now living a full and happy life again.
Reviewer

Publisher

Hodder & Stoughton

Year

2002

Format

Paperback

Price

0

Isbn

0-340-81942-1