Your Country

Biolab Medical Unit Great Plains Laboratory GPL
Academy Practitioner Environmental Toxins Workshop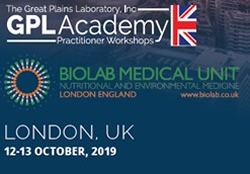 Start Date

Oct 12, 2019

End Date

Oct 13, 2019

Company

BIOLAB Medical Unit &Great Plains Laboratory

Address

9 Weymouth Street, London, W1W 6DB, UK

Address1

11813 West 77th Street, Lenexa, KS 66214

Contact

Mark Howard

Telephone Number

UK: (+44) 020 7636 5959/5905 US: +1 (913) 341-8949

Email

Other Email

Website

Organic Acids and Environmental Toxins Practitioner Workshops
Saturday & Sunday, 12th-13th October 2019, London, UK

We are delighted to announce that Biolab with Great Plains Laboratory will be running a weekend of workshops looking at the use of Organic Acids, Organic Toxic Chemicals, Mycotoxins and IgG Food Intolerance tests in clinical practice.

Dr William Shaw PhD, Laboratory Director of Great Plains Laboratory, will be accompanied by Dr Kurt Woeller (DO) in presenting a fascinating series of lectures on the use of Great Plains Laboratory tests and their wide-ranging clinical applications.  Case presentations will also be provided on both days.

Complimentary Organic Acids Test or Mycotoxins Profile for each delegate.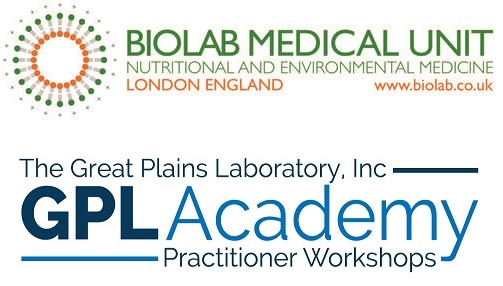 PRACTITIONERS WHO ATTEND BOTH DAYS RECEIVE A FREE ORGANIC ACIDS TEST!

Day 1
ORGANIC ACIDS TESTING
Learn how to use this comprehensive metabolic test in your practice to help with your most difficult-to-diagnose patients. With 75 markers, including those for yeast and bacteria overgrowth, inflammation, oxidative stress, mitochondrial dysfunction, oxalates, gastrointestinal dysbiosis, and nutritional imbalances, the Organic Acids Test (OAT) helps you discover the underlying causes of many chronic conditions. When you attend this workshop, you will not only learn how the OAT can be used in clinical practice, but also ways to use it along with other diagnostic assessments, as well as what kinds of treatments have been effective.

Day 2
ENVIRONMENTAL TOXIN TESTING
This workshop will focus on the epidemic of environmental toxin exposure, from the many chemicals we encounter every day, to heavy metals, to mycotoxins released from mold. You will learn about many common environmental pollutants from the 172 chemicals tested by our GPL-TOX Profile.  You will find out how these chemicals can affect our health and what steps can be taken to help detoxify the body.  You will also learn about the eleven types of mold mycotoxins tested for in our new MycoTOX Profile and about the chronic health conditions mycotoxin exposure can cause.  We will review how to use these tests in your practice to create the most effective treatments possible for your patients