Your Country

Stress and Your Patient's Immune System
by Mike Menkes
Complementary Medical Hypothesis
Stress management deserves to be considered the 1st approach and complementary care for all patient wellness protocols.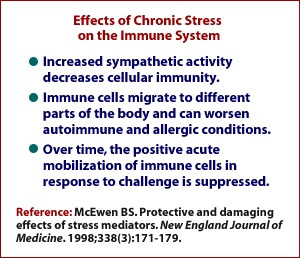 Research Illustrating Effects of Stress upon Many Health Conditions
Testimonials and Further Information
"My headaches of over 6 years went away after 1 treatment."
"I can see better!"
"Last Tuesday, I came into the store weighed down by stress and a backache; I left work feeling lighter and more flexible."
"I have had low back pain since giving birth to my daughter several years ago. Mike just held the back of my head for 2 minutes while I was sitting in a chair and my back pain is gone!"
Comcast Newsmaker Mike Menkes, LMT
Lifelong pain vanquished with a simple remedy performed on site.

Stress Relief & Pain Management Within 1 Minute
Comments:
No Article Comments available
Post Your Comments: