Your Country

Hearing is a crucial part of the human experience. This is not to say that those without hearing are damaged or incomplete – rather we mean that when you spend your life with the ability to hear, losing it can have severe undesirable side effects.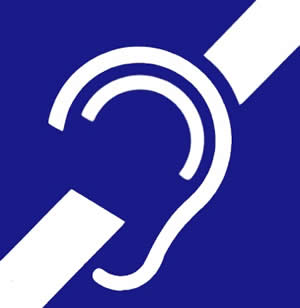 International Symbol for Deafness and Hard of Hearing
Photo: Courtesy Wikipedia
https://en.wikipedia.org/wiki/File:Deafness_and_hard_of_hearing_symbol.png
In fact, in January 2020, a senior health website named Clear Living conducted a study on the effect of hearing loss on all facets of life. The results showed that multiple aspects of someone's life can be greatly impeded by hearing loss, but the biggest was their social and mental health.
However, no one has to experience this degradation. With the right steps, anyone can rise above their hearing loss and keep their audiological independence. Here we'll be going over a few ways to help the elderly or those with hearing loss.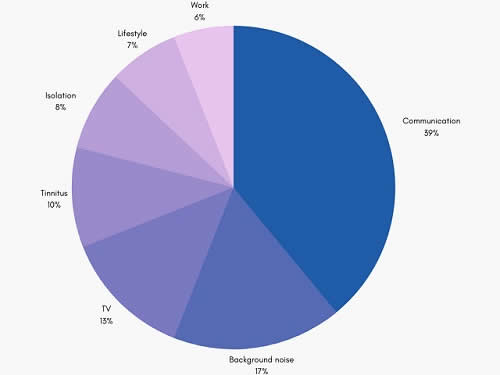 Poor conversation was cited as the biggest negative side effect of hearing loss, with almost 40% of respondents claiming that communication had worsened or were harder to follow due to their hearing loss.
https://www.clearliving.com/hearing/hearing-loss/health-lifestyle-impact/
The Importance of Communication
When it comes to communication, a lot of emphasis is placed on the spoken word, which is fair enough. But the inflection and nuances of those spoken words is similarly important, and can often be missed when the listener is experiencing hearing loss.
A happy "oh wow!" can mean many good things, like a reaction to a great catch, where as a sad, dejected "oh… wow…" could mean that someone has just received some less-than-ideal news. While someone with hearing loss might hear the words, they might miss the meaning.
This undesirable result is one of the more tame side effects of hearing loss. If left untreated, hearing loss can lead to conditions as serious as depression, memory loss, and potential dementia.
If you've ever thought that losing your hearing is nothing more than unfortunate, think again. It has serious ramifications for the rest of your life as a whole, whether that means your health or the activities you can do:
●      "[I have] difficulty hearing women's voices at plays and films."
●      "I don't go out to parties or do anything fun anymore."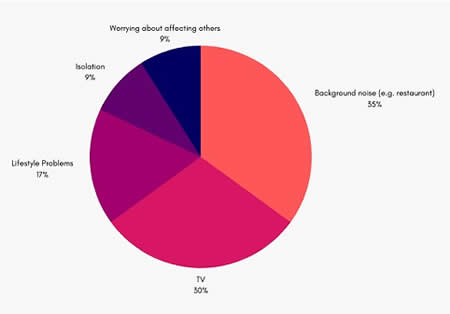 What respondents had to say regarding personal activities
https://www.clearliving.com/hearing/hearing-loss/health-lifestyle-impact/
Impacts on the Elderly
While anyone can experience hearing loss, the elderly are the most susceptible demographic. To expand on this, Clear Living's study found that 39% of people thought their communication was negatively affected by hearing loss, with a further 8% feeling isolated and lonely:
●      "[I'm] not participating in family gatherings, feeling left out."
●      "It has drastically affected my quality of life. I can no longer participate in normal conversations because I cannot hear nor understand the words being spoken."
●      "It's seriously become an issue. I'm leaving him because of it. I doubt he'll hear me leave."
Despite these statements and concerns, it can sometimes be difficult to convince someone to attend a hearing appointment. When they've spent their whole life being able to hear, people typically don't want to be told that they're losing one of their five senses.
In Clear Living's study, 66% of people said that they had anxieties before undergoing their first hearing test, with a further 41% of them saying they were worried about their hearing loss being officially diagnosed:
●      "[I was worried about] The results of how bad my hearing is"
●      "[I was worried about] Understanding the test/the words."
Ways to Address Hearing Loss
Hearing loss is not a condition you want, so how do you counteract or prevent it from happening? Here are some suggestions:
Take Care Of Your Hearing While You Can
This is certainly a broad statement, and it might seem imposing, but really, taking care of your ears comprises two simple steps.
The first is simply to limit your sound intake. If you work around a lot of heavy machinery, listen to a lot of loud music, or generally have a loud life, make sure to take a few steps back and soak up some silence. It's no surprise that too much noise can damage your ears, so making sure that you're not overexposed is a huge step in the right direction;
The other step is just to live a healthy lifestyle overall. Refraining from tobacco, alcohol, and unhealthy foods can do wonders for your whole body. It might surprise you to know that your ears also benefit from these lifestyle changes.
These changes will unfortunately never fully restore hearing – as nothing can – but to preserve the hearing levels you have, there are few better choices you could make.
Arrange a Hearing Consultation
After reading the concerns above regarding people's anxiety about hearing tests, you should know that apprehension towards hearing tests is very normal. However, all we can say is that hearing tests are quick, easy, and typically free.
It's human nature to be cautious about something you've never done before, especially when it concerns your body. But the sooner you get your hearing assessed, the more likely you'll be able to preserve whatever hearing ability you have left. And who knows? Maybe the audiologist will be able to tell you that you have no hearing loss, and you can go home with peace of mind.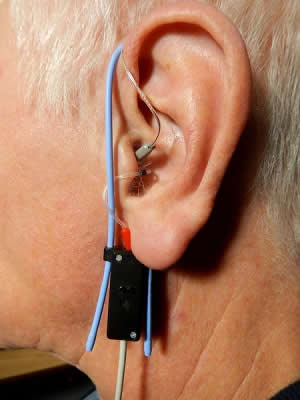 Real ear measurement is the measurement of sound pressure level in a patient's ear canal developed when
a hearing aid is worn. It is measured with the use of a silicone probe tube inserted
in the canal connected to a microphone outside the ear and is done to verify that the hearing aid is providing suitable amplification for a patient's hearing loss.
https://en.wikipedia.org/wiki/File:RealEarMeasurement.png
Wear your Appropriate Hearing Apparatus
If you have been diagnosed with hearing loss, and have since been prescribed a hearing aid or some other form of treatment, make sure to keep using it.
Some people think that hearing aids can be frustrating – remembering to charge it and put it on every morning can be a hassle, especially in the early days of ownership. But treating your hearing aid is crucial. It doesn't just maintain your hearing level, but it stops it from getting any worse.
Overall
Communication is a human need, much like food, water, and air. It's a crucial factor for keeping our minds exercised and up to date, and should be treated as seriously as diet or exercise. Hearing loss makes the brain work harder than usual to keep up with conversation, so taking care of your ears can save you plenty of undue mental stress.
As found in the study discussed earlier, healthy hearing leads to healthier and happier relationships for both the individual and their loved ones, as well as better health overall.
Comments:
No Article Comments available
Post Your Comments: