Your Country

Sound Yoga, popularly known as Music Therapy or Sound Healing is a technique in which sounds, vibrations, musical tones and frequencies are used to help restore, maintain, and improve one's state of mind, body and spirit. The Sanskrit word Yoga is derived from the root yuj, meaning 'to yoke' or 'to unite'. In Sound Yoga, the Sound Healer or the Sound Therapist utilizes the immense power of sounds and vibrations to help clients improve their mental health, bringing a more positive state of mind, which further helps in enhancing their quality of life. These sounds and vibrations tend to create an invisible multidimensional energy field and healing environment, helping create specific brain waves, resulting in complete shift in the state of consciousness of the patient. The patient then moves to a deeper and relaxed state, the communication between mind, body, and spirit is enhanced, resulting in bliss.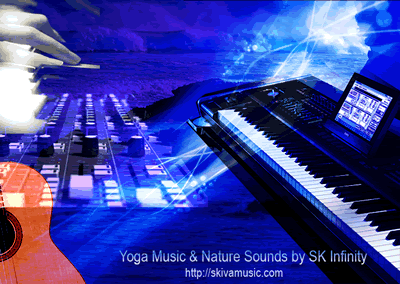 The Sound Healer, after careful diagnosis, utilizes the sounds, vibrations and frequencies she finds most appropriate, to engender sound healing. Some Sound Healers use their voice along with music, and several others use tools such as Tibetan singing bowls, forks, flutes, chimes, didgeridoos, tanpuras, and other music instruments in sound healing. The healing process is then accomplished by having the patient listen to music at predefined intervals, engage in chanting, and singing. Alternatively, it can also be done by having the patient watch a specific music performance, delve into lyrics, and other aspects of music. A typical sound healing session can last for a few minutes up to several hours depending on the state of the patient and the goal to be achieved. The session can also run for several days and this can depend on various factors e.g. the nature of ailment, how old and deep rooted the ailment has been, how receptive the patient can be, and how the Healer designs the healing process and what tools and instruments are used in the process. Every living or non living being has its own pattern of frequencies in which it vibrates. And when one being is exposed to a set of musical notes that match with the vibration of the being, it begins to resonate and vibrate with the note. This fact is best used in sound healing when the Healer brings just the right kind of notes, sounds, frequencies, and vibrations in the vicinity of the patient, causing the state of resonance, and engendering the move to a state of harmony and bliss.
Therapeutic Applications of Sound Healing

Sound and music can be used to overcoming depression, anxiety, and enhancing creativity and optimism. Several studies in spiritual sciences have revealed that it is the state of disharmony between the mind, body and soul that is the potential cause of majority of diseases. And as a powerful alternative healing technique, Sound Yoga assists the individual in attaining this state of harmony on the physical, mental, emotional and spiritual level. Sound Yoga creates the right kind of ambience where one's mind begins to get in synchronization with one's body, and also with the cosmic mind, the super consciousness. The human brain can be guided to come into resonance with the healthy vibrations and sounds. It is a very common observation and experience that one feels peaceful while listening to tranquil and serene music playing in the background. Interestingly, even if one's conscious mind is focused on some other activity and one is consciously unaware of the music playing in the background, one begins to feels relaxed and peaceful. This is enough to reveal the deep and mysterious connection between brain and sound waves. It has been scientifically established that music can have a profound effect on human body and mind, and is found to affect heart rates, and muscle tension. Music is also found to alter body temperature. Philosophers have believed that music can heal both the body and the soul. And singing and chanting have been important part of several healing rituals for ages. Some even believe that the universe has been created through various patterns of frequency and each human body has its frequency resonance.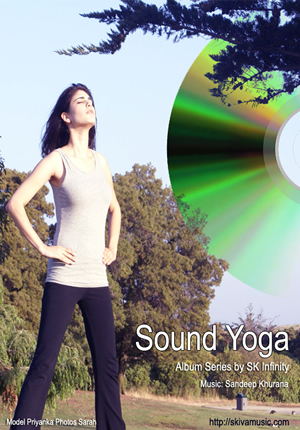 Chakra Balancing and Healing

Music is found to have profound effects on the subtle energy centres in our body called Chakras. According to the studies made in Indian spiritual sciences; the health of an individual can be determined by measuring the state of these Chakras. Human body has seven major Chakras:
Root Chakra
Hara
Solar Plexus
Heart Chakra
Throat Chakra
Third Eye Chakra
Crown Chakra
Each of these Chakras has a sound frequency associated with it, and these sounds can be used for Chakra balancing and healing. Delving further into the relationship between mind and music, one can observe that a stronger music beat can stimulate the mind to resonate with it, with faster tempo helping bringing more focus, and a slower tempo creating a relatively tranquil state. Music can have a lasting influence on the state of mind, even after one has stopped listening to it. Music therapy has been found to help improve learning skills, sharpen mind focus, build self-esteem, reduce stress, and support physical exercise. 'Mozart Effect, refers to the fact that some of Mozart's music has been found to cause more activity in certain areas of human brain. This has not been completely explained, yet helps support the idea that music can affect 'Brain' and 'Brainwaves' in several ways.
Delta Waves for Insomnia Relief
Another application of sound healing is in using it as a sleep aid to relieve insomnia. This is done using delta waves technique, where a sound generator generates delta waves to induce restfulness and relaxation in patient's brain; the patient can experience deep and relaxed sleep. Similar vibrations are used in hypnosis and psychotherapy. The human brain is found to generate waveforms and patterns that can be measured with a variety of scientific instruments. The sound waveforms generated by the human voice produce a wave pattern that gives a snapshot of the physical and emotional well being of the speaker. And by exposing the patient to the right kind of sound and frequencies, the Healer is able to induce more positive, empowering and relaxing states, depending on the needs and requirements of the patient and what is best for her at that time. Soft and tranquil music playing in the background is most appropriate while doing different meditations, e.g. Reiki Healing, White Light Meditation, Angel Healing, etc. Celebrative music is a part and parcel of our joy and celebrations; it marks milestones of life, and strengthens with courage and optimism.
Music: Melodic, Harmonic and Rhythmic Components

Delving deeper into the dimensions of music, one can also understand music as comprising of three basic components, the melodic, the harmonic, and the rhythmic component. The melodic component of music comprises of notes sequenced as scales, and ragas. Each scale has a unique influence on the mind of the listener. In Indian Music, there are thousands of ragas, each one designed for a particular season or a specific mood, such as devotion or celebration or romance or contemplation. The harmonic component, comprising of several notes played simultaneously, can strongly influence the emotional center of the body. Instruments like didgeridoo and tanpura create harmonious vibrations that can be very effectively used in healing. The rhythmic component, more related to the tempo or speed of music, is found to relate to the body pulse, and the breath pattern.
With a deeper understanding of music and its dimensions, one can harness the healing power of sound very effectively, successfully, scientifically, and spiritually.
Picture Credits

Issue 166 Front Cover Image: supplied by SK Infinity
Model: Priyanka Singha; Photographer: Sarah Henderson
Album Covers courtesy of SK Infinity
Comments:
Jennifer Jeffcoat said..

I am a Holistic Health Practitioner who specializes in Birthing and Women's wellness. I am currently writing an educational book for classes, that will include a CD with guided meditation and hypnotherapy session for healing the chakras for pregnancy and birthing process. I'm looking to collaborate and seek guidance on music for each chakra, that will in cooperate my guided meditation and hypnotherapy. Thank you for taking the time to review my questions and I look forward to talking more.

Many Blessings,
Jennifer Jeffcoat

---
Post Your Comments: