Your Country

Blue Crystal Music have created the Inner Peace album specifically for massage, but have found that it also assists healers, is used during yoga classes, other cosmetic and medical therapies. It helps people with sleep problems, including children and babies and generally eases stress related symptoms.

The producer found during a course in Swedish massage that he could not find music he could relate to. The massage itself was taught in a very clinical way. He decided to move away from the clinical environment towards a more relaxed kind of emphatic relationship between the masseur and the client. The Inner Peace album, which is timed to support a full body massage, includes bird song, blended with the natural sounds of the sea and is complemented by many different instruments to create an ambient relaxing environment.

The introduction with bird song is to relax the client softly and quickly, to enable him or her to enjoy the following massage as an ever-deeper form of relaxation. It gives the masseur the opportunity to communicate with the client and to apply the oil. It carries you through strokes of massage like effleurage with wave sounds and firm and soft massage strokes. It enhances the mood and state of relaxation, captures your senses and eases stress away from your body and mind. It encourages you to visualise and to journey with your thoughts – it might be a peaceful meadow with all its aroma and beautiful views or the sea with a gentle breeze and sounds of the seashore.

We have had reports back from our customers who use Inner Peace for deep meditation, but generally speaking it is not meant to get you into a deep trance-like state. It is more a combination of meditative depth with melodic lightness. The instruments create an almost magic atmosphere of peace and absorption and the album is therefore suitable for a wide range of therapeutic situations.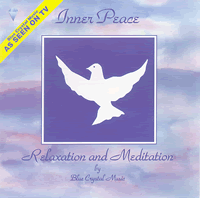 For information contact Blue Crystal Direct freephone 0800 435 805, Fax 01303 814884.
Comments:
No Article Comments available
Post Your Comments: