Your Country

Dealing with the COVID pandemic over the past year, and the continuing issues from it, has been a difficult time for us all. Whilst various vaccines are now available, there's still a way to go until we've all been inoculated and are fully rid of the virus.
An overlooked group whose lifestyle has been even more impacted by the measures to contain COVID are those with hearing loss and deafness. As masks and social distancing still mandatory in many places, both have proven to be an inconvenient barrier for communication to those with hearing issues, who often rely on lip-reading and louder speaking volumes.
There have been some solutions such as clear face guards or masks made with see-through plastic, but these aren't widely available and therefore not used by the general public much.
For some helpful considerations to aid communication with the hearing loss/deaf community, hearing health experts Clear Living have created these two graphics with tips:
Helpful Tips for Communicating with the Hearing Impaired When Wearing A Mask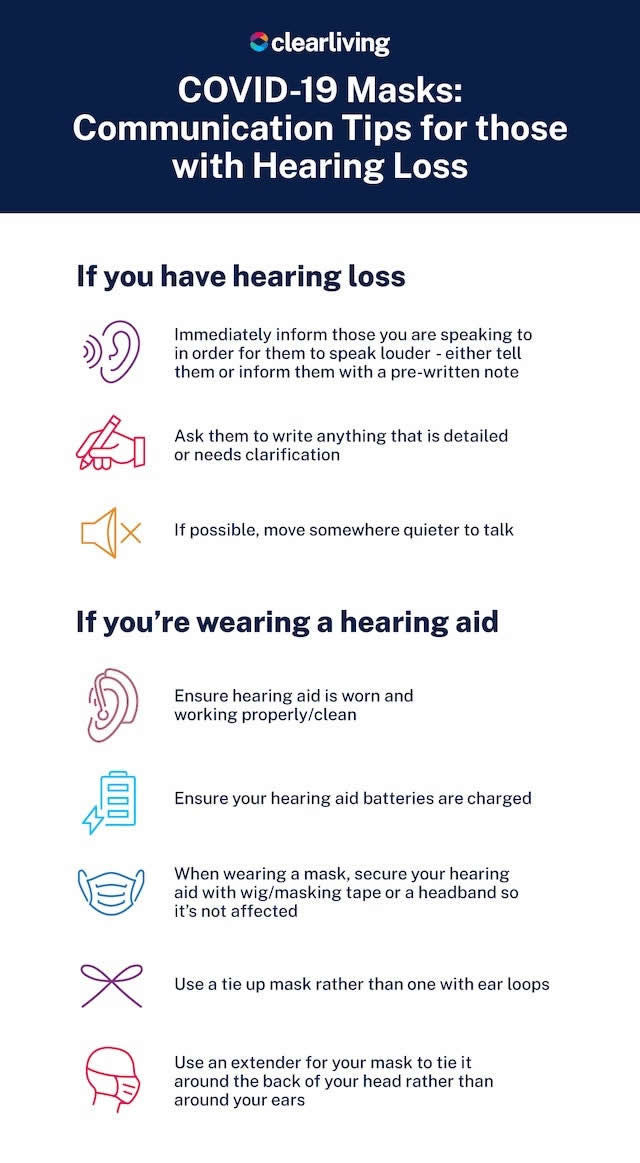 Summing up the Advice
Speak loudly and clearly;
If possible, move the conversation to a place with not a lot of surrounding noise – away from cars and other people;
Ask if they have a preference for how to talk or communicate;
Make sure they get all the important points you're trying to tell them – write down to ensure they do. This can be done on a mobile phone;
Use body language and hands to help communicate – point at things, gesture, use thumbs up or down to confirm;
Use synonyms or reword sentences they can't understand.
They've also put together some communication advice aimed at those with hearing loss
COVID-19 Masks: Communication Tips for those with Hearing Loss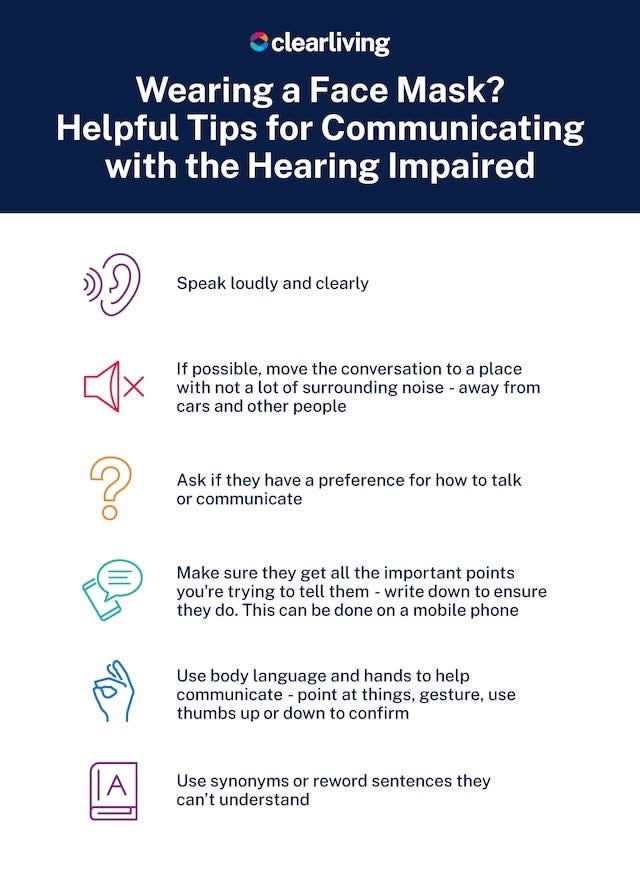 Let the person know about your hearing issues once you've started talking to them;
Ask the person to write down anything that needs further clarification;
If possible, move somewhere quieter to talk.
Here's some communication tips if you're a person with hearing loss:
Ensure hearing aid is worn and working properly/clean – 20% of people with hearing aids don't wear them;
Ensure your hearing aid batteries are charged;
When wearing a mask, secure your hearing aid with wig/masking tape or a headband so it's not affected;
Use a tie up mask rather than one with ear loops;
Use an extender for your mask to tie it around the back of your head rather than around your ears.
As COVID continues for the foreseeable future, using these tips and advice can make life much easier for those with hearing loss. A little consideration can go a long way in making a difference.
Comments:
No Article Comments available
Post Your Comments: