Your Country

There aren't many European yoga retreats that'll leave you with that sought-after sense of wellbeing long after the Euros are spent and your suntan has faded, but, believe it or not, there is one - and it'll not only guarantee you a lasting glow but a deep, inner feeling of vitality that's hard to undo.

Best of all, this small slice of heaven is just a short flight away;  set among hundreds of acres of woodland, deep in the heart of Italy, lies a very special hill - The Hill That Breathes.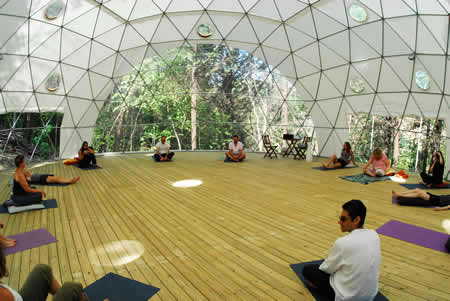 The giant geodesic dome, which houses most of The Hill's yoga classes

This one-of-a-kind retreat is the mother of all holistic get-aways. It's a place to practise yoga, unwind and relax, detoxify and indulge in a good dose of laughter therapy. Its secret lies with husband-and-wife team John Parkin and Gaia Pollini who bought the land several years ago and painstakingly renovated the two farmhouses, one of which now provides the basic accommodation for up to 20 hill-goers per trip.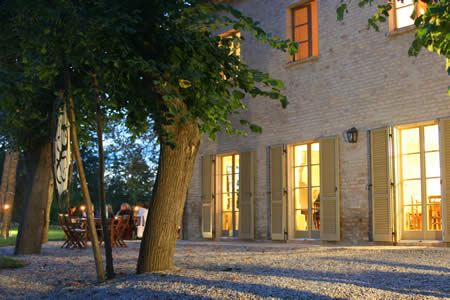 The farmhouse accommodation, which keeps its cool all summer

Their passion is undeniable and seeps into every orifice of the humble farmhouse and its surroundings, which are set among the greenest of scenery. The view is so picturesque that you could be forgiven for thinking you'd stumbled upon the Emerald Forest - and its 'greenness' doesn't end there.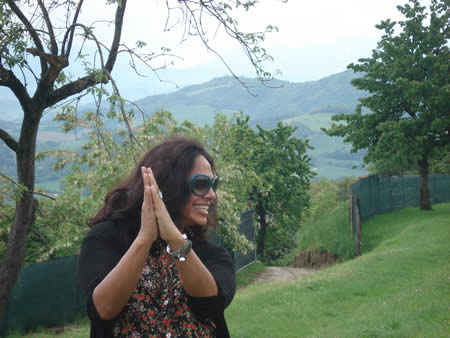 An unrivalled feeling... it must be The Hill That Breathes (pictured is guest Cherryl Strick)

The spa is as good for the environment as it is for its guests; the eco retreat takes its water from the hill and energy from the sun. It also takes care to preserve the local wildlife, including wild boar, red squirrels and many native insects, and their habitats. There aren't even any chemicals in the salt water pool, which is also heated by the sun - a very good reason to visit at the height of summer!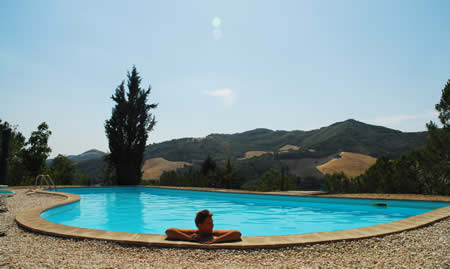 The salt water pool, heated purely by the sun

Yoga Weeks

The Hill hosts a range of yoga weeks throughout the year, covering
Astanga, Dynamic Flow, Hatha, Iyengar,
and
Jivamukhti
- so whatever your yogic persuasion, a tailor-made programme awaits. But which one should you choose?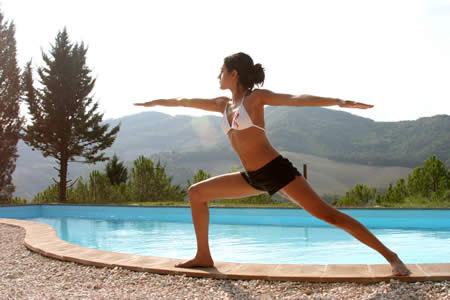 Yoga by the pool

People who generally like a bit of structure, although prefer to do things independently, tend to choose Astanga (also known as Ashtanga or Raja yoga).  Astanga concentrates on the eight key components known collectively as the eight-limbed path and follows a set series of Vinyasa-style poses. Its eight cornerstones are morality, ethics, posture, breath control, sense control, concentration, meditation and absorption and
Vinyasa
refers to the series of poses between Downward Facing Dog as part of the Sun Salutation sequence.
The Astanga weeks at The Hill, which are often combined with Eating Well weeks, are a good introduction to this type of yoga but experienced practitioners might be disappointed. Because this week caters for everyone, from beginners to advanced, well-versed yoga-goers are in danger of going unchallenged and seeking that familiar sense of structure. Otherwise, it's great for stretching out the whole body, gaining an introduction to chanting and meditation, group and one-to-one massage and working on those meridians.
For a more graceful form of yoga, try
Dynamic Flow
. As its name suggests, it harnesses the power and energy of a strong, flowing form. It's been described as 'meditation in action' and is often thought to be a more restorative form of yoga, helping to boost strength, flexibility and tone and, at the same time, soothe the mind. It's all about rhythm, balancing and harmonising perfect stillness with movement. It's soft and gentle, yet powerful and challenging - a winner with beginners and refreshers alike.
Hatha
, on the other hand, combines a series of difficult postures which have an intense effect on the mind, making it truly meditative. Its name is a general term to describe the physical aspects of yoga but you can still expect a typical Hatha class to be slow and gentle. This one's a great introduction to yoga and for learning the basic postures and relaxation techniques.
Concerned mainly with bodily alignment,
Iyengar
is based on the practices of Yogi BKS Iyengar. It helps you get your poses down to a tee and works your body to its comfortable maximum, while helping you to understand how to avoid injury. Lots of props, like blankets, straps and blocks, are usually used in the process.
Last but not least,
Jivamukhti
will have you rested, revitalized and grinning from ear to ear in no time. A typical class guarantees good vibrations from the soul up and you can usually expect flowing asana sequences, meditation, philosophy and Sanskrit chanting. Music often plays an integral role too.
If you're still in doubt about which week to book, just consult the table below to find out which yoga type is best for you. Then don't forget to visit The Hill That Breathes website to find out what's on when.
| | |
| --- | --- |
|  Your Personality |  Which Yoga? |
|  I Get Bored Easily |  Jivamukhti |
|  I'm In Really Good Shape  |  Astanga |
|  I'm An Absolute Beginner |  Hatha |
|  I Like It Nice & Gentle |  Iyengar, Dynamic Flow |
|  I Don't Like Change |  Astanga, Dynamic Flow |
|  I Like To Do Things At My Own Pace |  Astanga, Hatha |
|  I Have An Injury |  Iyengar |
The 'Masters'

The Hill's giant geodesic dome, in the centre of the forest, attracts some of the best yoga teachers around, including Nigel Gilderson, Dina Cohen, Dan Levitas, and husband-and-wife duo Duccio Alessandri and Bharti Roopanand.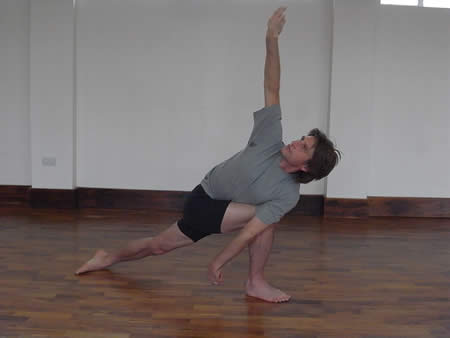 Yoga teacher Nigel Gilderson, who has developed his own style

Nigel is one of The Hill's stalwarts, having taught at the Italian retreat since it first opened in 2005.
He started out as a PE teacher and, drawn to yoga's therapeutic effects, evolved his own style of Hatha, which he now teaches, along with Astanga. He spent time honing his technique with Sri K. Pattabhi Jois in Mysore, India and has since taught yoga around the world for the past 15 years. He's the founder of Brockwell Lido Yoga Centre in South London, where he's still a senior teacher, and even runs weekend workshops in the beautiful British countryside. He also combines his teachings at The Hill with other yoga holidays in the likes of Spain, Egypt and Sri Lanka.
The Dome

Most of the Hill's yoga is taught in the Dome - fully equipped with mats, straps, cushions, blankets and an impressive set of acoustics - although, at the height of summer, the open-air platform overlooking the Tuscan hills is an obvious favourite. A typical day might include a two-hour yoga session in the Dome in the morning before lunch and then again in the afternoon before dinner.
Detox

Detox is relatively new at The Hill but has proved so successful that it looks like this year's Yoga and Detox week, run by natural nutritionist Helena Bingham, will be the first of many. Helena is The Hill's leading yoga teacher and nutritionist - having spent more than 22 years working in healthcare and over a decade promoting healthy eating.
Her programme combines very healthy eating with removing toxins via natural body techniques and daily yoga practice. It can help with weight loss, IBS, fertility and stress management - to name but a few common complaints. Helena's weeks are normally wheat-free and you can also choose whether to go without caffeine, sugar, dairy or gluten, depending on your needs and what you're trying to achieve. The yoga is based on Hatha, which Helena has been teaching for 15 years and her classes are said to be second to none. She does various classes and yoga workshops in the UK and even makes her own raw healthy chocolate.
Accommodation

The farmhouse accommodation is very, very basic and, as you would expect, there are no TVs, radios or en suites. Guests normally bunk up two or three to a room, some of which have a mezzanine level, and there are three shared bathrooms. Locks on the bedroom doors are a rarity but the general feel of the place is so friendly and relaxed that it doesn't seem unusual.
Healthy Eating

Each meal is a social occasion at The Hill - lovingly put together by Dutch cook Bente, who's a dab hand at cooking with herbs and flowers. All meals are included in the price and are strictly vegetarian, not to mention deliciously organic. A typical meal might include several salvers of different pasta, salad, bruschetta, soda bread and polenta. There's sometimes even pizza too! Wine isn't off the menu but guests must buy all drinks over and above their holiday price via a pay bar system. Bente will try to keep the breakfasts light, especially if your morning's itinerary includes a yoga session in the Dome.
What To Expect

The majority of guests are sole travellers - some of them experienced yoga practitioners and some of them just looking for a bit of time out to do some all-important soul searching. Expect to share your three square meals a day with your room mates, usually around the long dining table or outside, by candlelight, on the warmer nights. Talking, laughter and many heart-to-hearts are all par for the course and John and Gaia don't take things too seriously. This is your time and they allow you to do what you will. They place just as much emphasis on having fun and enjoying yourself as they do on food for the soul. Gaia is always around to offer some friendly advice - backed up by her loyal team of Monica, Maurizio and, of course, Bente. You're guaranteed to make some new friends, from far and wide, and learn a lot about yourself in the process. There's even a clearing where you are welcome - encouraged even - to light a campfire and toast marshmallows over a glass of wine or carrot juice.
Although all-inclusive packages start from around £770, there are some extra costs, of which you should be aware. The retreat closes each Monday for a deep clean and, although there are several excursions to choose from, these are at your own expense and don't include meals for that day. Hill walking, for which you will need suitable walking boots and a packed lunch - provided by The Hill, is offered by a local guide and will take you past glistening waterfalls and much of the area's flora and fauna, not to mention wildlife.
But if you'd rather steep yourself in a spot of renaissance culture, then the university town of Urbino is the place for you. It's the closest town by taxi and much of its comings and goings centre, naturally, around the main piazza. There are lots of quirky shops in which to browse, pick up some local delicacies (at a fraction of the cost of duty free) and perhaps enjoy a glass of Sangiovese on an open terrace - that is, if you're not detoxing!
A little further afield is the seaside town of Fano where you will find golden sands, turquoise seas, fresh seafood and some of the best gelato in all of Italy. It's slightly more expensive by taxi but there are hourly buses leaving from the main depot at Urbino which, with only a couple of stops, take around 40 minutes.
Head and body massages cost extra too - with the fee being paid directly to the local masseurs who are drafted in to aid your relaxation and, sometimes, cure your minor ills.  Treatments cost around 50 Euros and, ranging from reflexology, shiatsu and deep tissue massages to Tibetan bowls, are held in log cabins in the woods or, weather permitting, in the tepees scattered around the woodland estate.
About Owners John and Gaia

John and Gaia were both creatives in the world of advertising before they decided to swap their lives in London for something more fulfilling. Gaia, who is originally from Milan, is passionate about Chinese tea and their energies. Having learned almost everything there is to know about tea from a Chinese master, she now offers her own ceremonies as part of The Hill's yoga weeks.Guests are welcomed into her home to smell, taste and learn more about the teas which can have profound physical and emotional effects on the body. A typical tea ceremony might mean up to 20 rounds of Oolong tea, slurped from a tiny cup and, according to Gaia, the noisier the better!
Her husband, John, wrote the book
F**k It - The Ultimate Spiritual Way
and now runs his own F**k It weeks at The Hill. The couple both practise Tai Chi and Qi Gong and now live in The Hill's second farmhouse with their two young sons.
Getting There

Ryanair operates scheduled flights at least once a day from London Stansted to Ancona. Flight times are just over two hours and The Hill That Breathes offers a shuttle service via minibus from the airport to the retreat. The hill is way off the beaten track in the Marche region of Tuscany and transfers can mean a good hour-and-a-half ride by bus. Expect long and winding roads, uphill all the way, and a once-in-a-lifetime chance to see this part of Italy from the best vantage points possible. The retreat is very secluded and the nearest town is a 20-minute journey by taxi, which will set you back around 30 euros, depending on how many of you are travelling.
Further Information

Comments:
No Article Comments available
Post Your Comments: