Your Country

Despite the tragic events in Japan, which saw a trilogy of disasters wreak havoc across the north east in March - killing more than 18,000 Japanese - this amazing country is already on its way to recovery. Its strength following one of the largest modern day natural and man-made disasters is commendable and thanks, in no small part, to the integrity and resilience of the Japanese people. And if there's one thing that's helped the residents of Tokyo and its neighbours to get to grips with this devastating blow to their home country, it's their spirituality.

Japan is at the very heart of meditation, Zen Buddhism and simplifying life any way it can. It's also home to more temples and shrines than anywhere else in the world.  It's a uniquely respectful country and not only do its people have the highest life expectancy in the world, but they benefit from one of the lowest crime rates too.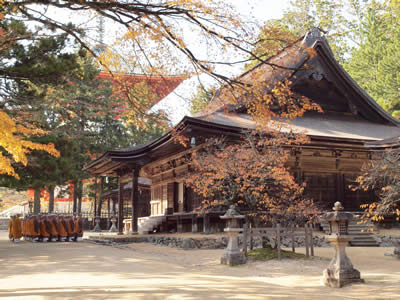 Daiei-Dou - one of the World Heritage buildings

Therefore, it's still a great destination for a wellbeing break if you head for the snow-capped mountains and healing hot springs of the south east. If you're looking to relax, rejuvenate and re-energise, don't head for the bright lights and industrialisation of the modern day capital. Keep away from Tokyo and, instead, make your way to the Kansai district, which is the ancient and cultural heart of Japan.

Here you'll find cherry blossom against a backdrop of breathtaking scenery, peace and tranquillity and many places of pilgrimage - not to mention lots of health benefits too. This is the place to visit if you're looking to embark on a true spiritual and personal journey that will really change your life - and that's why we've rounded up a few ideas for your next retreat.

Kyoto Garden Ryokan Yachiyo - Kyoto

Don't go all the way to Japan for a spiritual experience to stay in a modern sky rise hotel - book into an authentic Japanese inn like the Kyoto Garden Ryokan Yachiyo instead. You'll be transported into a world of calm and relaxation as soon as you take off your shoes. In true Japanese style, you'll be asked to swap your outdoor footwear for slippers and invited to slip into something a little more comfortable - namely a kimono - once you reach your room. Your room will be basic, but comfortable and spaced out by tatami mats which will form the base of your bed for the duration of your stay.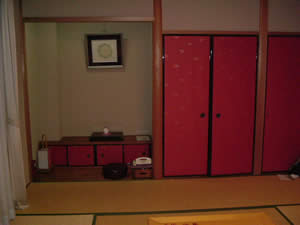 Kyoto room
Expect a really tranquil private space with everything you could possibly need - sometimes even a small shrine or raised platform for Buddhist rituals. Staff will normally speak a little English and as long as you brush up on the basic Japanese etiquette - addressing people as 'san' after their name, for example, or smiling with a bow - then you should get by without a hitch. The fact that there are no fluent English speakers in many Ryokans and that the Japanese have different ways of greeting should all add to the pleasure of just being there. Dinner will include a few courses of smaller bowls served on a tray and, of course, you'll be expected to use chopsticks. A typical sitting might include sushimi, tempura, seaweed, tofu and some sort of dessert - washed down, of course, with green tea, beer or sake.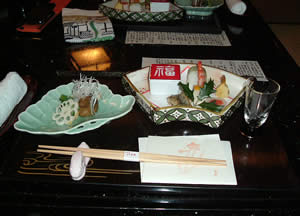 Typical Japanese meal - one course


But no traditional Ryokan would be complete without a tranquil Japanese garden and this particular hotel restaurant looks out onto one - through sliding doors - which is lit, beautifully, by lanterns at night. Once you're well rested and have, of course, tried out the communal bath - which also looks out onto the garden - then you can start to think about covering all those must-see attractions and must-do activities. Since the former capital of Kyoto is such a large place, it's better if you try to concentrate on two or three key areas and explore them in their entirety rather than trying to do too much. You are supposed to be relaxing after all!

One of the most impressive sights you should go and see, however, is Kinkaku-ji Temple, or the Golden Pavilion as it's more commonly known.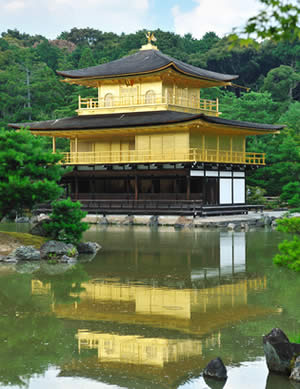 The Golden Pavilion - Japan


The traditional Japanese building sits in the north of the city and is a former shogun's villa, encrusted entirely in gold leaf - its appearance only made more exuberant by its reflection on the water which surrounds it. It's an incredibly peaceful spot where you'll probably want to spend a while both admiring the construction, which was originally completed in 1397, and walking around its adjoining woodland. It is, without a doubt, one of the most photogenic attractions of the city.
You can find out more about planning a stay in the heart of Kyoto by visiting www.ryokan-yachiyo.com

Negiya Ryohukaku - Kobe City

Sticking with our wellbeing theme, a visit to the spa town of Arima should be one of the first things on your to do list in Kansai. Arima is where you'll find the oldest surviving hot spring - or 'onsen' - in Japan and one of the ways to make sure your at its very heart is to stay at Negiya Ryohukaku in Kobe City. The Negiya Ryohukaku Ryokan is just an hour-and-a-half's drive from Kansai International Airport and occupies some of the land naturally enclosed in the Arima spa.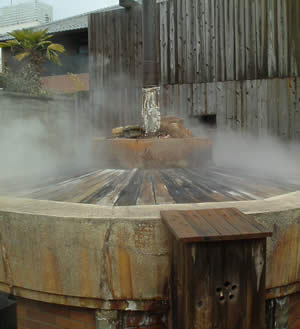 Hot Spring Arima
It has two communal tubs naturally filled with onsen water: the indoor Higurashi circular bath and the Japanese outdoor, or Cypress, bath - both great for soothing your ills. There's also a massage service and Mahjong Room where guests are invited to gather together and enjoy the food. The town of Arima doesn't feel touristy at all but is, instead, full of Japanese quietly going about their daily lives. It's an understated, yet pretty town, full of Japanese shop signage and traditional design.

Its Kinsen and Ginsen hot springs have various health-boosting ingredients, including seven of nine possible elements effective in medical treatment as set out by The Ministry of the Environment.

Its soft Kinsen waters contain much oxidised iron and are reddish-brown - otherwise thought of as 'gold' springs among the Japanese. They're iron, saline and sodium chloride-based high temperature springs which, because of their water softness, keep the skin moisturised and body warmer longer than their hard water counterparts.

These gold springs are thought to really boost circulation and benefit people who are sensitive to cold and suffer from lower back pain, muscle ache, nerve pain, infectious skin diseases and chronic eczema. One of the easiest ways to experience the water's soothing effects is to pop along to the public foot bath in the centre of town which remains a steady 50 degrees all year round.

The foot bath is really popular among locals and travellers alike and, once you've tried it, it's easy to see why.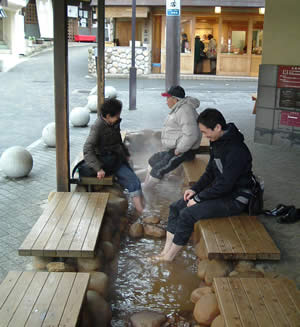 Hot spring foot bath in Arima


The Ginsen springs, of which there are two types, are very different but can be just as beneficial for your health. One of them is a carbonic acid spring, infused with carbon dioxide, which feels very smooth. Unlike Kinsen springs, they are clear in colour and are therefore known as 'silver' springs.

Taking a bath in one of these can be great for helping to alleviate high blood pressure, peripheral arterial obliterative disease, functional arterial circulation disorder and functional cardiac disease.
You can even drink the water to improve your appetite!

The other type of Ginsen spring is thought to enhance the body's natural healing power as you naturally inhale its gas when bathing. It's a radioactive, or radium, spring reported to be excellent for relieving menopause symptoms and rheumatism. You can bathe in both types of Ginsen water at Gin no Yu Spa in Arima and leave feeling completely relaxed - and, if the foot bath just isn't enough, Kin no Yu Spa gives you the opportunity to soak in Kinsen water. Most of these public bath houses are open until around 10pm and if you've never tried one, you've never lived!

There's also a lot more to see in Arima besides its amazing hot springs. Take the Onsen-ji Temple, for example, which is practically next door to the original source of the spring. You'll find this Buddhist temple - occupied by a statue of Medicine Buddha - sitting alongside a Shinto shrine and a smaller shrine for children to worship the deity 'Jizo'.



Medicine Buddha


Hire a local English-speaking guide from the tourist information office and he or she will talk you through the history of the temple which is now regarded as one of Japan's most important cultural properties and is, of course, still used by worshippers today. Another must-see in Arima is the impressive Gokuraku-ji Temple which has been rebuilt following its devastation by fire in the Edo period. It still houses an original bathroom, however, believed to have been constructed on the orders of samurai ruler Hideyoshi. Find out more from The Arima Hot Springs Tourism Organisation on 078 904 3450 (remembering to include the international dialling code), or at www.arima-onsen.com

Kongobuji Temple - Koyasan
For something completely different, head off the beaten track - and up to Mount Koya, one of Japan's most south easterly mountains, where you'll find the town of Koyasan in the Wakayama prefecture. Situated just over an hour's drive from Osaka, Koyasan is home to the Kongobuji Temple precinct which welcomes travellers for the night, or longer if you'd prefer. 

Your digs will be in the temple accommodation, which is one of only eight or nine of 52 in the area to remain traditionally Japanese. Kongobuji is the working head temple of the Shingon sect - occupied by at least half a dozen esoteric monks, who will welcome you in, feed you and give you an insight into what it's like to lead a holy life.

The rooms are surprisingly luxurious and well heated and you'll have access to the communal bath, which is very hot, and the twice-daily service in the temple itself. Food is strictly vegetarian so you can expect more tofu and seaweed, not to mention fresh fruit. Another surprise, perhaps, is that the monks will gladly serve you alcohol - albeit beer or sake.

Many of the buildings surrounding the temple are UNESCO World Heritage Sites and some are as much as 500 years old. Their original wooden architecture is a welcome sight for sore eyes after the concrete jungle city developments most of us are used to.

Their mountain location is a popular pilgrimage site of the Japanese and is so picturesque that you might never want to leave. Lush green forests give way to oriental stone gardens and bright vermillion buildings and gates - not least the Daimon Gate which marks the entrance to Koyasan with two wooden Kongo warrior statues protecting both sides.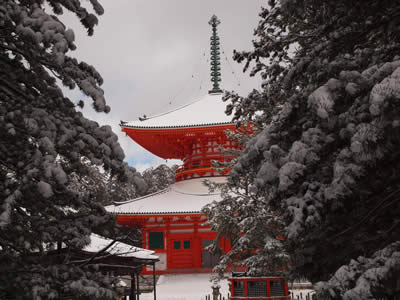 Konpon-Daitou - just one of the impressive pagodas in Koyasan


While you're in Koyasan, you should also look out for the Konpondaito Pagoda, which enshrines five sacred images of Buddha, and the Banryueti Rock Garden at Kongobuji Temple which is the largest of its kind in Japan - with its rocks symbolising protective dragons. In fact, if you're keen to learn more about Buddhism, Kongobuji is the only place to come. The English-speaking monks are more than happy to share their experiences and details of their lives.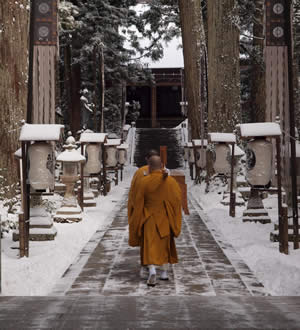 Transporting the food to Kobo-Daishi


You may even be lucky enough to witness one of the ceremonies in which the monks prepare food for Kobo-Daishi, or Prince Kukai, who is believed to be encased in the mausoleum behind the temple.

Getting around Japan

Japan has an excellent public transport system but it's just as easy to hire a car and drive. Most cars come with satellite navigation and driving is on the left so you shouldn't experience any problems.

If you do decide to take the bus or train, however, do take advantage of the Kansai Thru Pass which lets you ride the trains, subways and buses across the whole of Kansai on one single ticket.  Find out more at www.surutto.com

Comments:
No Article Comments available
Post Your Comments: