Your Country

I took the cat ferry from Portsmouth and in three hours arrived at Cherbourg, from where I was driven to the Chateau Bellenau in Normandy, a few miles away. The Chateau has now been owned for three years by a visionary Englishman, Steve Aldridge. Steve, a fortyish surveyor with a particular interest in Eastern philosophy, psychology and therapy, decided to rescue the Chateau and its extraordinary gardens from the neglect of many years, and create a venue for transformative groupwork.
Yoga, past life regression, and other alternative groups are already sampling the comfort of the newly furbished en suite bedrooms, his library of psychological and spiritual books and the organic, home-grown vegetarian food, while bringing their own brand of spirituality with them. Business and coaching groups, relaxing at long last from their computers, are coming too, captivated by the sheer beauty of Bellenau's 40 acres of land and lake, as well as the high standard of good food and wine. So far there have been rapturous comments in the visitors' book, and promises to return as soon as possible to benefit from the magical beauty of the restored mystical gardens and modernized accommodation.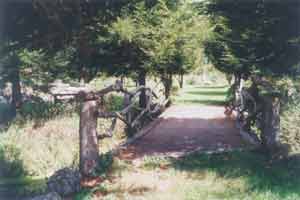 The historic five acres of mystical gardens are enchanting. With a warm August sun dappling and brightening the tropical trees, the lush vegetation and dark corners are a joy to the eye. Monet would have loved the many shades of green and the delicate wooden and iron bridges above the complex of streams. Myriads of interconnecting grottoes are surrounded by leafy vegetation, with palm tree branches soaring over exotic specimens of flowers. Everywhere are surprising sights: stone Buddhas in alcoves, stone boulders, strange towers, and stone seats offering restful viewing of all this abundance. The mystical gardens are an artist's and photographer's paradise. You walk down narrow paths, and suddenly discover yet another grotto with a dark cave, again exquisitely beautiful.
A narrow bed of water winds around the grounds of the Chateau, opening up into a lake. A wooden boat with a paddle looked inviting, and I sculled across to climb onto Arto island, which has a tantra temple. Tall bamboo stems hide a tiny shelter, ideal for meditation and silent retreats. Going back again to the boat, I drifted further along, avoiding overhanging willows and fallen branches, where ducks and a heron sheltered, and I breathed in the glory and the beauty of the place, enjoying the sultry summer day.
The Chateau Bel Enault, as it was formerly known, was once owned by the King of France in 1409, and was eventually purchased in 1679 by the Earl of La Fosse, a young botanical fanatic, whose family retained it until 1906. It was he who created Le Jardin de Paradis Mystical, "a place of unique spiritual energy and peace", spending all his inheritance on his passion for gardening and importing foreign plants. Like Steve, he had a vision, and his was to create a subtropical garden paradise with trees and plants from around the world.
Steve has added two acres of vegetable fields and a chicken enclosure, which supply the Chateau dining room with a supply of organic pumpkins, carrots, melons and herbs. There is also a lively and noisy peacock, hopefully not for dinner. Many birds of prey and other interesting wildlife live on the estate, and I met a gardener one morning who showed me his catch of a bucket of eels and a carp ready for déjeuner.
I talked to Steve in the Chateau sitting room, where a library of books reflects the range of his interests, Chinese philosophy, spirituality and personal growth far outnumbering Dickens and Accountancy. He has brought what he calls 'Humanistic Capitalism' to Normandy. A highly successful chartered surveyor and property developer who has also studied Reiki, a popular Chinese healing therapy, he has a strongly spiritual side as well as business acumen. He is a man with a serious mission, which is not only about making money, although he hopes that the Chateau will shortly break even financially.
Steve hopes that the participants in alternative therapy courses who come to Bellenau will leave behind their spiritual energy, which will somehow be picked up by business groups that follow, and they will cross-fertilize one another, so that the energy from the business groups may 'ground' the overly spiritual. I suppose Feng Shui experts would understand this quite easily – something about people leaving 'imprints' behind them. To Steve, being at Bellenau is an inexplicable, transformative and alchemical experience. "If you can write it down, you haven't quite got it", he quotes from Tao Te Ching, revealing his philosophical interest which led to his studying in China.
When groups of trainers, team-building executives and business directors come for conferences from the UK to Bellenau, they expect and get a high standard of accommodation. They also get instant bonding through sharing the well-equipped two- or three-bedded rooms, each with a new en suite bathroom and views over the gardens. Similarly, participants in past life regression courses appreciate the material comforts of the present century. Boiling hot showers with plenty of fluffy blue towels give instant bliss.
Combined with the extremely healthy organic vegetarian food, with chicken and fish available, city life fades into a distant memory and total relaxation takes over. There is a large training room for yoga or conferences and each group has privacy and sole occupation of the Chateau for their stay. There is plenty of space on the estate for further building, and more improvements are planned.
Bellenos is the Gallic god, spirit of health, medicine and light, and this has been the theme of the Chateau for 500 years. Nowadays there is a store of mountain bikes to ride to the sea 40 minutes away, or you can play tennis and boule on site, or simply sit and watch large tortoiseshell butterflies flopping on the flowers.
A flow of volunteers from different countries works at renovating the gardens, or helping in the kitchen. They come through the WWOOFF organization and are known as 'Woofers'(willing workers on organic farms). Steve says that, like the guests, they too can be affected by the serene atmosphere of the place: "It takes away the framework of normal everyday mundane life". Workers get space to focus in the tranquil atmosphere, and a supportive community is created in a separate part of the Chateau, where they live, cook and eat together. They tend not to stay more than six months, having taken time out from work or studies.
Steve has other business operations in England, but comes over to Bellenau frequently to oversee its direction. Groups are booking up nicely, and I feel sure that, like me, participants will be totally charmed by the beauty and peace of this lovely place.
Further Information
More details about Bellenau can be found on the website at www.bellenau.com
Comments:
No Article Comments available
Post Your Comments: