Your Country

Gentle Touch of Reflexology™ (GTR) is a subtle yet powerful reflexology technique. It is an incredibly effective and delightful technique which allows the practitioner to work gently, although deeply, with the client in all levels of life, i.e. emotionally, physically and energetically.
Gentle Touch of Reflexology is specifically a massage of the feet (or hands), which allows the unique lightness of touch to penetrate the reflex points that are located in the feet. The feet and hands have reflex points located within that reflect all areas of the body. Additionally, the feet can indicate how the client is feeling and dealing with life. Most people initially underestimate the power of the subject, and it is not until the students' training is actually under way that they realize the potential of the therapy.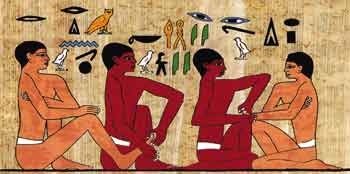 What is Gentle Touch of Reflexology?
GTR is a method of aiding and assisting an individual to access their own healing potential via a specific massage of the feet (or hands). It acts as a facilitator for their own healing ability and supports their own healing powers. This is an important aspect, as I believe that the power of the therapy is in the ability of the practitioner to use the natural energy flow to empower the client. The reflex points for every area of the body are located in the feet or hands and are accessed via the various subtle energy pathways in the body.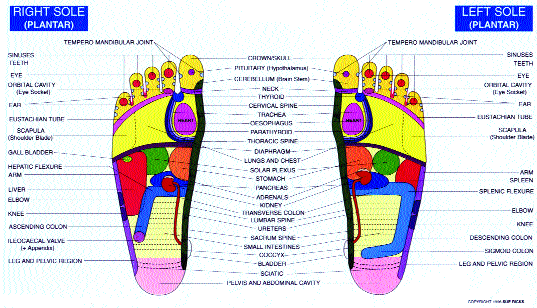 Foot reflex chart – Gentle Touch™

There are many different techniques used in reflexology. There is evidence that reflexology has been used for centuries, including the most notable example of reflexology being used in the physician's tomb in Saqqara, Egypt.
GTR is specifically a light and gentle touch, which allows the client to relax in a supportive reclining chair and receive a delightful massage of the feet that does not hurt or cause discomfort.
Traditionally, reflexology has used a firm pressure on the feet, whereas GTR is an advanced method of accessing the feet and energy field of the client while using the most minimal of touch.
Over the centuries, practitioners of reflexology have used a variety of pressures on the feet, from extremely hard or painful, to touch of a lighter nature. This is in direct relationship to the way in which we lived and worked. In years gone by, our lives demanded that our feet had to cope with hard surfaces, stone floors, cloth footwear and walking for miles. In the modern era, our feet are extremely cosseted areas of our body. We wear shoes with effective and protective soles, in our homes we have smooth floors and carpets and people rarely spend much time barefoot. Most people do not need to expose their feet to the kind of labours that caused their feet to develop deep protective layers of skin. In view of the modern trend of living and new vibrations of life in the 21st century, it is now becoming more appropriate to use a more subtle energy and touch that blends with the client's needs. GTR enables all areas of the mind, emotions, body and energy to be aided and assisted.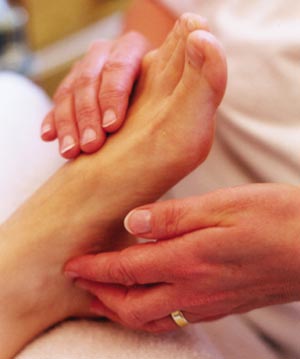 The Development of GTR
My own experiences of reflexology have led me to develop GTR as a specified and recognized therapy. I am passionate about the powers and abilities of reflexology in general, having been introduced to reflexology by a practitioner who used a more pressurized technique. My first impressions were that reflexology had huge potential and I realized that it was a powerful and effective force. I also knew, however, that there was something missing for me. I experienced the pressurized techniques for some time and felt I was searching for the missing link, and was fortunately introduced to a more soft and subtle method by my mother. This more subtle approach had a profound impact on me and I knew that I had found the first piece in my missing link. I met Patricia Morrell who first introduced me to the softer and more subtle methods of using a light touch. In continuing my intuitive development of a variety of different and subtle energy techniques I have been led to develop GTR. It has been said that the lighter the touch the more profound the benefit. The techniques used in GTR are specific to the supportive way of using the subtle energies of the client and practitioner to achieve an amazing degree of success.
Case History 1: Shoulder Pain
Valerie came to me following a recommendation, and went on to train in GTR following an unexpected level of success in treatment. She had been working at Great Ormond Street Hospital and developed intense pain in her shoulders following a stressful period in her life. She was extremely thorough in her initial questioning of what GTR was, and how it worked, as she came from the medical profession and needed evidence. She now freely admits that she was the original true sceptic but desperate for relief from the shoulder pain. Following the first two treatments she felt noticeably better in herself, and significantly better physically. Within three weeks she had no pain in her shoulder at all, and was able to resume using a small handbag, which she had previously been unable to carry. The difference that GTR had made to her physically was matched emotionally and energetically to an extent that she felt the need to train in GTR in order to share what she had experienced with others.
Case History 2: Multiple Sclerosis
Anne has multiple sclerosis and had been in a wheelchair for several months following a steady decline in her condition. She is a very independent lady and found life in a wheelchair intolerable. She arrived determined to stand, but was actually carried by her husband who held her under her armpits whilst she tottered on sticks for the few yards from her wheelchair to the reflexology reclining chair. Anne had her first treatment of GTR and amazed everyone by getting up at the end of the session and walking! She literally stood up and walked. She proceeded to walk out of the clinic, unaided, to rejoin her husband, and was back at work full time within five weeks of the initial treatment.
Case History 3: Neck Injury
A client came with great discomfort in his neck following a skiing accident over 18 years previously that had left him with restricted movement. During a period of four treatments he experienced brief initial discomfort followed by a total recovery of full movement and rotation of the neck. It is common for some people to experience a brief setback or flare-up of their condition before healing is felt and the condition improves.
What Can Be Achieved?
This is a powerful therapy that utilizes the practitioner's understanding of how people, feet and energy systems work. The practitioner can support the client on a deep level by 'reading the feet' and getting a broad overall picture of the client's needs. Every client is asked to provide full medical case history details via a short questionnaire that the practitioner will discuss and talk through. This will be the first way in which practitioners will assess how they can best support and assist the client. Practitioners are also taught how to read and interpret many additional indicators, i.e. footwear analysis, initial impression of the client, health factors and specifically the information that can be read from the zones of the feet.
It is important to make a visual diagnosis in order to assess, prior to any touch, the primary areas for the client. The better the practitioner can create a picture of what the client's requirements are, the better they can build up a sense of how to support and work with that client's own individual needs.
People can benefit from GTR for an enormous number of conditions and areas of life. The list is so wide ranging that it would be impossible to detail them all, although the following are a few indications of the types of conditions that can be assisted by the therapy:
skeletal problems i.e. back and neck injuries;
headaches and migraines;
digestive disruptions, including irritable bowel syndrome and colic in babies;
depression and sleep-related issues;
infertility and hormonal irregularities.
From my many years of experience I have seen some amazing results and believe that most people possibly underestimate the potential of the therapy. It must be pointed out that although the potential is enormous there is no guarantee of the outcome. We are working so sensitively with the client and their whole system that we work on all levels – emotional, energetic and physical – and therefore the benefit can be experienced in any one of these areas. It is often the case that a client will come for reflexology for one need, and experience a different benefit.
Case History 4: Eyesight and Skin Condition
One lady came for treatment for a skin condition, and the first thing she noticed was a change in her eyesight. She travelled back to her home town to see her optician who had seen her since childhood, and was amazed to be told that she had gained the sight of her left eye in which she had previously been blind. I personally believe that this is a demonstration of the power of GTR. In this case the potential for her eye to work was there, but it had never been 'switched on'. It was after her eyes had benefited that her skin also responded to treatment. In all cases it is the ability to stimulate the client's own healing powers that is the key to success.
How Does This Technique Differ from Other Forms of Reflexology?
The unique lightness of touch and method of treatment are what contribute to this therapy being regarded as so special to those who practise it. The advanced skills integrate many different factors, including light massaging strokes, the use of an oil to aid the flow of the treatment and many subtle energy-harmonizing techniques.
Once a treatment has begun, there is continuous contact with the feet throughout the treatment. The practitioner will 'flow' from one foot to the other whilst working through all of the systems and areas of the body. This allows the client to feel supported and balances the energies of the whole person. Additionally, the integration of the visual diagnostic techniques enhances the overall effectiveness of the assessment of the client's needs. The use of an oil, the lightness and subtlety of touch, and flow between both feet during the treatment are the main differences between GTR and some other methods of treatment.
I believe that the power of GTR lies in the fact that it is a 'gentle touch'. It is a normal reaction to recoil if there is anticipated pain. The aim of this therapy is to allow the client to lie in a comfortable, supportive reclining chair, have their feet wrapped in soft warm towels, and receive something that feels like a soothing and pleasant foot massage. A treatment should feel light, soft and soothing, and no more invasive than that. The appearance of the technique is very deceptive, and many people who have watched a treatment have found it very relaxing and wondered if something so soothing can be as powerful as it claims. It is this subtle approach that is the key to its success, as the client is more receptive to the healing energies when feeling safe, supported and protected. The client will sense from the first touch that this treatment will be comforting and beneficial. They do not anticipate pain or discomfort and therefore no 'barriers' are put up. People will instinctively protect themselves and pull back if they feel exposed or vulnerable in any way.
Many reflexologists are now finding that they are unable to sustain the pressure in their thumbs, which impacts on their wrists, elbows, shoulders and neck. Many students and graduates of the training have been drawn to GTR as a method of working with clients in a way that also supports themselves. In my experience it is essential that both client and practitioner feel totally comfortable in order for true healing to occur. There is no pressure used in this method of treatment, so both the client and the practitioner benefit.
The Future of GTR
In my years of experience in reflexology and many other energy-related fields, I have come to believe that the more subtle and gentle approach to life is the most powerful and potent. People respond well to gentleness, kindness, knowledge and professionalism. A simple test you can perform to demonstrate how GTR works it by pressing your thumb hard onto your arm and seeing what you feel. Then let your thumb recover. After a few moments, gently place your thumb on the skin (do not press) in a slightly different location on your arm. Gradually increase the pressure on your arm and sense what you feel. You may find that you can sense and feel a great deal more when you touch more gently and sensitively. This is how GTR works, as the the practitioner is able to pick up more information if they touch the feet gently. They can use the information that is 'read' by visual diagnosis, together with what they feel and sense, in order to aid and assist the client's own healing potential.
A positive and realistic approach is vital in this therapy. This is achieved by athorough understanding and in-depth knowledge and awareness of self and others. The client receives the benefit of all of these approaches. Most people notice that they feel a subtle and yet profound sense of inner confidence and calm, as well as a feeling of well-being and a more positive outlook to whatever life challenges they are experiencing. People feel better physically, emotionally and energetically with this therapy.
Further Information
For further information on training courses and Gentle Touch™ Reflexology, please send a SAE to Sue Ricks, 15 Cropston Avenue, Loughborough, Leicestershire LE11 4PR; suericks@suericks.com;
www.suericks.com
Gentle Touch™ Reflexology is the trademark of Sue Ricks.
Comments:
Sue Ricks said..

Hello Julie
Thank you very much for your comments about Gentle Touch Reflexology. I have only just seen your comments and am not sure how long ago you left the message. I am delighted to share more information with you about Gentle Touch Reflexology and am also pleased to tell you that there is an instructional CD on the subject that is available through Amazon and my website www.suericks.com. Gentle Touch Reflexology (GTR) is a beautiful and wonderful way of being able to do reflexology without encountering any Thumb joint discomfort that you have recently experienced.

I am teaching in various countries at the moment and will be in the States in May and October this year (2011) and soon there will be other teachers in the USA

There is also additional information at www.g?t-r.org. Please feel free to contact me if I can help you further.
Sue Ricks, Gentle Touch Reflexology




---

Magda said..

Thank you very much for this great article! I read it with a huge interest! I'm a freshly qualified Reflexologist who is using quiet strong pressure (as I believed it was most beneficial) and it was really good for me to read about the benefits of using a Gentle Touch. I will definately use it more often from now on while working with any future clients. Thank you! M.

---
Post Your Comments: