Your Country

Balens are Excited to Share our Big News With You…
We are delighted to announce we will soon be joining the PIB Group!
PIB are a great fit for Balens as they have similar ethics and an ethos which resonates with our own. Our name, brand, personnel and speciality will carry on as before, with the added investment and support of PIB.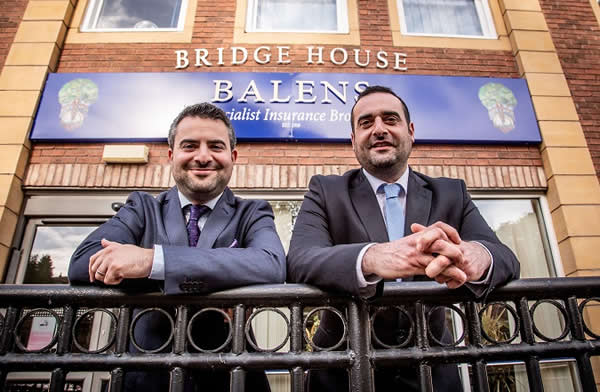 Joe and Josh Balen Outside Main Office in Malvern
As you know, Balens has been serving our clients since 1950 and specialising in the Health, Wellbeing, Fitness & Beauty industries tirelessly for over 30 years during which time our pioneering work, and yours, has been inextricably intertwined and grown together. Our aim is to continue this for many years to come, and we therefore believe joining PIB is the right decision to ensure future security for our staff, our clients, and our business, providing ongoing sustainability and growth.  
David Balen will continue as Chairman and both Joe and Josh remain as Managing Directors, so there will be no break in continuity from your point of view.  We will also become shareholders of PIB. Balens will remain a family run brokerage, continuing to do what we do best, with the significant benefits of joining a larger group.   
PIB are a dynamic growing Group, both within the UK and EU, we believe that this collaboration and investment in systems and people will enable us to offer better products and an enhanced service to our clients, associations, and other business partners. This will support our long-term development both in the UK and abroad.  
You can see the press release here:
https://www.pibgroup.co.uk/news/pib-group-acquires-balens-and-moves-into-health-wellbeing-fitness-and-beauty-sectors
We are now awaiting regulatory approval from the FCA, and AFM in the Netherlands and once this has been granted, hopefully in a few months' time, Balens will then formally become part of the PIB Group. We will let you know when this has happened. 
For us, it's business as usual. To our valued clients, associations, and other business partners we would like to say thank you all for your loyalty, hard work, and dedication to our sector.
We look forward to being of service to you all for many years to come.
Your continued support of Balens means the world to us!
All the very best,
David, Joe and Josh Balen
Balens Ltd
Main Office: Tel: 01684 893006
Wellbeing – Pathways to Personal Health, Wellness and Spiritual Growth
My Wellbeing is a targeted approach, education-driven, to inform people of threats and potential threats to their wellbeing. Those threats come from a variety of origins; home, family, workplace, environment, food chain, social media, housing, excess medications, anxiety, stress, and many other sources. My Wellbeing combines nutrition with homeopathy, herbal medicine, kinesiology, bio-resonance, mindfulness and many other natural therapies. Its objective is to provide more enhanced emotional and energetic composure and connection with the elements of life and the society in which we live.
Homoeotherapy, as a branch of healthcare, consistently and conscientiously assesses, manages and maintains good holistic health and prevents unease. Integrated Practitioners search for the causes of dis-ease. In helping create a more stable, rational and stronger environment for overall balance – physically, emotionally, psychologically & spiritually – each unique individual can expect improved outcomes. Creating a better environment requires love, intent, action, and frequently, intervention from higher resonating sources.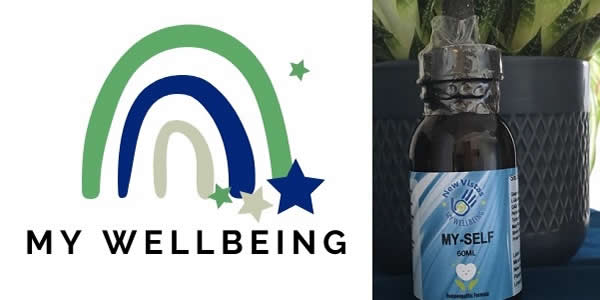 Personalized medicine to assist with the emotional roller-coaster that is life, embracing mental & emotional wellbeing, connectedness, protection & spiritual enhancement
The growth and development of Psychology in recent decades has highlighted the growing levels of mental and emotional distress in society.  Modern living has added enormous pressures on individuals and families. Environmental degradation, over-fertilization of farmland, pollution of soil and water, narcotics, high levels of prescription medications, contaminants in the food chain; all add to pressure on citizens. New approaches are required.
It is important to understand that we need to work at, even strive to achieve harmony and balance in our state of mind and our wellbeing on a continuous basis. We also need to feel assured that this harmony can be sustained, irrespective of the ups and downs that occur on a consistent basis throughout life, be it within the home, family, workplace or community. Our natural personal instincts drive us towards a personal strength which is described in psychology as individuation. Respecting, nurturing and protecting our heart-centres then helps healing and development flow outwards to the wider collective.
My Wellbeing is positioned to help open the doors to a wider landscape of psychological healing. Symptoms can range from panic attacks, low moods to eating disorders and PTSD. A perceived attack, judgement, questioned beliefs or prejudice can undermine self-esteem, confidence and assuredness. In conjunction with standard Homoeotherapy principles, Energetic Therapy helps hold space to acknowledge the mismatch of emotional & mental energies, to help people develop their own personal skills and look inwards for greater awareness and true healing.
Further Information
For further information: email info@newvistashealthcare.com, telephone +353 61 334455 or visit our website - https://newvistashealthcare.com/
Rhiannon Lewis: EORC BOTANICA, ICAN and ECA Milestones and Achievement
The International Clinical Aromatherapy Network (ICAN) hit two important milestones!
In June 2022, ICAN celebrated its one-year anniversary and achieved its primary goal of establishing a member-supported, engaging, informative and professional online platform for all who work with essential oils and aromatherapy.
Its second milestone was achieved in July 2022 when ICAN welcomed its 1000th User to the platform! Bringing together ICAN participants from 75 countries worldwide for networking, education and rich exchanges in a safe, respectful and marketing-free environment, ICAN is truly the one-stop destination for professional aromatherapists and suppliers to the aromatherapy trade.
Access to the basic functionalities of the ICAN platform is free. Student, Professional and Business Members benefit from increased accessibility, admission to the comprehensive ICAN online Library and other bonus features such as discounted ticketing on live classes and member-only community activities.
Further Information: www.clinicalaromatherapynetwork.com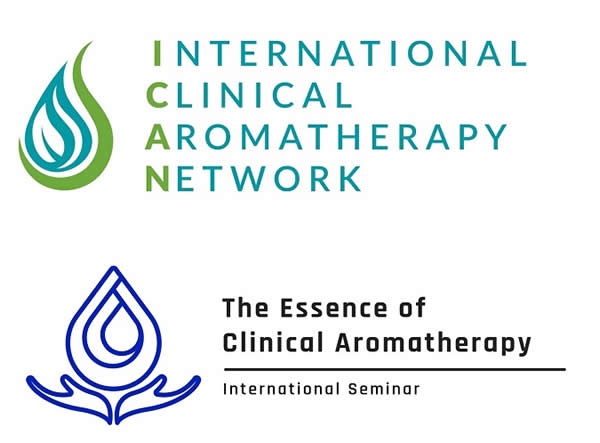 Botanica Conferences and ECA Seminars go from Strength to Strength!
Rhiannon Lewis, ICAN's host and organizer is also director of Essential Oil Resource Consultants (France). Passionate about promoting the safe, effective use of essential oils worldwide, she is the organizer of the renowned biennial Botanica International Conference Series and the Essence of Clinical Aromatherapy (ECA) International Seminar.
Rhiannon says "Botanica2022 was attended by professionals located around the globe and was a wonderful success with lectures built around the theme of Past-Present-Future. For those who were unable to attend this online event, the conference proceedings and lecture recordings are now available via Essential Oil Resource Consultants. What's more, building on the success of the previous three ECA events, we are already planning our 2023 seminar taking place in person May 20th & 21st 2023 at the Royal Botanic Garden, Edinburgh, Scotland. There we will be once again showcasing the very best of clinical aromatherapy with practitioners and speakers from around the world.
We are already open to registrations of interest from participants, potential speakers, sponsors and exhibitors: http://eepurl.com/h4QeZ5"
Further Information:  www.essentialorc.com
The International Science Nutrition Society ISNS
The International Science Nutrition Society (ISNS) is a unique and innovative concept to acquire and share expertise in science and nutrition. Science incorporates nutraceuticals, phytology, ecology, and nutrition. Nutrition in its fullest sense of the word encompasses emotional, mental, and spiritual nourishment. ISNS, a society of excellence, is led by eclectic doctors, healthcare professionals, and research scientists with combined experience in science, nutraceutical, and pharmaceutical environments. Together they create a strong foundation for healthy living to improve global health and wellness.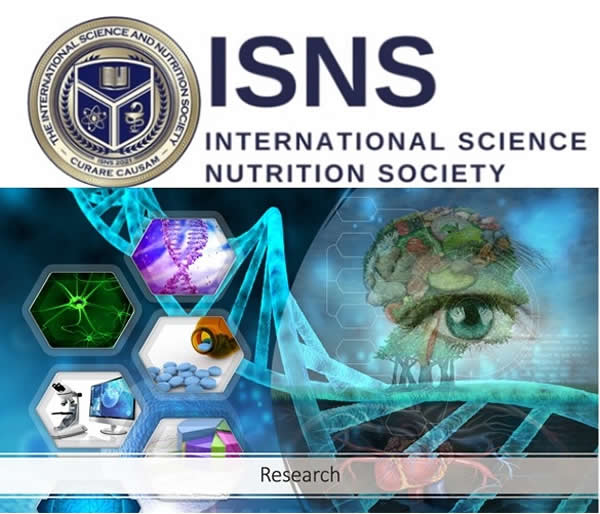 "Creating a community that comes together to leave behind a clean, happy, and healthy world for future generations – healing the planet one life at a time." 
Bringing information, education, research, and advisory panels, ISNS focuses on the core of health and wellness.
The ISNS Advisory Panel is an elite group of influential and highly regarded professionals in traditional, complementary, and integrative medicine, including scientists and researchers. In today's highly toxic environment, ISNS Advisory Panel specializes in finding natural solutions and bringing opportunities and education to the professional and consumer communities.
The ISNS provides its members with the latest in research publications, abstracts, journals, posters, case studies, and white papers. The ISNS also provides opportunities for research and grants with an extensive library of multidisciplinary resources, including natural ingredients, minerals, vitamins, and seeds that are the basis of a natural and nutritional-rich lifestyle. One of the basic principles of ISNS is to study the science behind nutrition in the broadest meaning as it is often relegated to addressing problems without solving the root cause.  With our global team of experts in the health and wellness community, ISNS provides a foundation for research, exploration, information, and education that can assist professionals and consumers with holistic solutions to their wellness journey and nutritional planning," comments ISNS Founder Dr Christina Rahm.
"In my opinion, the most significant benefit for both doctors and consumers is getting to the root of the problem with science-based nutrition to promote healing, well-being, and a healthy lifestyle," comments ISNS Advisory Board Member Dr Dori Naerbo, PhD.
Clare G Harvey              Dr Dori Naerbo
Executive  Director      Research Director
Further Information
For Membership, Grants & Research Enquiries, please contact The International Science Nutrition Society– ISNS via info@sciencenutritionsociety.com     https://sciencenutritionsociety.com/
Imam B Jaiteh Charitable Foundation Donates to 8 Gambian Villages
The Iftar gift distribution which took place on 8th April 2022 included over 300 bags of rice, 200 copies of the Quran, bags of sugar and several other food items for the benefit of the inhabitants. In a communiqué to this correspondent, Imam Jaiteh, who is also a Gambian Ambassador at Large based in the UK and The Gambia, revealed that the beneficiaries included villages such as Jamaly Babu, Jamali Tamiser, Jamali Ganado and Jamali Musa respectively.

Borehole, solar system, street light
The Charitable Foundation which made similar donation in 2020 currently targeted other important projects such as the digging of boreholes or wells, solar systems, dozen street lights, building of mosques and supporting vulnerable and other needy residents.  
Consequently, the Foundation is currently supporting orphans to pursue their education free of charge from kindergarten up to university level.  
Taking into consideration the significance of electrification, the Foundation also embarked on electrifying the villages as well as supporting sick and ailing people by paying their full hospital bills.  
The presentation of the gift took place in the presence of village elders as well as youth representatives who equally expressed gratitude over the support especially during the period of Ramadan.  
Finally, Imam Jaiteh thanked all those who supported the Foundation's project as well as the Gambia government for providing and encouraging a conducive environment for a successful endeavour. 
Further Information
The Charitable Foundation needs help and the support of philanthropy. To help or for further information please contact Mr Imam B Jaiteh on Tel: 07985 691335;  info@besthealer.co.uk   www.besthealer.co.uk
Acknowledgement Citation
Previously Published from thepoint.gm
https://thepoint.gm/africa/gambia/national-news/imam-b-jaiteh-charitable-foundation-donates-8-gambian-villages
Pine Needle Extract – Why is it Helpful?
More and more we are beginning to appreciate the damage that has been done to our bodies when foods are sprayed with glyphosate (Round UP). One point that is not particularly appreciated is the fact that glyphosate destroys the functionality of the Shikimate Pathway which inhibits the ability of our bacteria cells to function normally. The Shikimate Pathway is a vital biochemical process that exists in all plants and bacteria.
It is believed that the disruption of the Shikimate Pathway has been a major contributor to the surge in chronic diseases such as digestive disorders, immune dysfunctions, reproductive issues, food allergies, autism and in addition to diabetes and cancers. Genetically Modified Organisms (GMO) in particular are sprayed with glyphosate. When GMO foods were first introduced in the US in 1996 chronic disease affected 7% of the population.
According to the US CDC in 2020 over 51.8% of the adult population has one chronic disease and 21.2% suffer from multiple chronic states. CDC identifies the following as chronic disease: arthritis, cancer, chronic obstructive pulmonary disease, coronary heart disease, asthma, diabetes, hepatitis, hypertension, stroke and weak or failing kidneys.
Additionally the Shikimate Pathway is the precursor to several B-Vitamins and the aromatic amino acids : phenylalanine, tyrosine and tryptophan. Lack of the aromatic amino acids interferes with the production of serotonin, L-dopa, dopamine, epinephrine, norepinephrine and melanin. Lack of these neurotransmitters produces depression, anxiety, mental and emotional imbalances.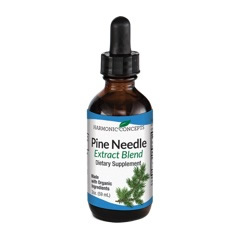 Pine Needle Extract Blend
Benefits of Re-Establishing  the Shikimate Pathway
Research has shown that shikimic acid and suramin re-establish shikimate pathway functionality. They have been shown to reduce platelet activation and aggregation related thrombus formation.  Shikimic Acid has anti-viral and anti- oxidant properties. It can help restore bacterial balance in the intestinal protract by eliminating fungal invaders such as Candida albicans. Shikimate acid also has anti-bacterial properties. Taiwanese scientist showed that shikimic acid is effective against 67 drug resistant strains of bacteria.
White Pine Needles and Star Anise are good natural sources of shikimic acid to help to restore functionality of the very important shikimic pathway. US company Harmonic Concepts have combined them into an easy to take food supplement. Of course at the same time it is important to avoid all GMO foods. It is also best to only consume organically grown wheat or oats since much of the crop is now sprayed with glyphosate in the latter stages of growth to improve drying. These simple choices could have an important impact on the quality of health, particularly to improve the health of our microbiome.
Further Information
This article has been submitted by Roddy MacDonald of Water for Health Ltd, who supply Harmonic Concepts product in the UK in addition to a wide range of quality hydration systems and food supplements.   https://www.water-for-health.co.uk/
Coriolus Versicolor Mushroom Biomass Shows Tissue Protective Effect in Colitis Model
Results from a February 2022 article in Antioxidants suggest that the mushroom species Coriolus versicolor (CV) may have therapeutic potential for the prevention and treatment of inflammatory bowel diseases.[1] Using a mouse colitis model, the study found that CV biomass reduced histological signs of damage, attenuated the rise in multiple markers of inflammation, and boosted anti-inflammatory responses.
The Study
Researchers from collaborating universities in Italy and the US induced colon damage in mice by intrarectally administering dinitrobenzenesulphonic acid (DNBS). Four groups of 10 mice were used: sham (intrarectal administration of 100 µL 50% ethanol); sham + Coriolus versicolor (200 mg/kg dissolved in saline, orally 1 h after sham procedure every 24 h); DNBS-treated (4 mg in 100 µL of 50% ethanol per mouse); and DNBS-treated + CV (200 mg/kg dissolved in saline, orally 1 h after DNBS procedure and every 24 h). Four days after the procedures, the mice were sacrificed.
Effects on Physical Appearance of the Colon, Weight Loss and Colon Physiology
Physical appearance
Those of the untreated colitis model group were flaccid, with liquid stools and, in some cases, were ulcerated with mucosal congestion. These changes were significantly less in the CV-treated colitis model group.
Body Weight
The significant loss of body weight (caused by diarrhea) in the colitis model group was significantly reduced in the CV-treated colitis model group.
Physiology
Histological analysis of sections of colon tissue revealed that DNBS had induced infiltration of inflammatory cells (mostly neutrophils – also see later), necrosis and oedema; although present in the CV-treated colitis model group, these pathological changes were significantly less marked.
Effects on Inflammatory Processes
The effects of CV in preventing inflammation of the colon were investigated by assessing multiple markers of increased inflammation.
TLR4/NFĸB inflammatory pathway
Immunohistochemical analysis indicated that expression of the receptor TLR4 increased in the untreated colitis model mice, as did Myd88 expression, degradation of IĸB-α and nuclear translocation of NF-ĸB – all components involved in the TLR4/NFĸB inflammatory pathway. Together, these changes indicated upregulation of the inflammatory process. These pro-inflammatory effects were significantly limited in the CV-treated colitis model mice.
Infiltration of Neutrophils and Lipid Peroxidation
Neutrophil infiltration into the colon was assessed by measuring myeloperoxidase levels; the extent of lipid peroxidation in the colon was determined by activity of malondialdehyde. The large increases in these parameters (both of which suggest a pro-inflammatory status) in untreated colitis model mice were significantly attenuated in the CV-treated colitis model mice.
Activation of T Cells and Adhesion Molecules
The number of CD4+ and CD8+ (T cells that are important mediators of inflammation), and the expression of the adhesion molecules P-selectin (a transmembrane protein that has an essential role in inflammatory response to injury) and ICAM1 (a cell surface glycoprotein involved in recruiting active leucocytes to sites of inflammation) was assessed using immunohistochemical tissue staining. All parameters were significantly increased in the untreated colitis model mice, while their rise in CV-treated colitis model mice was significantly limited.
Proinflammatory Mediators
ELISA testing showed that proinflammatory mediators – CCL2, PGE2, IL-1β and TNF-α – were raised in the untreated colitis model mice, but significantly less-so in the CV-treated colitis model mice.
Nitrosative Stress and PARP Hyperactivation
The levels of nitrosative stress and extent of PARP activity in colon samples – both indicative of potential for cell damage – were assessed immunohistochemically. There was a high level of positive staining of samples taken from colitis model mice (indicating a high potential for cell damage), with significantly less staining (and thus lower potential for damage) in samples from the CV-treated colitis model mice.
Enhancement of Anti-Inflammatory Pathways
Reactive oxygen species are important potentiators of inflammation; and Nrf2 is a protein responsible for controlling the expression of genes encoding enzymes that detoxify and eliminate reactive oxygen species (known as HO-1 enzymes). Western blot analysis of colon samples revealed that colitis model mice that had consumed CV had a much higher expression of Nrf2 and HO-1 than mice that had not consumed CV (both sham-operated and colitis model); this indicated that CV-treated mice were better able to ameliorate the effects of oxidative stress.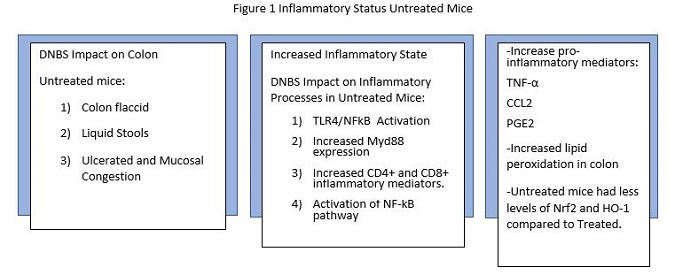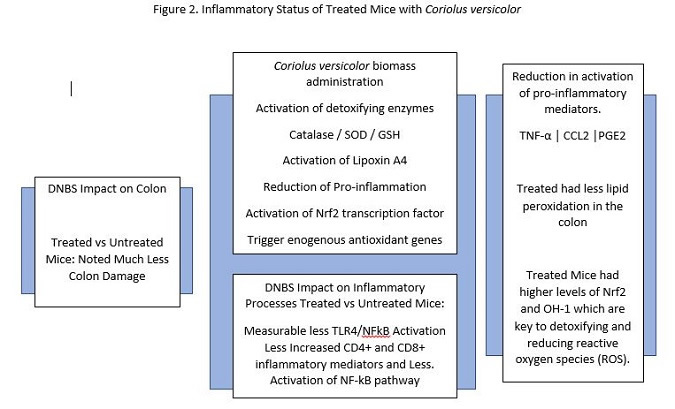 In this colitis model study, consumption of Coriolus versicolor significantly reduced macro- and microscopic colon damage and the harmful inflammatory processes induced by DNBS in mice. It also heightened the mice's protective anti-inflammatory response to DNBS challenge. These results suggest that Coriolus versicolor supplements hold great promise as a useful way to manage inflammatory bowel diseases.
Further studies are needed to fully understand the mechanisms behind Coriolus versicolor's effects, and to confirm its therapeutic potential in patients.
Reference   
Impellizzeri D, Fusco R, Genovese T, Cordaro M, D'Amico R, Trovato Salinaro A, Ontario ML, Modafferi S, Cuzzocrea S, Di Paola R, Calabrese V, Siracusa R. Coriolus Versicolor Downregulates TLR4/NF-ĸB Signaling Cascade in Dinitrobenzenesulfonic Acid-Treated Mice: A Possible Mechanism for the Anti-Colitis Effect. Antioxidants 2022;11:406. https://doi.org/10.3390/antiox11020406
Further Information
The Coriolus versicolor biomass used in the study was supplied by Mycology Research Laboratories Ltd. (Luton, United Kingdom). http://www.mycologyresearch.com/
Ayurvedic Medicine – Most Ancient System of Medicine Known to Mankind
Ayurvedic Medicine,  the most ancient system of medicine known to mankind, emerged within the Vedic culture that arose on the foothills of Himalayas and along the banks of the great rivers of India. It is based on the Vedic wisdom expounded by the ancient sages. Ayurveda is a science-based healthcare approach that treats illness and promotes wellness by focusing assessment on biochemically-unique aspects of each patient, and then individually tailoring interventions to restore psychological, physiological and structural imbalances. Ayurvedic medicine not only recognizes the uniqueness of the individual but also the oneness of all creation and how this translates into human health on all levels. There has been a worldwide surge of interest in Ayurvedic medicine as people seek health and well-being.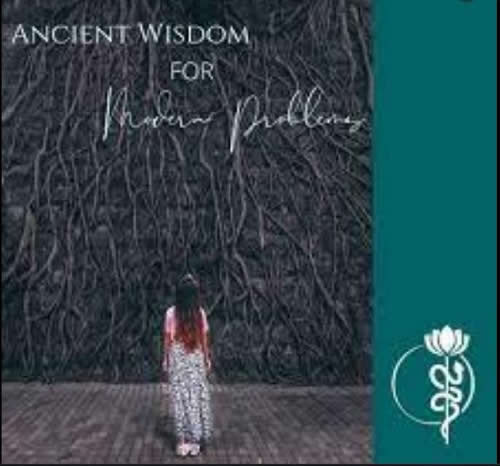 ]
The basic principles upon which Ayurvedic medicine/healthcare operates are:
Biochemical individuality based on genetic and environmental uniqueness;
Dynamic balance of internal and external factors;
Web-like interconnections of psycho-physiological processes;
Health as a positive vitality – not merely the absence of disease;
Promotion of organ reserve through psycho-neuro-immunological processes;
Patient-centred rather than disease focused healthcare.
Using these principles, Ayurvedic healthcare practitioners focus on understanding the fundamental physiological processes, the environmental inputs, and the genetic predisposition that influence every person's experience of health and disease. A person is considered an integral part of the Universe which is governed by natural laws. Ayurveda works primarily on human constitution called Dosha and Prakruti through lifestyle counselling, herbal preparations, nutrition, massage, yoga and Panchakarma all used to bring about balance and harmony in the body.
The College of Ayurveda and Yoga Therapy is the premier educator for individuals seeking to make a difference in the world through a career restoring the natural balance of body, mind and spirit with the wisdom of Ayurveda. This mission has been the central driving force of the College since its inception. The College of Ayurveda and Yoga Therapy is the only institution in the UK that offers a complete Ayurvedic programme comparable in content to the B. A. M. S. (Bachelor of Ayurveda Medicine & Surgery) degree course taught in India.
The College, which promote the values of a tolerant and democratic society and the ideals of scholarship and the benefits of life-long education and training, aims to provide the most up-to-date and comprehensive Ayurvedic medical education. It works to develop and support educational programmes and select a student body of such a size that every student has a quality and relevant educational experience, and provide students with clearly defined academic programmes, competent teaching, a caring and supportive academic structure and an attractive and facilitating environment.
Further Information
If you would like to register your interest for the next intake in 2022/2023 please leave your details at https://ayurvedacollege.org/interest ; we will be in contact as soon as we release the information for the next year. For further information or a prospectus please contact the College of Ayurveda's Administrator Ione Ashmore at ioneashmore@ayurvedacollege.org or visit their website at www.ayurvedacollege.org
Comments:
No Article Comments available
Post Your Comments: