Your Country

K-Practic New Back Treatment Protocol


Many practitioners who are not Chiropractors or Osteopaths, are failing to efficiently treat back and neck pain, because they feel that it is out of their field. There is good evidence that a lot of the old style cracking and popping of bones and heavy manipulation is totally unnecessary and sometimes unfortunate.

Former surgeon Dr Norman Marcus, today probably America's leading back expert, has bluntly said that more or less all back pain is down to muscle problems. A new back treatment protocol, called K-Practic, which integrates a range of new non-invasive approaches towards treating the back, is now being made available to alternative practitioners for the first  time.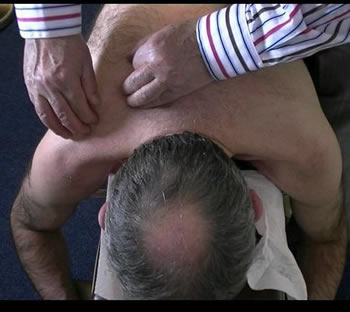 New techniques using the origin and insertion of muscles
can miraculously switch off long time spasm and end pain.

Previously only been taught to medical doctors, K-Practic is now being launched in the UK in the New Year. These techniques can be incorporated into the practices of Acupuncturists, Reflexologists, Masseurs, body workers etc, without any insurance issues. Because the techniques involved all fall within the recognized procedures normal for these practitioners, it is regarded as a new application of their existing knowledge.
 
The three main parts of this new system, designed for alternative practitioners in general are :
A comprehensive system of diagnosis, based on reflexes  which establish exactly which segment of the spine is out of balance;
New smart ways of 'switching off' pain by simple finger-tip manipulation of muscles,  called the manual nerve block;
New methods of pin-pointing exactly  which muscle in causing the problem.  A selected muscle is stimulated and painful muscles are precisely detected, allowing distinctions between primary and referred muscle pain.  
Over the years, Dr Marcus developed a method of applying electrical stimulation to muscles in a way that can identify the exact muscle that is causing pain in any area of the body. He uses his own device to find the muscle behind the problem and then injects the muscle , not with cortisone or drugs, only lidocaine, a local anaesthetic, usually at the attachments or near the bone. It appears his technique is basically a form of acupuncture.

Dr Marcus's best contribution, I believe, is his technology of isolating the  causative muscle very precisely. When you know the exact muscle involved, K-Practic gives you precise effective techniques to sort it out. 
 
The K-Practic method of treatment includes:

Pain 'switch off'  techniques, involving special pulls on the muscle at the origin or insertion;
Switching off the painful area by utilizing the dermatomes or the acupuncture meridians;
Using new generation powered devices that treat the proprioceptors in a very smart and non invasive way.
These techniques, easily learned, are effective in low back pain, shoulder pain, neck pain, headaches, sciatica, frozen shoulder, fibromyalgia and chronic fatigue. Dr Marcus points out that a muscle causing pain in a region of your body  will frequently produce pain in an adjacent muscle. This makes it difficult to know which is the actual source of your pain. A good example of this is the most common pain in the shoulder  which is in the muscle that travels from the top of your arm up into your neck, the Trapezius muscle. At his clinic they found that more than 50% of the time the Trapezius is not the source of the pain. It is actually the muscle that lies on top of the shoulder blade (scapula), the Infraspinatus Muscle. Treating the Trapezius in these cases even though you feel the pain there, doesn't get rid of the pain. Treating the Infraspinatus does.
 
The same situation exists in the low back as well. Pain may actually originate in the low back in the Quadratus Lumborum, Lumbar Paraspinals, or Multifidus and be felt in the buttock or it may originate in the buttock in the Gluteus Maximus, Gluteus Medius, Piriformis, Gemellus or Obturator and be felt in the low back. Pressure on the suspected muscle producing tenderness is an inaccurate way to find out which muscle is the culprit, Dr Marcus says.
 
Further Information
Ronnie Turner, Chiropractor and Acupuncturist since 1975, founded the European College of K-Practic in 1996. The first course was held at Glanmore Castle, Ashford, Co. Wicklow, then the author's home. Courses are open to all health professionals. So far the techniques have only been taught to medical doctors. Seminars will be held in Manchester and London in the New Year. For further information contact Ronnie Turner at info@999alternatives.com www.k-practic.com.


---
Consciousness – The New Currency
by Brandon Bays and Kevin Billett

From the authors and creators of 'The Journey' comes the October launch of a fourth work: 'Consciousness – The New Currency, a 'manual', which will equip readers with the tools to respond constructively to unexpected crises in their lives, and become a positive force for change.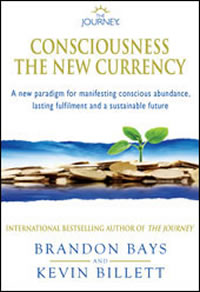 During a period in which the world is in economic upheaval, and people worldwide are suffering both financially and emotionally, the new book offers a way to heal from the past and access and utilize one's true potential. This is addressed through releasing deep-seated personal limitations and negative blocks, allowing a more vibrant individual to emerge – and thus a way for humanity to progress. Fears are confronted and healthy responses to crises are encouraged through the avoidance of withdrawal and denial from the perceived threats and challenges of daily circumstances.

The process of personal 'clear-out' is based on the highly successful method, The Journey, borne as a direct result of best-selling author Brandon Bays' own emotional recovery from a life-threatening tumour in 1992. The Journey's technique promotes the process of self-healing of the mind, body and spirit, in a way that allows the user to find the potential to resolve their problems, and transform every aspect of their life. Individuals from all backgrounds who seek to face and clear issues that are negatively impacting their lives can turn to The Journey, which provides practical, user-friendly and down-to-earth tools.

Further Information
Please contact The Journey on Tel: 01656 890 400; info@thejourney.com  www.thejourney.com


---
Innovative Dissolving Dressing for Wounds


Despite advances in treatment regimens and the best efforts of nurses and doctors, about 70% of all people with severe burns die from related infections. But a revolutionary new wound dressing developed at Tel Aviv University could cut that number dramatically.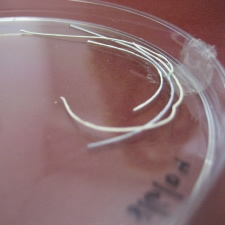 Dissolving wound dressing

Prof. Meital Zilberman of TAU's Department of Biomedical Engineering has developed a new wound dressing based on fibres she engineered – fibres that can be loaded with drugs such as antibiotics to speed up the healing process, and then dissolve when they've done their job. A study published in the Journal of Biomedical Materials Research – Applied Biomaterials demonstrates that, after only two days, this dressing can eradicate infection-causing bacteria. The new dressing protects the wound until it is no longer needed, after which it melts away. Prof. Zilberman's new wound dressing, which does not yet have a formal name, is designed to mimic skin and the way it protects the body. 


Reducing Mortality Statistics
Unlike oral antibiotics, locally-applied antibiotics can target and kill harmful bacteria before they enter the body to cause further infection, sepsis, or death. The new TAU dressing inhibits bacterial growth and is biodegradable, which helps doctors avoid constant wound cleaning and  redressing, allowing the body to do the work on its own.

Prof. Zilberman is now starting the early stages of clinical trials on animal models. So far, her wound dressing has passed physical and mechanical tests in vitro and in bacterial inhibition tests in the laboratory. She is also seeking a strategic partner to co-develop the research and take it to the commercial stage.

Further Information
www.aftau.org    www.aftau.org/site/News2?page=NewsArticle&id=10955  http://www1.tau.ac.il/pressoffice/english/   


---
Medithera Magnetic Field Therapy


Medithera Magneticfield Therapy is a new treatment system for optimizing the body on a cellular level. The apparatus is appropriate for use both at the clinic and in the comfort of your own home. It has the following main effects:
Stress reduction and general balancing of all organs and all tissue, including our bioenergetic field;
Optimizes all the body's cells in terms of permeability, metabolism, molecular swing, cell division and energy;
The ability to increase cell activity and speed up the body's many processes;
Reduces radiation absorption of electro-smog and other radiation which builds up in the body daily;
Program map for definite health problems, such as skin problems, migraine and so on.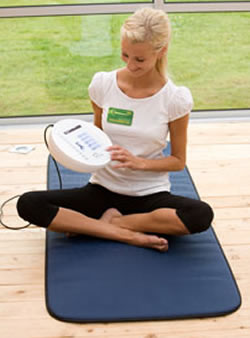 Tips for Home Use:
Medithera Magnet Field Therapy System can stimulate the body's metabolic and self-regulatory system, enhance energy, protect against free-radicals, improve the circulation system, give pain relief, stimulate the immune system, de-stress and induce better sleep, strengthen the effect of other treatments, improve skin conditions and eczema, improve muscle and skeletal conditions, release radiation and balance and increase cell activity.

Medithera consists of both a mat the size of an adult person and a smaller mat for local treatment, connected to an apparatus which controls the pulsating magnetic field through the mat. The whole system comes complete with a bag and is very easy to transport, connect and use.

Further Information
Please contact Dr John Kelsey on Tel: 0121 243 6318;  sales@bioenergypartnership.co.uk    www.bioenergyproducts.co.uk  


---
Detoxing The Food Secret Way

Food Secret is the groundbreaking new Soho-based eatery that offers a wide range of super foods that not only taste fantastic, but are great for the body too. Although its nutritious, delicious and versatile offering is available throughout the year, the post festive season offers the perfect opportunity to explore.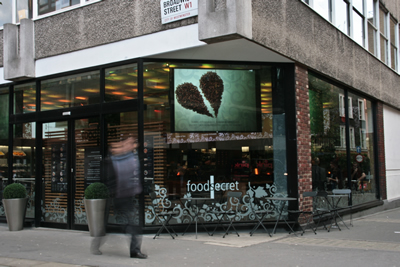 The average person consumes a massive 7,000 calories on Christmas Day alone, so it's small wonder that come January many of us feel in desperate need of a good detox. Once back at work however, resolutions weaken, particularly when it comes to finding healthy but filling lunchtime fare.

As part of Food Secret's ongoing mission to unlock the secret behind the best food experience, it now aims to demystify the whole process of detoxing. To this end it has handpicked certain key ingredients that appear on its menu throughout the year. These have been used to create a range of culinary offerings that are packed with essential vitamins, minerals and enzymes that will help eliminate stored toxins and support the body back to optimal health. 
Food Secret's Top Ten Detox Tips
A detox helps to rejuvenate the body and mind. It improves energy and mood, aids weight loss, clears the skin and improves digestion. Experience the benefits of increased health, energy and vitality by following these top ten tips for a minimum of 7 days:
Start the day with a cleansing mug of hot water with 1/4 squeezed lemon, a slice of root ginger and a pinch of cayenne pepper;
Eat a fruit-based breakfast, such as stewed or fresh fruit salad with natural yoghurt, or a freshly made smoothies;
Stay well hydrated, so drink at least 2 litres of water daily.  Fresh juices, such as carrot, beetroot, apple and cucumber are also fantastically nourishing and cleansing so aim to drink one fresh juice daily – ideally on an empty stomach for maximum benefit. Herbal teas are good too. In January when it is cold, a warming drink is uplifting and helps you steer away from the caffeine!
Eat mainly fresh food in its natural unprocessed state and cook by steaming, lightly boiling or poaching rather than frying;
Choose freshly prepared food. A diet full of vibrant fruit, healthy whole grains and vegetables will help your body detoxify;
Eat at least five portions of fruit and vegetables per day, aiming for more if you can.  For lunch and dinner, ensure at least 60% of your plate is vegetables and eat as much variety of colours as possible, aiming to cover the whole spectrum of the rainbow;
Try to eat a wide variety of different foods and try to limit sugar and refined carbohydrates;
Eat a great breakfast with plenty of protein – it will help you feel energetic throughout the day;
Ensure you are consuming a varied diet of lentils, chickpeas, eggs, fish, beans, tempeh (fermented tofu), quinoa, seeds and nuts, which are all good sources of protein;
Incorporate lifestyle factors into your regime to support the process: get a good night's sleep, take a yoga class and treat yourself to a massage or sauna.
Further Information
Food Secret, 59 Broadwick Street, London, W1F 9QQ, may be contacted on Tel: 020 7434 2596; order@foodsecret.com   www.foodsecret.com  


---
Challenge Yourself – Challenge Poverty
 
Leading overseas aid and development agency CARE International is delighted to announce the launch of the 2010 CARE Challenge Series, an exhilarating an innovative way to raise funds in the great outdoors.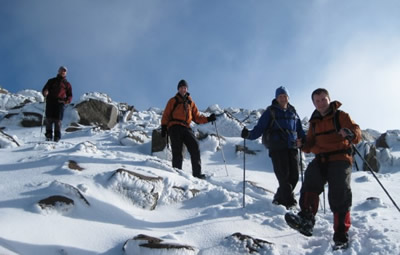 Anyone with an appetite for an adventure will find an outdoor event to suit them in this series comprising thirteen intrepid challenges in the UK, France and Egypt, aimed at individuals and corporate teams. Events include the classic CARE 3 Peaks Challenge – a tough 24-hour event, tackling the 3 highest mountains in Scotland (Ben Nevis), England (Scafell Pike) and Wales (Snowdon), all in 24 hours. Or the CARE Yorkshire 3 Peaks, taking on the best of the North. Participants can even take on the CARE Scottish 3 Peaks, combining hiking and history. If 3 mountains in one day aren't enough, there is also the CARE 24 Peaks Challenge – a grueling 24 peaks in as many hours.

Individual events include such adventures as cycling from London to Brighton or – to test endurance - Paris. Also on offer are hiking, biking and canoeing adventure challenges, a one-day adventure race, and a London-based 'CARE Walkathon'.  Finally, for the first time ever, CARE is offering a tailor-made 3-day hiking challenge in Egypt's Sinai desert!

The CARE Challenge team offer participants training and fundraising support from the moment they sign up to beyond the date of their challenge. And with fifteen years' experience in running outdoor fundraising events, CARE will ensure a safe and enjoyable event.

Further Information
To get involved call the CARE Challenge Team on Tel: 020 7934 9470 or visit www.carechallenge.org.uk


---
Lumie Shines the Spot Light on New Acne Treatment


Light therapy expert Lumie is launching Lumie Clear™, an innovative handheld medical device that uses phototherapy to provide quick, natural, pain free treatment to the common skin condition, acne vulgaris.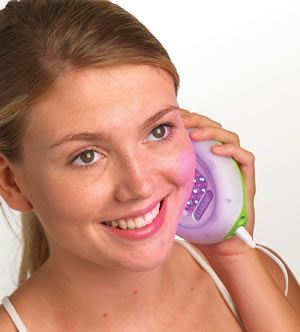 The new LED based light provides effective treatment for acne that is both safe and without any known side effects. In published studies where this type of light therapy has been used every day over a six week period, subjects reported noticeable improvements to their acne; after12 weeks continued use, some reported 75 per cent clearance.

Using a combination of blue and red LEDs, Lumie Clear™ emits two wavelengths of light; blue (415nm) to kill the bacteria causing acne and red (660nm) to stimulate healthy tissue growth and decrease inflammation.

Acne vulgaris is a widespread skin complaint found in up to 80 per cent of adolescents. It constitutes nearly one fifth of all visits to dermatologists and has a higher female occurrence. The onset of the condition usually starts around puberty and symptoms can last well into adult life. Topical remedies like creams and gels have a messy application, can produce slow results and can cause painful irritation. Oral drugs such as antibiotics can increase bacterial resistance, and others may cause severe long term side effects. 

Further Information
Lumie products are currently available by calling Tel: 01954 780; or visit www.lumie.com  

Note
The violet light emitted by the LEDs in Lumie Clear™ are very bright, Lumie therefore recommends that users do not stare at the light with the naked eye – Lumie supply users with goggles and recommend they should be worn during treatment.


---
Neem Tree Toothpaste – Healthy Solution for Teeth and Gums
by Klaus Ferlow HMH
 
Modern toothpaste is a heavy mix of chemicals and synthetics meant to clean, polish and maintain healthy teeth and gums. Most commercial toothpaste have ingredients such as SLS (Sodium lauryl sulphate), fluoride, PVMMA copolymer, sodium laureth sulphate , sodium saccharin, artificial colour etc. These are just a few main chemical ingredients you will find in many toothpastes, but there are also other harmful ingredients found in toothpastes that are hazardous to your health. If you can't pronounce the name of an ingredient, it is mostly a synthetic chemical and don't buy it!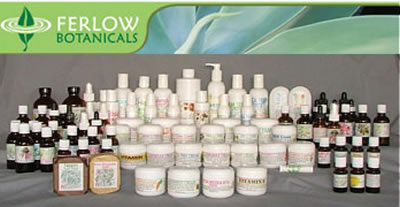 It seems that toothpaste is almost as old as teeth and early populations used natural abrasives such as crushed oyster shells, bone and eggshells mixed with flavouring and powered charcoal. Later essential oils of peppermint, spearmint or cinnamon made brushing more pleasant and helped kill bacteria and germs at the same time.

Consider replacing your synthetic commercial toothpaste in favour of a 100% chemical free, natural brand such as Neem Tree toothpaste from the Aryuvedic medicine in India with a history of close to 6000 years. The Neem Tree from India has been called a miraculous healing herb; people in Asia and Africa have been using Neem tree twigs as tooth brushes for centuries, preventing tooth decay and gum disease. The twigs contain ingredients helping with oral hygiene. Give your oral health a lift with Neem Tree toothpaste that comes with Anise and alternative with Peppermint/Spearmint essential oils flavour.
 
References:
Neem – The Village Pharmacy, Neeraj Pratap Singh BSc MSc. MBA
Efficacy of Neem active metabolites for prevention of dental plaque and gingivitis, Dr HM. Behl, OP Sidhu, Vishal Kumar, Deepti Singh, CS Saimbi, Dept. of Biomass Biology and Envirnonmental Science, National Botanical Research Institute, Lucknow, 22601 India.
Preliminary clinical study of some Ayurvedic medical plants on gum bleeding, Lahanker MA Rehman, MK 1990.
 
Further Information
Klaus Ferlow, Honorary Master Herbalist (HMH), Founder and Co-owner of Ferlow Botanicals, Vancouver, Canada, founded 1975, manufacturing chemical-free, zero harm  herbal medicinal and personal care products to professional health and wellness practitioners in Canada and parts of USA since 1993. In early 1994 the company was the first to introduce Neem Tree herbal products to the Canadian market. Please contact Klaus Ferlow via   neemresearch1@gmail.com     www.ferlowbotanicals.com


---
Iron Heart – The True Story of How I Came Back from the Dead
by Brian Boyle

On October 10th, Brian Boyle, competed in the Baltimore marathon and ran along the streets in the city that taught him how to walk again. Yesterday he ran in the Marine Corps marathon in memory of his grandfather who was a marine that fought in WW2 and also ran in honour of all the young soldiers that he met during his physical therapy sessions. And, later this week, Brian Boyle will be travelling to New York to compete in the NYC marathon to celebrate life and the past five years of his journey back to the living.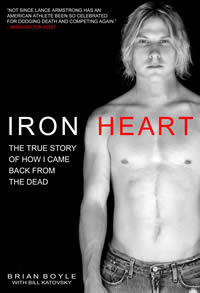 In 2004, Brian was involved in a near fatal car accident with a dump truck. His heart was ripped across his chest, lungs collapsed, shattered ribs/pelvis/left clavicle, damaged practically every organ in his body, 60% blood loss and was practically dead on arrival when arriving to the hospital.
 
For the next two months, he was in a coma, on kidney dialysis and life support, undergoing 14 operations, 36 blood transfusions, 13 plasma treatments and losing one-hundred pounds. In the coma, he remembers hearing the last rights and statements about being a vegetable and spending the rest of his life in a nursing home.  Through the love of his parents, support from family, friends, Doctors, Physical Therapists, and a positive attitude, he was able to make a comeback – one year after the accident, he was beginning his freshman year in college and was able to swim in the first swim meet. And in October of 2007, with barely six weeks of training, he competed in the Ford Ironman World Championship in Kona.

Boyle was recently awarded the American Red Cross Spokesperson of the Year and has also joined forces with Lance Armstrong and his Live Strong foundation to help join the fight against cancer.  He has also written a book about his past experiences called Iron Heart, which is now in bookstores nationwide.
 
Further Information
Here is a short clip of Brian's story from the 2007 Ironman broadcast on NBC:
http://www.youtube.com/watch?v=65ugopJ5S4A
Here is a short clip of Brian talking about his new book on NBC's Today Show:
http://www.msnbc.msn.com/id/33196387/ns/today-today_books/
 

---
Comments:
No Article Comments available
Post Your Comments: