Your Country

Although a select few may still find the time (and have the energy) to forage through woodlands and over dales in the quest for their five-a-day, unfortunately that is not the case for most of us. We're busy. With every single moment of our day accounted for, from using your commute to draft emails to checking Twitter on the toilet, it can be increasingly difficult to find the time to make sure your body is getting all the nutrition it needs.
Which is why it has come as no surprise to see an ever-increasing number of quick, powerful nutritional hits become available. On-the-go boosts like protein balls and compressed bars, as well as combined solutions like functional juices, make perfect sense for those of us who don't have time to prepare and eat an apple, avocado and flax seed combo before 8am. It's much quicker to slurp it in seconds through a (non-plastic) straw.
Sitting somewhere between the burden of infinite possibilities and the exciting opportunity to get creative, juices are, for many of us, the answer. They're a reliable and customizable source of nutrients, vitamins and fantastic flavours, while providing us with a keen appetite suppressant. But what to juice, when and why?
There are pros and cons to every different type or 'format' of juice, but it doesn't take a nutritionist to know that avoiding the pre-bottled, sugar-filled, concentrated fruit juices is definitely the first step in the right direction. Which brings us to the inevitable; making juices yourself at home.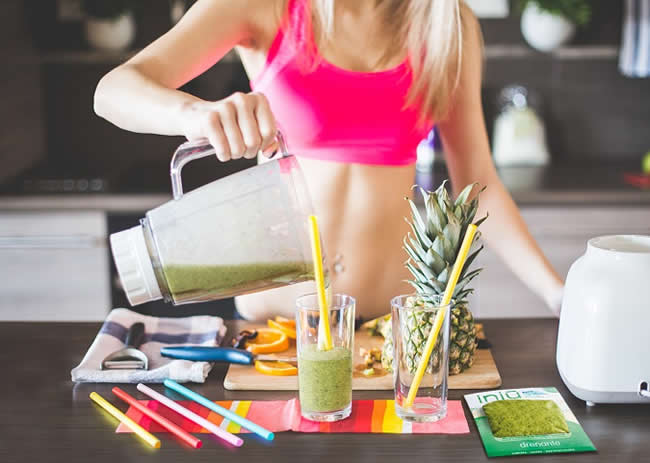 Home-made juices may take seconds to whizz up, but there is preparation and clean-up time, they won't be as consistent as if they were pre-made, and you may create waste (from messing up cutting up your pineapple to forgetting you have left it in the fridge altogether). However, it does come with the freedom and fun of mixing and matching whatever fruits and vegetables you're really enjoying at the moment. Making your juices yourself also means that you have the choice of including the ingredients' skins, when possible, for added fibre. (Although frozen fruit can save time and waste, you will lose any of the skin fibre as this is almost always removed.)
If you've recently been feeling your energy levels droop, for example, your body will vastly benefit from a nourishment-intense juice that boosts those levels, while recharging your body's energy reserves. Ingredients like punchy ginger, and dark greens like spinach, when combined with naturally boosting guarana (around double the concentration of caffeine than in coffee seeds) and golden flaxseed (for your omega-3 fatty acids, fibre and lignans) can be complimented with flavours like apple, skin-on cucumber (cucumber skin is also great for your skin), banana and a good helping of red berries.
One way to avoid additives and preservatives while still having the convenience of a prepared, pre-packaged juice, are the flash-frozen juice packs available. By leaving the skins on and working with nutritionists to create specific, functional recipes from both fruits and vegetables, these offer all of the benefits of making your own but cut a lot of the hassle. Some are even as high-tech as to use the same cryogenic flash-freezing process that's used to preserve stem cells to freeze the fruit and vegetable pulp while it's fresh, retaining almost all of the nutritional value. These packs are as straightforward as 'just add water' and blend.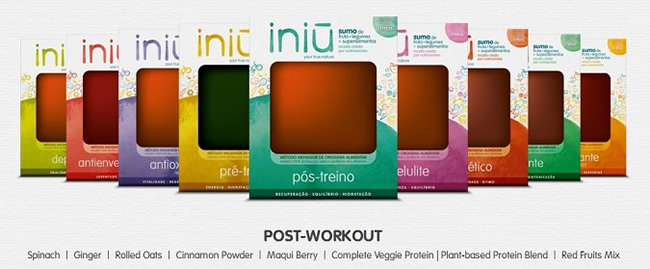 The simplicity of packs like these make slightly more complicated recipes and ingredients readily available. For example, guarana, lucuma (for hydration and protein) and hemp protein might not be something you can easily pick up locally, but they can, even in relatively small amounts, make a huge difference to your health. When combined with dark green kale, carrot, banana, açaí berries, rolled oats and cinnamon, you can create a high-energy, optimised hydration juice that will make you feel fantastic pre-workout, and will even improve your muscle response as you exercise.
Or for the right balance of recovery and hydration post-workout, when it's vital to give your body the right nourishment to restore muscle hydration and regain energy, more of the dark greens of spinach can be combined with plant-based and vegetable-based proteins. Then add ginger and a little cinnamon powder for flavour and anti-inflammatories, along with red fruits and maqui berries for antioxidants.
Perhaps you've been putting your body through its paces, for those times when our systems are craving that all-important detoxification, cucumber (again, skin-on) and celery can provide hydration, while amazing ingredients like baobab fruit can help with your immune system, slow-release energy levels, absorption of iron and offer a digestive aid in fibre (baobab are almost 50% fibre). Adding ginger, mint, lemon and pineapple will help with flavour, and finishing it off with both pumpkin seeds and parsley will help to prevent water retention.
There are also times that we just want to feel light and for our bodies to feel balanced, happy and functioning. Of course, the best way to make sure of this is to make the right food choices to be sure to nourish the right cells. For example, an easy anti-cellulite juice contains celery, mint leaves and that same skin-on cucumber for cell regeneration. Ground chia seeds are also a great source of healthy omega-3 fatty acids, carbohydrates, protein, fibre, antioxidants, and calcium, and more golden flaxseed will help here as well. Include lemon peel for an easy source of various vitamins and minerals, like calcium, potassium, and vitamin C. And papaya to help keep your cholesterol levels down, or alternatively pineapple for another boost of vitamin C and antioxidants.
The possibilities of combinations are endless, especially if you're less interested in whether your juice tastes nice! But if you're able to adhere to a few of the above cocktails, you shouldn't have any problems around creating great tasting juices. Just by including a few flavour staples, and combining these with the more functional, nutritionally high-value ingredients, you can quite easily create (or buy a pre-created) a real-world potion, tailored to both your body and your day-to-day needs.
Comments:
No Article Comments available
Post Your Comments: