Your Country

"I'm setting up my own nutrition business!" If you have ever considered this here's what you need to know. The first thing that comes to your mind is that you need to set up a website, create an Instagram account, spread the word, find a place for your consults if they are not online. There is a LOT to consider, and it's natural to think about these things first as they are the ones you are not keen at.
So your nutrition business is all set up, and you are ready to start taking in new clients. With time, your client base starts growing, and now you find yourself needing to take control because you need to get organized, keep track of your clients' progress as well as check up on them, without compromising your "me time", and that is becoming much harder.
Can you relate? These are a few things you need to consider for your business or private practice.
Meal planning software;
Nutrition analysis software;
Electronic medical record software
Customer relationship software
So why not have it all at once?
What to Consider When Searching for Nutrition Software
Now let's go back a bit when you were considering all the tools you need to set up your practice. In addition to all the marketing tools, you also need to think about:
A platform to help you with Customer Relationship Management (CRM);
A place to store all your clients' files which is compliant with all the data protection requirements, such as an Electronic Medical Record (EMR);
A platform to easily create and update meal plans, nutritional recommendations and recipes;
A place to check all the foods available and their nutritional value, such as food composition databases;
A messaging platform to allow you to get in touch with your clients and check on them.
Social proof - Knowing what other professionals who have done this search before thinking about the options available might be a great way to get started. Make sure to always look for reviews and testimonials when considering nutrition software.

What Features Actually Matter the Most in Nutrition Software?
In this matter, one size does not fill all and it is important for you to know what you are looking for. Naming several software solutions online that allow you to do this for free is not a difficult thing to do. Even though, during a 30-60 minute appointment, it is hard to switch up from one tool to another especially when you are meeting with them online. So here are a few things you need to consider.
Appointment scheduling - You need to have all the info of your clients at hand to know your daily appointments. More importantly, if there is any spot that can be filled with one last minute booking, with your calendar organized you will be able to see an extra client;
Automated calculations - Repetitive tasks are what make self-working professionals less productive. If you want to see as many clients as possible, you need to outsource some tasks such as calculations for BMR, DEE, body fat percentage and so on for you is a great way to save time;
Food composition databases - Ensure the software you choose has integrated the latest version of the validated food composition databases by certified entities and for your population;
Nutritional and dietary assessment - It is essential to know, without taking too much of your time, if the meal plan is compliant with nutritional requirements, make sure the software you choose can provide you DRVs of macro and micronutrients personalized to each client.;
Customisation - For the sake of your business, it is important that your name, logo, and branding get stuck on your clients head. For that is important that all the information you deliver for them has your 'touch' to it;
Meal plan creation - Creating meal plans can be extremely time-consuming for professionals and the ability to create or import one while the client is still on the consultation is vital for compliance;
Mobile app to improve adherence - This feature should be your secret weapon for standing out. Look for software which offers solutions to communicate and keep track of clients' progress;
Security - Yours and your clients' data is the most valuable information your whole business possess. Thus you must make sure that it's kept safe. Working with a GDPR compliant platform is step one in setting up your business. Check here what GDPR implies for dietitians and nutritionists.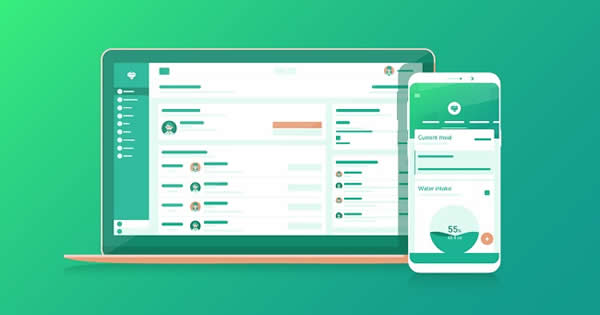 Meet Nutrium - All-in-one Nutrition Software
Nutrition software end goal is how to help dietitians and nutritionists be more organized, achieve better results with clients and be able to track their progress. All of this while decreasing daily workload and reduce time wasted on repetitive tasks.
Nutrium is a web-based nutrition software for professionals. Not only allows health and wellness professionals to store all their clients' notes and recommendations, but also make in-depth nutritional and diet assessments, create personalized meal plans and dietary and lifestyle recommendations and recipes.
With Nutrium professionals can keep a closer follow-up with clients from anywhere in the world, improving their adherence and compliance to such recommendations by offering a mobile app where they can keep in touch through an online chat, get reminders and notifications to keep track of their goals, send food diary logs and track physical activity.
Having a nutrition software to assist the growth of your nutrition business or private practice is crucial, not only for you as a freelance professional but also for your clients to see the value in your service and pricing.
Comments:
No Article Comments available
Post Your Comments: