Your Country

Most of us think of fulfilling sexual relationships as a psychological and emotional phenomenon. Within our bodies though, it's when nerves fire strong, rapid impulses to and from the genitals, when blood vessels deliver abundant blood flow and when sex hormones are balanced. Science shows that the foods we eat directly affect this entire trifecta of hormonal and reproductive health.
For example, did you know that leafy greens contain micronutrients that help nerves send stronger, faster pleasure signals? We have the science to prove it. Unlike wild animals, humans have lost our instincts for what we should eat. If we look at other primates though, we see that they spend a great deal of their time eating leaves, and we should too. Leafy greens improve the elasticity of blood vessels and increase nitric oxide, which brings more blood flow where we need it most.  Impressively, leafy greens, according to research, even reduce the stress hormone cortisol, which then raises testosterone for better libido. 
Thylakoids are found in the membranes of green leaves like romaine and green leaf lettuces. Thylakoids contain vitamins E and K, and antioxidants, like chlorophyll, which protect humans against disease. They also act as a prebiotic, positively affecting gut flora and triggering the release of gut hormones, such as leptin, that tell us we are full and improve insulin sensitivity. Leptin also induces the synthesis of nitric oxide which assists erections and helps relax clitoral smooth muscles. This means that more blood flows to the clitoris for increased sexual pleasure and sexual response.
Human health depends on the delicate balance of hormones in our bodies.  Hormones control reproductive health and affect all other aspects of health, including the cardiovascular system.  But our diet of highly processed foods has been shown in research to disrupt this balance. For example, refined sugar causes our bodies to be resistant to the hormone, leptin, which tells us when we're full, and influences other hormones, including estrogen and testosterone.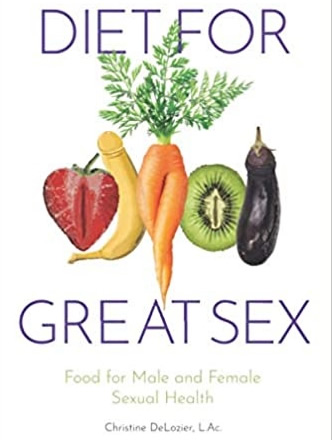 Omega 3 Fatty Acids
If you think our genitals are having all the fun when we get it on, imagine what's going on upstairs. Your brain is the master organ of sexual function and is about 60% fat. Twenty percent of that fat is comprised of essential fatty acids, which our bodies can't produce. We need to get these from food. Studies show that getting enough essential fatty acids from fish, walnuts and seeds can improve pleasure signaling in the brain. This means that sex feels better, because our brains are releasing more dopamine when we get busy.
Food for Emotional and Sexual Health
Fruits and vegetables really do help us to be happier and more positive. In fact, according to one study, on days when subjects increased fruit and vegetable intake, they reported that they had more positive feelings, more energy and were calmer and happier. They also reported more positive feelings the next day. For this boost in mood, shoot for 7-9 servings of fruit and/or vegetables.[1]
Fruit, such as citrus and berries, are great sources of vitamin C. Vitamin C is a major player in dopamine metabolism in the body. It is well established that people with mood and psychiatric disorders are quite often deficient in vitamin C. According to numerous studies, vitamin C rapidly improves mood. In fact, the higher our vitamin C levels are, the less confusion, anger and depression we have, according to one study.[2] Other studies have effectively used vitamin C to complement other interventions in the treatment of depression.[3] As mood improves, our sexual relationships improve because we are more receptive to sexuality.
Vitamin C also improves libido and sexual health through its powerful antioxidant effects. In one study, for example, Vitamin C was found to increase frequency of sexual activity between partners not living together.[4]
What NOT to Eat
In research, the amount of bread and pastries, dairy products, and desserts, as well as eating out, predicted suboptimal testosterone levels.[5] If we want optimal sex hormones for great sex drive, we should also keep refined sugars low. Numerous research studies have shown that these sugars, found in sodas, cakes, pastries and our favorite coffee shop drinks sabotage sex hormones. Frequent consumption induces changes in hormones which impair sexual function for males and females.
Making healthy food choices can affect our emotional and sexual health. In bodies that are well-nourished with abundant fresh fruits and vegetables we feel good and sexual health comes naturally. You can learn more in my book, Diet for Great Sex: Food for Male and Female Sexual Health.
References
Further Information
Diet for Great Sex: Food for Male and Female Sexual Health by Christine DeLozier Lac is available throughout all good bookshops and online at Amazon.co.uk and Amazon.com
Comments:
No Article Comments available
Post Your Comments: