Your Country

When research first began into the medical benefits of CBD, they were investigating its use in managing and treating those suffering from epilepsy. This research has resulted in the first medically licenced CBD product, Epidiolex, for the treatment of certain types of seizure. Since then, the research has expanded into the realms of mental health and pain management, where a number of medical studies proved the credibility of its use. It is now generally accepted that CBD oil can be used to manage chronic pain such as migraines and joint pain, as well as mental health issues such as depression, anxiety and stress.
One of the key areas showing a lot of promise is in CBD's uses in cosmetics. Accepted by a majority of dermatologists as being beneficial in terms of treating dry skin and reducing irritation and inflammation, the current research is exploring its uses with regards to more serious conditions, including eczema, rosacea and psoriasis.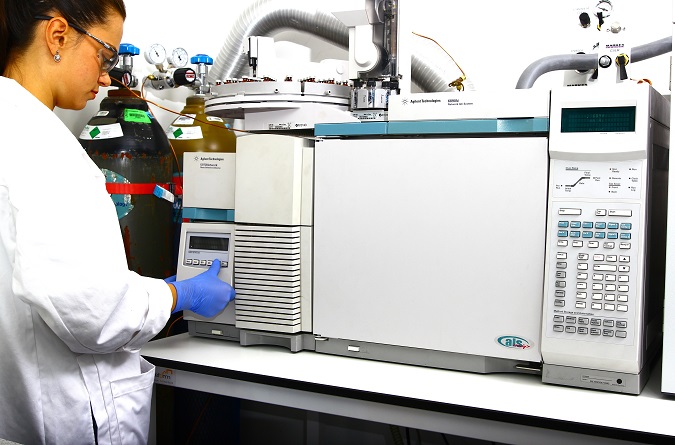 Lab Photo courtesy EOS Scientific
There are 4 main methods used to produce or extract CBD from hemp, whole plant extraction, isolate extraction, CO2 extraction and alcohol extraction.
Whole Plant Extraction – the entire hemp plant forms part of the extraction and is one of the more favoured methods. This is because it is believed to be the most effective way to capture the entire cannabinoid spectrum as close to the natural endocannabinoid system as possible.
Isolate Extraction – CBD isolates are pure CBD compounds extracted, with their effectiveness dependent on the quality of hemp from which they are derived.
CO2 Extraction – This is when CO2 is forced through the plant to extract the oil, the most complex methods currently available but does allow for the individual cannabinoid compounds to be separated effectively.
Alcohol Extraction – This is the original extraction method used, by soaking the hemp in a solvent to remove the oils after which the solvent is evaporated to leave the CBD oil.
CBD is regarded as a food supplement that helps to bring balance to our bodies and minds by complementing or 'topping up' the endocannabinoid system which most are unable to create enough of therefore causing imbalance. The human body naturally creates cannabinoids, which are used by the endocannabinoid system to maintain balance/homeostasis within the body. The endocannabinoid system has been long regarded as the most important system in the body for maintaining long term health.
The research regarding CBD is expansive. Current medical studies are finding uses for CBD in a variety of areas, from allergies to arthritis. The key obstacles to be overcome are with regards to proving the legitimacy of these claims. While those in the industry, medical professionals and the public all seem to be in favour of CBD as a medical product, the stringent regulatory barriers in place before any product can be fully licenced require, quite rightly, extensive testing and trials. The future of CBD looks incredibly promising in the UK medical arena but the introduction of more fully licenced products most likely will not happen any time soon.
In the UK, there is only one farm licenced to grow cannabis, meaning many companies that use CBD import the product from other countries. As a company focused on testing CBD products, we ensure that the ingredients people are using are compliant with the regulation set out by the MHRA. In a sterile lab, professionals test CBD samples to ensure that they meet regulation, ensuring they do not contain any heavy metals, illegal levels of THC or other impurities.

With regards to our own production, we have a range of cosmetic CBD products, named 'Ambience', which can be found in Holland & Barrett both in-store and online. It consists of the following:
Body wash - Water gets more refreshing with the Ambience CBD-enriched body wash.  Packed with pharmaceutical-grade CBD, from natural hemp extract, this shower gel will energise your mornings, hydrate your skin and recharge your sense of well-being.
Body oil - Delicately infused with our pharmaceutical-grade CBD supplement, Ambience body oil is a stimulating massage oil that will refresh and relax.
Intensive foot care moisturiser - Enjoy intense nourishing hydration with this foot and heel care cream from Ambience. Enriched with CBD this intense foot cream helps control dry skin in an easy to use daily formula.
Facial moisturiser - Ambience moisturiser is perfect as an every-day use face cream, that delivers premium CBD in an easy to use format.  It's easily absorbed, light on the skin and replaces lost moisture.  Your skin will feel refreshed and invigorated and your well-being gets a natural boost.
Muscle balm - Help your muscles to relax and recover with this pharmaceutical-grade CBD-infused muscle gel from Ambience.
Lip balm - Moisturising lip care enriched with CBD extract. Smooths, softens and replenishes dry lips. Apply a little to your lips as required for a hydrating cannabidiol boost.
The recent explosion of CBD into the mainstream has meant the ingredient is not constrained to use in ingestible oils or in vaporisers. Whether in soft drinks, food or, in the case of our Ambience range, cosmetics, the benefits of the cannabis compound are being realised by companies all over. We launched in Holland & Barrett in January of 2019, bringing a wide range of benefits to a nationwide audience. We are confident that the future of CBD in the UK retail sector looks bright, with big name retailers such as Holland & Barrett and Boots ready to hear what CBD users are saying about its effects and stock a more expansive range in their stores. The commoditisation of holistic remedies, made from natural ingredients, has become an exciting avenue for retailers, researchers and medical professionals to explore. We at Eos Scientific are excited to be a part of this journey, believing our inclusion will help to grow the industry.
Comments:
No Article Comments available
Post Your Comments: