Your Country

This extensive interview was originally broadcast live 17 June 2017 on BBS Radio Holistic Health Show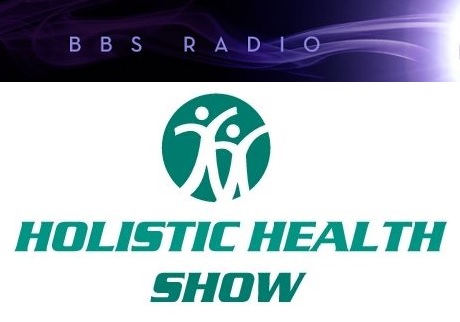 The podcast explores in-depth:
Dr Goodman's journey from Molecular Biology Scientist working in agricultural biotechnology;
Her research and book about organic germanium and attempt to fund clinical trials to test its efficacy for HIV Aids;
Research and book about Vitamin C;
Publication of the consensus document Nutritional and Lifestyle Guidelines for People with Cancer;
Nutrition and Cancer database for the Bristol Cancer Help Centre;
The book Nutrition and Cancer - Health State-of-the-Art;
The launch and progress over 24 years of Positive Health print magazine and PH online - www.positivehealth.com - comprehensive archive of Integrative Medicine website.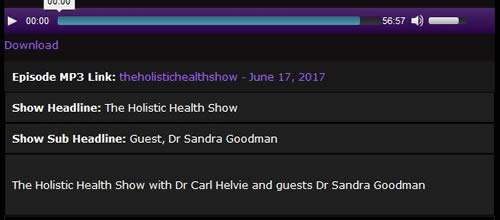 Link to Podcast:
https://bbsradio.com/sites/default/files/audio_dirs/theholistichealthshow/The_Holistic_Health_Show_2017-06-17.mp3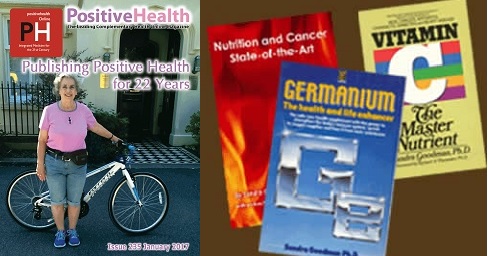 Sandra Goodman PhD Interview Questions
1. How did your scientific work as a molecular biologist transition into the health field?: Organic germanium research – HIV clinical trials, Ester C –Vitamin C. How did your own personal health and medical experiences regarding the inability of conventional medicine to cure all illnesses contribute to your understanding that there are multi-modal approaches to optimal health.
2. Please explain your model for an integrated healthcare system? It doesn't make sense to deprive patients of the many hundreds/ thousands of years of traditional techniques – more logical to combine the expertise of modern medicine with Nutrition, Herbal Medicine, Emotional Support / Meditation, Bodywork, Ayurvedic Medicine.
3. How did you come to write the Consensus Document – Nutrition and Lifestyle Guidelines for People with Cancer? Virtual Shutdown of Bristol Cancer Help Centre Cancer and Nutrition Database, articles, book. Idea for Positive Health. Cancer Patients approach me for guidance for information about qualified holistic professionals, literature, research and products.
4. What were the objectives and goals for Positive Health PH Online – to attempt to refute the claim that there wasn't research about complementary and alternative medicine and to attempt to bridge the gap between conventional and alternative medicine – Integrated Medicine.
Cancer articles scope of many techniques – Gerson, Rawfood, Macrobiotics, Laetrile, Diet, Homeopathy, Chemosensitivity, Herbs – Curcumin/ Turmeric, Medicinal Mushrooms, Deuterium, Essiac, Hoxsey, Stanislaw Burzynski, Integrative Medicine, Rife, Mistletoe, Photodynamic Therapy, Vitamin C and H2O2 Infusions. Paradigm differences. No focus on celebrity, or single solutions, often conflicting techniques published, to educate people that there often isn't one single answer.
5. The harmful effects of chemotherapy are becoming more widely known at the molecular level. Why are patients still submitting to toxic therapies such as chemotherapy and radiotherapy and diagnostic techniques such as mammography? 1939 Cancer Act making it illegal to treat cancer other than with surgery, chemotherapy and radiotherapy; doctors threatened with being struck off if they use innovative, nonconventional techniques.
6. Powerful books mentioned:
Chemotherapy Heals Cancer and the Earth is Flat by Lothar Hirneise
The Truth About Cancer: What You Need to Know About Cancer's History, Treatment and Prevention by Ty M Bollinger
Tripping Over the Truth: The Return of the Metabolic Theory of Cancer Illuminates a New and Hopeful Path to a Cure by Travis Christofferson
You Can Beat Lung Cancer Using Alternative / Integrative Interventions by Carl O Helvie RN DrPH
Comments:
Rachel said..

I just finished to listen to your interview in The Holistic Health Show – in the BBC .
I learned more about you and it was fascinating! You are such a special person – it was so interesting to learn about your goals and deeds over the years! It is no surprise you are the founder and editor of such a quality journal!
You did and do so many wonderful things for humanity in your special way. This inspires me… I'm always excited to know this kind of people!
Wishing you all the best and the energy to continue with this important mission,
Warm Regards and Love
Rachel

---

Sally Stubbs said..

I found Sandra Goodmans interview with Carl Helvie – to be riveting. She speaks with vast experience, knowledge and comprehensive research. From this solid 'foundation' Sandra speaks with great and thorough integrity and moral values. I truly appreciate her 'straight talking' and her Passion to promote to health and wellbeing, and to guide those who are suffering to authentic healing.

---
Post Your Comments: