Your Country

It's that time of year again when dodging flu and cold germs becomes a priority. And if you take steps to protect yourself, you are less likely to succumb to illness.
Have you stopped to think why is it that out of three people exposed to a respiratory germ, only one will get pneumonia, the second person will get minor cold symptoms whilst the third person remains unaffected?
It's because our internal body environment influences whether or not the germ becomes disease causing. Even Louis Pasteur, the father of the germ theory, recognized this when he said:
 "The germ is nothing, the terrain everything".
Here are some quick, practical and simple things to do to make your "terrain" hostile to germs.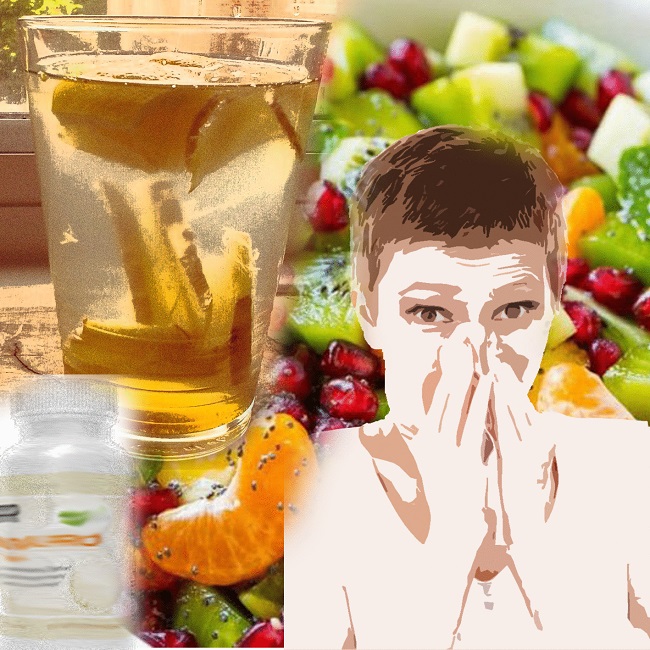 1.      Make yourself a cup of fresh ginger tea
In 2012 a scientific study proved that fresh ginger prevented viruses sticking to the lining of the nose, throat and sinuses in the group of people studied. Note it was fresh ginger;  dried ginger did not have the same effect. This just goes to confirm the anti-microbial and anti-viral properties of ginger that herbalists have been telling us about for centuries!
Ginger tea is an inexpensive therapeutic drink. You do need to drink it in the strength below which has quite an intense flavour! You can add peppermint or cayenne pepper if required and Manuka honey (or pure stevia) if you crave sweetness.
Simply juice peeled, fresh ginger root (about 500-1000g), put 60g of it into a mug and add boiling water. Infuse for 5 minutes. Use a tea strainer if you don't want the ginger bits after infusion. Or combine the hot water and ginger in a jug and sieve the liquid into a cup after infusing it.
Drink the tea at the very first signs of a sneeze, sniffle or sore throat for maximum effectiveness! Drink 2-5 cups daily, spread over the day.
Store unused ginger juice / gratings in the fridge for a few days. You could freeze it in ice cube trays. 
2.      Top up immune support nutrients vitamins A, D and zinc.
Vitamin A has a special relationship to healthy immunity; a deficiency increases the risk of infection. It ramps up the action of immune cells, shortening the duration of illness.
It also strengthens the protective linings of the nose, throat, digestive tract and lungs. These delicate linings are the first line of defence against attack from the outside.
Which foods contain Vitamin A? Retinol, the animal form is found mainly in dairy foods, liver and oily fish. Beta carotene, the vegetable form of vitamin A which has immune building properties of its own (it is particularly good for strengthening the lungs) is found in orange and yellow fruit and vegetables, especially carrots, squash, mangoes & apricots. In fact, apricots have 30% more vitamin A than carrots!  It is also found in green leafy vegetables. Beta carotene is converted into vitamin A by the body but not everyone is very efficient at doing this, particularly people with an underactive thyroid gland. So these people need vitamin A. If you are pregnant or trying to conceive, check with a nutritional therapist before taking vitamin A.
Vitamin D supplements are advised during the winter by Public Health England. And with good reason. Research published in the British Medical Journal showed that vitamin D supplementation can help with preventing colds and 'flu. The best food source of vitamin D is oily fish but it can be difficult to get adequate vitamin D. For example a portion of farmed salmon contains between 300-600iu of vitamin D and the daily intake needed is 1000iu.
Zinc is vital for a healthy immune system. Immune cells and immune related hormones are all dependent on adequate zinc levels. Rich food sources of zinc are meat such as lamb and seafood. If you are vegetarian, eat pumpkin seeds. Deficiency signs include frequent infections, white spots on the nails and hair loss.
It is not always easy to get enough of these 3 nutrients through the average diet, especially if you are vegetarian or vegan.  A top up with a good multivitamin during autumn/winter can be helpful. It should contain good levels of A, D and zinc. If you would like advice on this, consult a nutritional therapist for a one to one consultation. 
3.     Eat lots of friendly bacteria.
A huge percentage (70%) of the immune system is found in the gut. Healthy acid loving probiotic bacteria should be concentrated here in large amounts. Not only do they benefit bowel function directly, they also produce substances which kill off yeast, viruses and disease-causing bacteria.
If you drink alcohol regularly, take the contraceptive pill, antibiotics, acid suppressing medications or anti inflammatory medicine, your gut flora can become imbalanced in favour of the less beneficial bacteria. Eat lots of live plant based yoghurt e.g. coconut or soya yoghurt. You can now get delicious no added sugar fruited Alpro yoghurt in Mango, apple, cherry and raspberry flavours. 
4.      Use a herbal throat spray
The mouth and throat are a major entry point for bugs. An initial infection can stay in the throat and nose for up to 3 days before proliferating and causing symptoms.
At the first signs of feeling unwell, use a natural throat spray. The one I use is Otosan https://naturaldispensary.co.uk/products/Otosan_Throat_Spray_30ml-21173-0.html
It contains all natural ingredients; antibacterials such as white thyme and orange oil and immunoprotective beta glucans
You could also use a gargle - my favourite is tea tree oil which is plant based and has strong antibacterial and antiviral properties.  Add a few drops to a quarter glass of water and gargle for one minute.  Leave your toothbrush, which is a focus for more germs than the average dish cloth or toilet seat, soaking in a tea tree solution overnight. 
5.     Move about as much as possible
This helps to get your lymph flowing. Lymph is an important part of immunity as it is continuously cleansing the cells of wastes and toxins.  Lymph transports these substances through a network of lymphatic vessels all over the body and through the lymph nodes to be filtered and purified. Lymph is dependent on physical movement for its flow. So exercising regularly (and skin brushing with a natural bristle brush before a shower) is important for good immunity.
6.     And breathe!
We need stress hormones such as cortisol, adrenaline to keep us alert and ready to deal with a threat. But too high levels of these hormones over an extended period of time, will put your body into constant fight or flight mode. This means that your natural healing and repair functions can't work. Bacterial and viral infections will be more likely and there is increased risk of developing autoimmune conditions.
So go and do whatever it is that gives you a feeling of relaxation!
Reference
1. Chang JS, [1], Wang KC, Yeh CF, Shieh DE, Chiang LC. Fresh ginger (Zingiber officinale) has anti-viral activity against human respiratory syncytial virus in human respiratory tract cell lines.  J Ethnopharmacol.145(1):146-51. 9 Jan 2013. doi: 10.1016/j.jep.2012.10.043. Epub  1 Nov. 2012.
Note
Tips and suggestions mentioned in the article are for general information purpose only and should not be interpreted as professional medical advice. Always consult your doctor or a dietician before starting any fitness programme or making any changes to your diet.
Comments:
No Article Comments available
Post Your Comments: