Your Country

Over the years many couples have sought help regarding conflict between them. Common conflicts often presented from the female partner are:
"He's never home"
"He's possessive"
"He's controlling"
"He's aggressive"
"He's married to his work"
Such complaints beg the questions of the female partner:
Is she at home with her Self?
Does she have possession of her Self?
Has she control of her own life?
Does she possess clear boundaries around care of her Self?
Has she done the inner work of being there for her Self?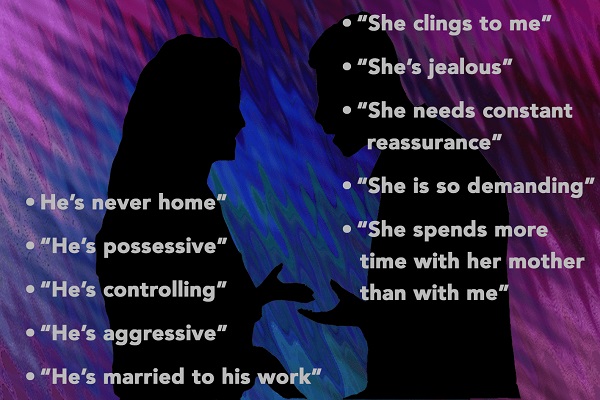 Common complaints from the male partner are:
"She clings to me"
"She's jealous"
"She needs constant reassurance"
"She is so demanding"
"She spends more time with her mother than with me"
Again, these complaints beg the questions of the male partner:
Is he separate? (Separateness is the basis for togetherness – in all relationships)
Does he have an intimacy with himself?
Does he operate from a place of internal authority?
Does he take conscious responsibility for his own life?
Has he flown the nest – separated from family of origin?
Typically, when couples seek professional help, they unconsciously and, indeed, wisely believe that the source of the conflict is what is happening between them; the hope is that if the unmet needs between them are met, then harmony will be restored. However, their relationship is of an enmeshed nature in that each is looking to the other to 'mend' his or her life – a sure recipe for conflict.
Take the female partner who complains "you're never home" and ask her the question "are you at home (at-one) with yourself" or are you unconsciously looking for your partner to fill the gap in your relationship with your Self? Be assured, if you possess yourself and are at-one (al-one-ness) with yourself, you would not have attracted a lover who is both absent from himself and, predictably, from you. However, the opportunity in the relationship crisis – oh happy conflict – is for you to resolve your absence from your Self by coming into al-one-ness with yourself. The latter is paramount, before you challenge your partner of being so absent in the couple relationship.  Indeed, when you have begun the process of enjoying solitude – the cure for loneliness is solitude! – you will feel compassion for your partner's absence from himself in the communicating – without expectation – of requesting him to be more present in his relationship with you. When you are separate in your relationship with another – be it partner, mother, father, sibling, friend, boss – you will certainly express a need, but it is a request not a demand or command. Whether your partner responds with silence, hostility, agreement, you will not personalise his/her response; rather you will recognise his response – whatever it may be – as being 100 per cent about him, and not even remotely about you! If the response is a 'yes', you will still own your need as yours and, certainly, appreciate if he is in a place to respond to it. When you make a request, there is no expectation – otherwise you are looking to your partner to 'mend' your life. When his response is silence or a hostile 'no', you will stay separate, keep to the reality of ownership of your own need, and, independently, inquire 'how is it that you are not in a place to respond to my need? Whatever his response is, you will remain separate – not demand or command or withdraw or sulk – and you will check the depth and quality of your relationship with your Self, and if absence is present, be determined to deepen your intimacy with your Self. Does the latter mean you should not have needs in your relationship with another? On the contrary, giving and receiving are what a relationship with another is all about. However, when you are al-one, when a lover or partner or some other is not in a place to respond to your request, you will not judge him, nor personalise his response, but if the relationship continues to be a one-way-street, you will take an action for yourself, but not against the other. The action may be to communicate to your partner that 'unless he responds to your request' or, at least is willing to talk to a psychotherapist regarding his intransigence, you will seriously think of moving on from the relationship, kindly but resolutely. In deepening your relationship with Self, you will come to realise that a relationship with another can only blossom when each occupies his or her own I-LAND and bring their fullness – not their emptiness – to the other. Enjoying one's own company does not mean you do not long for the company of another, but you are not desperate for it. There is nothing more fulfilling than bringing your fullness, whether for an hour, a day, a week, a month, a year, a life-time, be it to partner, lover, friend, child, parent, sister, brother – whoever.
The sad reality is that in America 60 per cent of first marriages breakdown and, alarmingly, 80 per cent of second marriages breakdown!  In England and Wales 42 per cent of marriages end in divorce and, like in America, these second marriages are more likely to breakdown than first marriages.  There is also the reality of a high percentage of intact unhappy marriages.  What is often not considered is that each child in these broken marriages can suffer greatly, not only from witnessing the conflict between  parents, and often times, step-parents, but also because of the interruptions each child experienced  with their father, with their mother and witnessing the often-hostile relationship between the parents that ensues following the breakdown of the marriage.   The stability and wellbeing of the family depends on the quality of the relationship that each parent has with Self, with each other and with each of the children.  Furthermore, the degree to which conflict within the marriage and family is resolved is critical to the wellbeing of all.  The end of a marriage does not necessarily have to mean the end of family stability, but, sadly, it often does.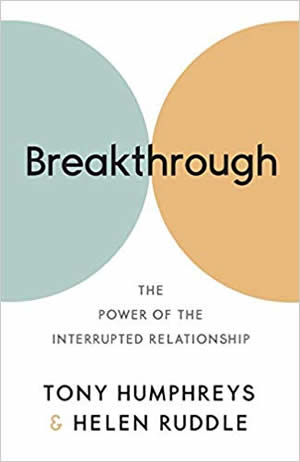 https://www.amazon.co.uk/Breakthrough-Interrupted-Relationship-Tony-Humphreys/dp/1784521590/
At all outward levels – practical, social, financial and family – leaving a marriage is a complex business, and it becomes more intricate when you consider the often absence of al-one-ness within each parent.  Whether a person decides to compromise and be happy with 'a half rather than a full loaf' of a couple relationship, the attention to and the deepening of the marriage to oneself is still the priority.  
Support for that inner relationship is unlikely to be strongly present in an intact but unhappy relationship, or where the couple are separated or divorced, or from family of origin, but supports can be found beyond the marriage and family or origin.  Where a partner settles for less than the fullness of real intimacy, deepening of the relationship with Self is paramount because challenges are definitely going to arise to test the unstable apparent stability of the marriage.  It appears that this is often even more a reality for couples living apart, especially where the couple have children.  Ultimately, nothing is more powerful than solitude!
Comments:
No Article Comments available
Post Your Comments: