Your Country

Young children too, may benefit enormously from tisanes for their 'little people' problems such as fear, eczema, upset tummies and cuts and grazes. Besides this they are both comforting and refreshing to drink.
Preparation of Tisanes
Herbal and floral tisanes are so simple and quick to make. They may be prepared by using proprietary products usually in the form of tea bags which are available readily and cheaply or more excitingly you can make them yourself by growing your own herbs and making the tisanes fresh from the garden. There is nothing more satisfying than devoting a small sunny corner of the garden to herbs. My own very small garden produces all the material I need for tisanes throughout the year and even without a garden you can improvise with pots containing plants to be picked at your leisure. When preparing these to be dried, pick them at their best, swill under the tap, wave them dry and pat them gently with a tea towel. Tie them up and hang them upside down in a clean paper bag in a warm room until dry. The paper bag will stop any mess and will save pieces which may drop off, eg, plants with seeds on such as Foeniculum vulgare – fennel; it will also protect the herbs and keep them clean. Once dried, crumble them up and put in a sterilized lidded jar and label clearly. If you use dried products, remember they have lost their water; therefore they will be more concentrated than fresh herbs so when using fresh herbs you will need a little more. You should buy boxed tea bags from a shop that has a quick turnover and not where the products may have languished on the shelves for a long time losing their power and flavour.
The first thing which must be said about growing herbs yourself which you intend to ingest, is to make absolutely sure the plants are what you think they are, especially if a pregnant woman is to partake. They should be careful about checking to see what effects the teas will have before imbibing. Many plants look the same, eg. the genus Artemisia has some species which are poisonous and some which are not, so make sure you know the plant source is reliable. Do not make tisanes from little cuttings which have come from a friend's or relative's gardens; it is better to spend a little money and get the right species.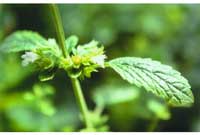 Mellissa Officinalis (Lemon Balm)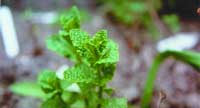 Mentha Spicata (Spearmint)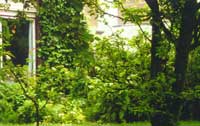 The author's own small garden which provides her with all her Tisane needs throughout the year
To make a tisane you use the infusion method, which consists of cleaning and chopping the chosen herb or flowers, covering with boiling water and placing a cover such as a saucer over the receptacle for a few moments. Wait for the herbal substances to infuse into the water; you can use a small teapot or cup and saucer.
You may wish to perfect the art and buy yourself a purpose-made tisane pot which consists of three parts: the main body of the pot, usually glass, a lid with a plunger, and the perforated part which contains the plant material and into which the flat part of the plunger fits. This will allow the juices to flow from the plant tissues into the hot water, yet keeps the liquid separate.
When the perforated part is loaded up with the herb and snugly secured into the pot, hot water is poured over the plant material, the lid is put in place with the plunger in the 'up' position. Wait for the infusion to reach the desired strength and then slowly press the plunger down. This action will stop the infusion getting any stronger as it will squeeze out the plant.
Once you have made the tisane you have a wonderful medicine or a pleasant aromatic drink at your fingertips which has a taste surprisingly delicate. The book Let's Stop For Tea says,
"The medicinal qualities of tea which had been so important when it was first introduced into England were equally important for a Birmingham grocer called John Sumner. In 1905 he blended a new small leaf tea and asked his sister to try it before selling it in his store. John Sumner's sister had long suffered from a digestive disorder and when she discovered the tea helped her condition far more than the large leaf variety popular at the time; it was decided to call the tea after the Chinese word for 'doctor' . 'Typhoo' was born, and each box carried the words, 'the tea that doctors recommend'"
As with the above, all teas, (tisanes) may be taken with or without honey, hot or cold but remember they must be used up within twenty four hours.
Applications of Tisanes
You can use tisanes for all manner of things. As has been mentioned earlier, they make exceedingly refreshing drinks which have different effects on us and can be used for common ailments. On the other hand, you may wish to apply in a topical way and this is also possible by incorporating them into creams, lotions and bath products or shampoos etc. You can add them to your washing water or use them to cool minor burns and stings, (especially good when kept in the fridge). You can also add them to your cooking such as using a tisane instead of plain water when making jellies (Apple mint tea – Mentha suaviolens is very nice in lime jelly). Tisanes also make very good hair rinses and different herbs will have differing effects, such as chamomile for blond hair, rosemary for dark hair and nettle tea for dandruff. Something as simple as adding two chamomile tea bags or fresh chamomile in a gauze bag into the bath water for someone who has eczema will prove to be soporific and anti-pruritic and soothing for the skin. This is an especially acceptable treatment for young children as it is so mild and gentle but powerful in its action.
Why not spend a few creative and enjoyable moments and make your own health-giving and tasty bounty of tisanes. Try blending them and making synergistic blends for various ailments or just for pleasure and taste. I am sure you will find it fascinating and I promise you will not be disappointed.
Tisanes and their Extended Application
Lavender Lavandular angustifolia tisane can be used for cuts, bruises, and scratches. Just apply neat on a cotton pad. If you have some already cool it is excellent for minor burns too;
Chamomile Chamaemelum nobile tisane for eczema, psoriasis, dry skin, mature or inflamed skin. Apply neat on a cotton pad, or add to bathing water;
Lemon balm and thyme Thymus vulgaris for sore throats taken hot or cold with one teaspoon of raspberry jam, (home-made if possible) or honey;
Chamomile Chamaemelum nobile for sponging down in tepid bed baths for a fever;
Sweet Cicely Myrrhis odorata for making jelly instead of plain boiling water;
Fennel or Angelica A officinalis for expelling wind;
Hair rinses are made in the same way and used with a catch bowl. If you mix one pint of tisane with one tablespoon of cider or white wine vinegar it will make your hair really shine;
Pot marigold Calendular officinalis for bruises;
Sage Salvia officinalis for menopausal hot flushes and sweats. It can be used in a topical way for spraying or home made wipes;
Lemon balm Melissa officinalis for women's problems;
Peppermint Mentha piperita for freshening the breath and stimulating the appetite;
Bergamot Monarda didyma, (this is not the bergamot orange found in Earl Grey tea – Citrus bergamia), for calming and warming someone needing comfort;
Sage Salvia officinalis for mouth ulcers and whitening the teeth. Try to keep the liquid in the mouth for a short while for ulcers. For white teeth brush with the tisane;
Marjoram Origanum marjorana is a natural sedative and is excellent for headaches and stress.
Pregnant women should check effects and safety before use.
References
Ceres Esplan. The Healing Power of Herbal Teas. Thorsons. 1984.
Lets Stop for Tea. AA /Ty-phoo. 1989.
Deborah Harness. The Tisanes Therapeutic Index. The Aromatherapy Centre. 1999. Available from The Aromatherapy Centre Tel/Fax: 01482 830466.
Nerys Purchon. Complete Book of Herbs. Blitz Editions. 1995.
Peter McHoy and Pamela Westland. The Herb Bible. Ward Lock. 1994.
Comments:
No Article Comments available
Post Your Comments: