Your Country

Stevia has such astonishing health benefits that even the great ginseng itself will soon have to hand over the crown. Here is some of Stevia's medical profile.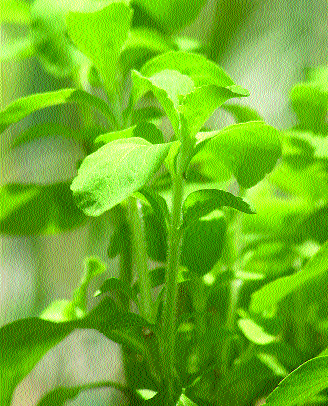 Clinical Benefits
Let's begin with ginseng itself; this can push up blood pressure due to its stimulating action. Stevia, on the other hand, brings high blood pressure down and regulates it rather like hawthorn. Green tea is lauded for its antioxidant qualities, but Stevia has much more of these youth preservers and none of its caffeine. Echinacea is lauded as the great bactericide and colds killer, but Stevia can even destroy E-coli, and is anti-fungal and anti-viral. Greater burdock root is an old favourite for skin problems like acne, dermatitis and psoriasis, yet it has been documented that Stevia does the same, and can also be applied externally to rapidly heal cuts and reduce scarring, as well as cure athlete's foot. Mistletoe has a long tradition of anticancer use; however, Stevia has scientific studies proving its significant inhibitory effects on tumour formation and skin cancer. Gymnema is a wonder herb for diabetes, but research proves Stevia to be equally able to help malfunctioning pancreas cells to kick start insulin production again. Not only that, but taken prescriptively, Stevia is capable of normalizing the action of the pancreas, and greatly helping diabetics, type 2 especially. India's government supports the use of Stevia because it has the world's largest diabetic population.


Sweetness and Anti-Cholesterol Properties
What's more (and this is the big one), most herbs have no calories, many herbs can be said to be glucose free, and a few herbs can claim to be anti-cholesterol, but Stevia has all three of these properties. Yet there is one thing that Stevia has that none of these herbs has, and no other medicinal herb can even come close to: it is sweetness. Stevia is incredibly sweet. This puts it at an advantage over all of its colleagues, yes, and even ginseng. With sweetness on its side, Stevia is a powerful assistant in the treatment of obesity. Obesity, leading to diabetes, has become a modern pandemic, affecting 15% of children. Overweight people can now lose weight and still enjoy sweet foods (made from Stevia of course!). This is because the production of triglyceride fats associated with excess sugars and carbs can be greatly reduced with Stevia in the diet, and weight loss will be the inevitable outcome. Replacing sugar with Stevia will result in long-term fat reduction, with consequential health enhancement. Likewise, people with sugar swings, and all forms of sugar addiction disorders, can happily avoid glucose-based foods and yet still have the satisfaction of sweet tastes in their food and drink, plus find their blood sugar balanced. From an illness-negative downward spiral, the simple addition of Stevia can transform you into a health-positive upward spiral. This also goes for candida, skin diseases, wind and digestive problems, and many other glucose exacerbated conditions that cause acid symptoms, including cancer. For this reason, Stevia appears to be a medicinal panacea. You can see why that, just as other herbal medicines like garlic, pepper, ginger, turmeric, peppermint and chamomile have become household names; it won't be long before Stevia joins them.


EU Directive Ban
Now, surrounding all this jubilation is an astounding anomaly. Imagine if garlic was banned from use as a food, or as a food enhancement in all commercial products, and was prohibited by law from use in the kitchen by ordinary healthy people because the authorities in Brussels considered that it was a medicine not a food. Imagine this, even though it was being used in all kinds of commercial products in India, China, Japan, and South America. Well, that is exactly the status of Stevia right now in the whole of the EU (EC regulation No 258/97). In America, Australia and Canada it is also banned from use in commercial products but, unlike the EU, Stevia is permitted for general domestic use, i.e. for personal sweetening of drinks and foods you make and bake in your kitchen.


Sweetner

Sweetness Level
compared to Sugar

Natural Origin

Calorie Free

Beneficial
for Health 100%
Suitable for
cooking

Sugar

1

Yes

No

1%

Yes

Aspartame

200

No

Yes

No

No

Stevioside

300

Yes

Yes

10%

Yes

Saccharin

300

No

Yes

No

No

Acesulfame K

250

No

Yes

No

No

Xylitol

1
Yes
No
50%
Yes

Stevia Whole




25

Yes

Yes

100%

Yes

So what is wrong with the Stevia here in the EU as opposed to the Stevia in Japan and India? Well, nothing! Stevia is safe just like garlic, ginger, etc. But the active sweetening constituent called stevioside when isolated and concentrated (it becomes white like sugar, except it is 300 times sweeter), is claimed, if eaten in large quantities, like a bowlful (½ kg stevioside, or 3½ kg dried Stevia powder, a bucketful) by itself for seven days (if we translate to humans the studies done on animals), could seriously damage our health. Such toxicity claims are absurd and have, of course, been refuted by other research studies, quashing the dangers of stevioside.  And the fact that Stevia, in the form of stevioside, has been used in Japan, for instance, for over 30 years without incident, doesn't seem to hold any water for governments where revenue from sugar appears to be more important. Imagine the potential savings all these knock-on health benefits of Stevia could give the National Health Service. It goes without saying that none of these toxicity concerns has anything to do with the practice of herbal medicine; for instance, I only prescribe whole leaf powder or the whole leaf extract for my patients.

The amazing thing about this sweet tasting bush native to Paraguay, unlike the chemical sweeteners, is that it is heat stable, so it can replace sugar in baking, sauces, jams, etc., the sky's the limit. And since there is no glucose in Stevia, and it is anti-microbial, it is very teeth-friendly, as it fights plaque!

The conclusion to all this is that Stevia in Britain and the EU is available by prescription only to anyone who has a sugar-related illness, be that acne, cancer, diabetes, eczema, hypoglycaemia, hyperactivity, obesity, sugar addiction, thrush, schizophrenia, etc.
Comments:
Ramana Rao KV said..

Stevia in leaf/ green powder form has immense medicinal properties. When this is used in place of sugar/ sugar free one can enjoy almost disease free life. The speciality of this is. it does not metabolise in the body but eliminates all infections, viruses etc. and thus facilitating all the organs inside the body to work normally with their leftover capacity.

---
Post Your Comments: