Your Country

Fibromyalgia is a Made-Up Diagnosis
There is no official test nor code for fibromyalgia diagnosis and is often made based on a cluster of symptoms, including:
Specific tender points
Disturbed sleep
Fatigue
Depression
Digestive problems
Who does Not have these Symptoms, Occasionally, Chronically / Intermittently?
Treating symptoms stops patients from getting to the root cause of their pain and fatigue.
Mistakes by both sides of medical and alternative healing arts = focusing on symptoms, not origin.
Why?
Prescribed medicine, even those written by "Experts" with advanced degrees, almost always consists of antidepressants and pain modifiers.
Alternative health practitioners will recommend acupuncture, herbs, digestive aids, Omega 3s, niacin, chiropractic, Himalayan salt [98% NaCl + 2% trace minerals], alkaline water [stomach pH 1.5 will neutralize alkaline water before it leaves your patients' stomach], pH testing of urine / saliva [only blood circulates], trigger point therapy, cranial sacral treatments, homeopathics, topicals, CBD, and more.
None of the above treatments will have any long-term benefits.
Pain, fatigue, insomnia, etc.,  may be a symptom – or a manifestation – of undiagnosed or under-treated hypothyroidism. Once the thyroid disorder is addressed, the pain and other "fibromyalgia symptoms"often disappear.
Temperature testing in the morning [Broda Barnes method] is like seeing rainbows in black and white. Normal body temperature of 98.6 F is not normal for everyone.
Rubbing iodine on skin and keeping a 24-hour vigil for absorption is from the 1970s.
Same "Normal" is true for blood pressure, cholesterol, heart rate [most family physicians make a diagnosis of bradycardia in high school/college athletes and fail to account for athletic bradycardia, where a muscular heart may only need to beat 54-64 beats per minute when "normal" is 72+ beats per minute.]
Fingerprints are all non-identical. Individual variances from "normal" are the rule and not the exception.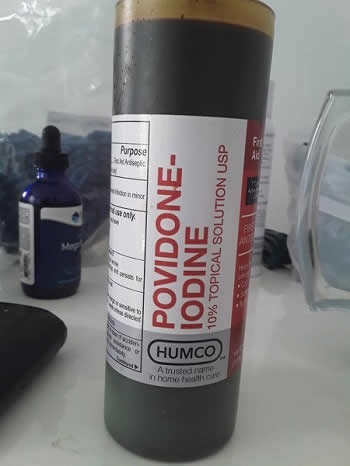 Simple Home Test
Using a pharmaceutical grade iodine source*, put 2 drops in 4 ounces of water, and stir. Drink and wait 1-2 hours  and monitor your original symptoms. Continue for one month and keep records.
Hypothyroidism Symptom Reversals
Less requirement for supplements and pain modifiers
Better mood
Improved digestion/elimination
More energy
Better sleep
Hair skin nails grow better.
Improved immune function
Positive habits replace former habits
"Thyroid glands are like drummers in a band. Whatever rate and rhythm of the drummer that is how every cell in the body will perform." - Howard Hagglund MD.
Note
* Betadine or Povidone 10% topical solution equivalent to 1% titratable iodine
Comments:
No Article Comments available
Post Your Comments: