Your Country

Reprinted with permission from https://en.geovital.com/dr-shamim-daya-sleeping-in-a-radiation-free-bedroom-after-shielding/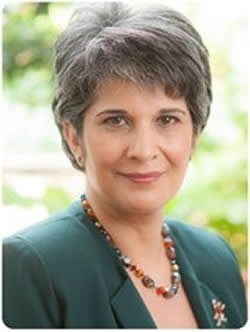 Dr Shamim Daya
Dr Shamim Daya is a holistic GP with 30 years of clinical experience who believes that healing requires a multi-disciplinary approach that treats the whole person. In 2016 Dr Daya has been actively utilizing the involvement of Geovital home assessments as part of an overall assessment of patients environmental health burdens that could be playing a role in chronic health problems and reduced ability to regenerate during sleep. Dr Daya incorporates radiation avoidance as integrated component of a holistic approach to health
Always Looking Beyond the Symptoms
Whilst working as an NHS GP principal in a group practice between 1991-1994, Dr Daya felt a distinct need to include the field of holistic medicine in her practice to provide her patients with wider and more effective choices for their health care and founded the Wholistic Medical Centre in 1997. Her talented team of skilled practitioners that work with her providing valuable tools to gather important information and fill in those missing gaps that have previously not been explored. In 2016, when exploring the assessment and mitigation approaches to electronic pollution (EMF), and having a curiosity about the levels of radiation exposure experienced in her own London home, Dr Daya contacted Geovital to arrange for a home radiation survey.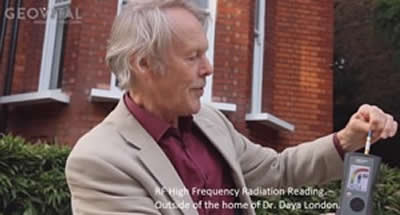 4,800 microvolts RF high frequency radiation found outside of Dr Daya's
second floor bedroom window was extremely high.
Leonard Stafford was not surprised by the 2,500 microvolt RF High Frequency reading he took outside the home of Dr Daya because this is a typical ground floor result in central London. The home survey revealed both high Radio Frequency (RF) and Low Frequency (LF) radiation levels in her home. Based on these readings Dr Daya proceeded to have her bedroom shielded by Geovital which achieved excellent results.
"I contacted Geovital because I was curious about the levels of radiation from living in London. My thoughts were that I might need to shield the whole apartment and I was concerned about the cost of this. Leonard from Geovital came to do the home survey and suggested shielding only the bedroom would be the main priority."
The video shows  reduction in high and low frequency radiation in the bedroom after shielding
It is during the 7 to 8 hours of sleep that the body regenerates, detoxifies and heals itself. A radiation-free sleep area is important and necessary for this regeneration to happen. A number of my clients who had shielded only their bedrooms reported that they were then able to deal with radiation, in their day to day environment, far more satisfactorily. At the same time as shielding her bedroom, Dr Daya also invested in a Geovital 'Theravital' mattress which is totally allergen-free, biologically neutral and most comfortable. Dr Daya mentioned that although she was in good health before shielding her bedroom, she has noticed that the quality of her sleep has improved, that she has more energy and feels more rested when waking up in the morning.
Dr Shamim Daya - Sleeping in a radiation-free bedroom after shielding
About Dr Daya's Radiation Shielded Bedroom
It was important to reduce both the levels of RF and LF radiation in Dr Daya's bedroom. In order to do this most effectively it was decided to create a 'faraday cage', painting the walls and ceiling with T98 paint as the best method of reducing the man-made radiation. This shielding paint was especially developed by Geovital in Austria to reflect and absorb RF radiation but also to be a healthy product to have on the walls. It's shielding effectiveness is exceptionally high and was verified up to 20 gigahertz (find reports in our download section). With technology like Airfiber (24Ghz 20km range) and the 5G network on the horizon this performance is greatly needed. 
Geovital also developed a special grounding tape which is easy to incorporate and takes the electric field radiation from internal wiring to ground and therefore reduces LF radiation in the body. GPA mesh was placed on the floor and grounded to reduce levels of both RF and electric field radiation coming into the room from below. NOVA shielding fabric curtains were made for the windows, and double protection was achieved by also placing NOVA behind the blind.
This bedroom shielding achieved extremely good results. The electric field radiation was reduced from 1,350 V/m to 0 V/m and the RF (high frequency) radiation was reduced to below 50 microvolts.
Shielding using Geovital procedures and materials resulted in readings of less than 50 microvolts where Dr Daya sleeps
"I was very impressed with the service that Geovital offered with regards to not only suggesting solutions to the problem but more importantly to supervise and oversee the project to ensure it is done correctly. I now refer many of my patients to Leonard for a radiation home survey, to address this important risk factor in this high tech world that we live in."
About Dr Shamim Daya
Dr Daya completed medical training at Southampton University in 1985 followed by a further six years of postgraduate training in General Practice including obtaining her Diploma in Obstetrics and Gynaecology. Dr Daya is also the author of The Power of Food Therapy a book which considers food as a medicine. Take a look at Dr. Daya Wholistic Medical Centre website: www.wholisticmedical.co.uk/
Acknowledgement Citation
Reprinted with permission from https://en.geovital.com/dr-shamim-daya-sleeping-in-a-radiation-free-bedroom-after-shielding/
Comments:
No Article Comments available
Post Your Comments: