Your Country

In today's society, the pressure of sitting at a desk all day is taking its toll on our bodies and our mental health. Stress, backache, tiredness and low energy are all common issues that people who work in an office have to deal with and this dis-ease has become such a normal part of life that many people simply accept that feeling this way is normal. Add to this the hours we spend sitting in the car, travelling to work, and on the sofa at home and it's no wonder that many of us spend more than 20 hours a day sitting or lying down. Being sedentary for much of the day can wreak havoc on our bodies and increase the risk of obesity, cardiovascular disease, high blood pressure and diabetes.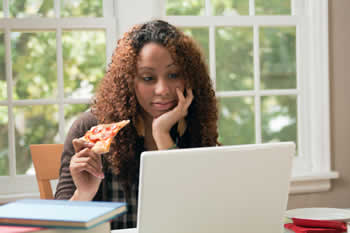 There are many ways you can improve your health at work though and some simple changes can stop the pressure of an office environment from having a detrimental effect on your body and mind.
Sit Correctly
Back pain will affect four out of five adults at some point in their lives and a key cause of a bad back is a deskbound lifestyle. One of the easiest ways to reduce this risk is to sit correctly at your desk. To start with, ensure you have the right tools in place with ergonomic equipment which can reduce the risk of repetitive strain injury and back pain and relieve any stress on muscles and joints. The basic equipment you need in place is a computer monitor arm, an ergonomic mouse and keyboard and a correctly adjusted chair. Your chair should be positioned to allow you to sit in the correct seated position: ensure your eyes are level with the top of your monitor and your knees are a fraction lower than the level of your hips. Having your workplace set up correctly means that you can avoid overreaching or twisting which can put pressure on muscles and joints. If you're unsure then follow a simple ergonomic checklist to find your ideal seating position.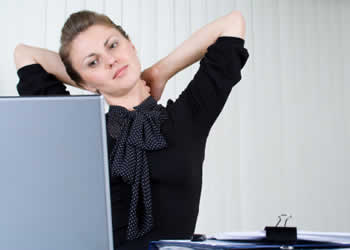 Move Your Body
Gentle exercises throughout the day can ease muscle tension and loosen up joints, so that sitting feels much more comfortable. Posture exercises gently stretch overused muscles and ligaments ridding them of tension and increasing circulation. Areas such as the hips, shoulders and lower back can feel particularly uncomfortable after sitting for long periods and stretching the muscles and joints in these areas can make you feel instantly better.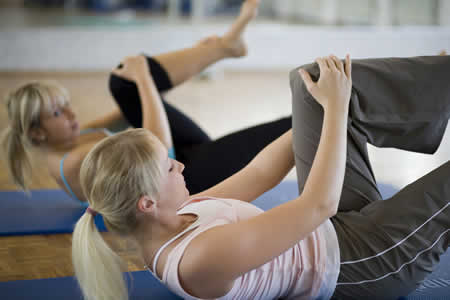 Yoga has been proven to release muscle tension and has the added benefit of relaxing the mind so taking part in a yoga class outside of the office will strengthen your muscles and improve flexibility which means your back, shoulders and hips will be able to cope better in a prolonged sitting position. You don't have to roll your yoga mat out at work to experience the benefits of yoga throughout your day either as you can take elements of yoga moves and practise these at your desk including neck rolls, forward bends and shoulder exercises.
If you're already suffering from lower back pain then it's important to educate yourself on the most appropriate moves you can do to ease the pressure on your back. Movements devised by physiotherapists to manage back pain are ideal to practise on a daily basis including gentle back bends where you place your hands at the top of your buttocks and slowly arch your back backwards. Another great move to try which you can do at work is a side flexion: stand with your hands at the side of your thighs and slowly move one hand down your thigh, bending your back to the side as you do and then repeat on the other side – just be careful not to twist forwards or backwards during this exercise.
Snack Well
Birthdays, baking days, biscuit tins and buffets all offer the perfect excuse to indulge at work but eating at your desk can add inches to your waistline. One study of office workers in Australia reported that on average people put on nearly half a stone every year just from snacking at their desk. Often people are tempted to snack at work not because they're hungry, but because they're bored or stressed and they're not taking their dedicated breaks to eat and snacking throughout the day instead. The thought of giving up your daily chocolate chip cookie might seem impossible but one cookie could hold as much as 300 calories in it and would take 60 minutes of walking to burn off. If you have a sedentary lifestyle then these calories will add to your waistline.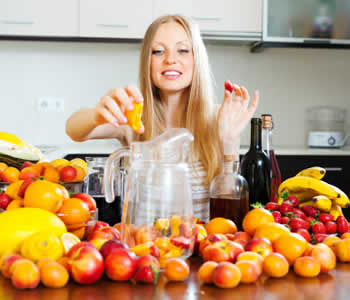 Snacking well at work can leave you feeling satisfied for longer and keep energy levels topped up throughout the day. Green smoothies are a great way to boost your vitamin intake and keep you fuller for longer, you can sip them at your desk throughout the morning too. Options include blending half an avocado with a few mango chunks, cucumber, a little gem lettuce and a handful of kale or try mixing a handful of spinach with half an avocado, a cup of apple juice and a banana. The key rule of making smoothies is not to just go for all fruit smoothies as these will spike your blood sugar levels leaving you feeling exhausted soon afterwards.
Kale crisps are super healthy, easy to make and taste delicious. To make a batch, rip up washed curly kale leaves into small bite size pieces (or use pre-cut kale) and coat lightly in a little coconut oil (you could also use sesame oil or chilli oil for a different flavour) and season with rock salt. Bake in the oven on a large baking tray so the leaves can be spread out for around 15 minutes at 325/180 until crispy. The options are endless for kale crisps; try adding lemon zest and a squeeze of juice, you could add mixed herbs to a little olive oil for Italian inspired crisps or add a little garlic salt for garlic crisps.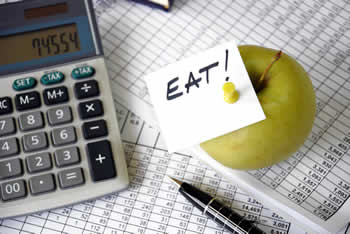 Other healthy options for snacking at work include nuts, unsalted popcorn, homemade guacamole or hummus with crudities, coconut chunks, olives and dried fruit which are all simple and tasty ways to keep energy levels consistent.
Drink Well
Most people wouldn't be able to get through their day without their morning coffee but the caffeine in coffee (and tea) can have a detrimental effect on the body including increasing blood pressure in people suffering from hypertension, creating indigestion, causing insomnia and headaches and exacerbating existing conditions such as an irregular heartbeat. It might take some getting used to not having coffee at work, but switching your caffeinated drinks to fruit or herbal teas has some excellent health benefits. If you're looking to avoid caffeine all together then be careful with green tea as this does contain caffeine so opt for the decaf version. Below are some ideas of different teas to try:
Peppermint – a cooling tea which aids digestion;
Liquorice – a warm spicy tea with a sweet flavour which is a mood booster and has been known to ease pre-menstrual tension;
Nettle – an herby tasting tea which is known for its detoxifying benefits;
Lemon and Ginger – a warming tea which is full of antioxidants and can sooth digestion issues.
Drinking more water at work can help regulate your energy levels, minimise headaches and leave you feeling fuller for longer. For maximum hydration, drink a pint of warm water with a squeeze of lemon or lime in it about 30 minutes before each meal, this will ensure that you don't 'flood' your stomach with water too close to a meal and therefore dilute your digestive juices, which can lead to digestive issues after eating. Standing up to make a drink or grab a glass of water also gets you away from your desk and on your feet for a few minutes.
Clean Your Desk
According to research by Dr Charles Gerba from the University of Arizona the average desk has 400 times more bacteria on it than the average toilet seat. The most germs were found on the phone, water fountain handle, microwave door handle and keyboard. Spilt food and coughing and sneezing can increase the amount of germs further and turn your desk into a health danger zone. The study found that bacteria levels could be reduced by 99% just by wiping the desk with antiseptic wipes. Regularly washing your hands and using antiseptic wipes on your phone and keyboard should further reduce the risk of harmful bacteria accumulating on your desk.
Talk to People
It's not just our bodies that suffer from hours spent at a desk each day, by not getting up and about we can also isolate ourselves which can lead to stress and loneliness. A hectic work schedule can mean that time in the office can go by in a blur and a whole day might pass before you realise that you've not spoken to anyone face to face. Speaking to people only by phone, email and social media exacerbates the problem of isolation. Talking to people face to face gives you a great reason to stretch your legs and alleviate potential loneliness. Face to face conversations can also resolve work related issues quickly and avoids the problem of emails or messages being misunderstood.
Comments:
Mike Dilke said..

A useful list of the things that it is easy to forget to do.

---
Post Your Comments: