Your Country

The decision to travel to the East to participate in learning about traditional Chinese methods of health care, is not just a geographical journey but rather an expansion of oneself over immeasurable distances.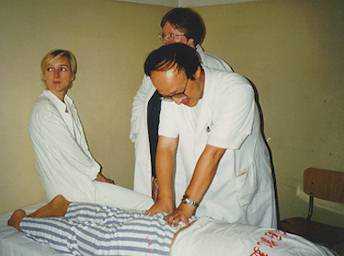 Broaden Horizons for Westerners
For many orthodox and complementary health care professionals, the Western model of healthcare is often the only framework ever explored. However, greater opportunities are available today than ever before to broaden professional and personal horizons. With an increased openness in the East, the potential for enhanced training opportunities has never been stronger.
While some may worry about language and cultural differences being barriers to learning, one quickly forgets such thoughts as a warm genuine welcome is extended and the willingness to share traditional methods becomes very obvious.
Many of the professors and doctors have studied English which they are keen to demonstrate as they explain about various diagnostic and therapeutic techniques. Within the hospital staff, there is a definite hierarchy, which one would expect especially in a country which places so much strength on respect of position and social etiquette. However, without exception, the willingness to share several thousand years of collective wisdom flows freely from every staff member. There is no evidence of ego or arrogance and Western practitioners are treated equally regardless of their particular background in the provision of health care.
Hospital Treatments for Patients
Within the Hospital, there is a strong emphasis on holism and looking at every option in order to benefit the patient. There is definitely a very strong integrated approach between the Eastern and Western methodologies, drawing on the resources and strengths of each. Each morning, there is a general frenzy of patients arriving for treatment in the various departments. Once treated they then have the remainder of the day to return to work. Patients are offered a variety of approaches from herbal remedies prepared in the hospital's pharmacy, acupuncture, tuina (Chinese massage) followed by manipulation, to a combination of Western and Eastern approaches for those who are admitted and require more intensive treatment. For patients with terminal ailments, there is a special department of Diet therapy designed to strengthen the patient in order that they may have a better quality of life and change of recovery in some cases.
Therapeutic Value for Western Practitioners
It is obvious that the patient trusts the doctor and understands the traditional treatments offered. The patients are also very keen to have Western practitioners observe and participate in the treatments. Western health professionals can find learning occurring on every level continually. Whether it is by observing the interaction between professors and nurses, patient and doctor there are often subtle lessons happening throughout the departments.
Although it would be impossible to learn a vast array of techniques in a short exposure at the hospital, it is possible to learn some basic techniques of visual diagnosis and various practical skills. The professors are eager to share their skills and knowledge, all one needs is to just ask!
On return to the West, participants in such courses will have a new and deeper understanding of their previous medical model. The new skills one may acquire form a foundation on which further study can build a competent practitioner.
Overall, this experience is very humbling and enriching. China is the ultimate learning resource for those who wish to venture not just to another country but towards a new level of understanding and development, within themselves, of how they can help others in the future. The whole journey is an exercise in positive health attainment and should be experienced by every dedicated health care professional.
Case Study
Evidence of the effectiveness of the traditional Chinese approach to musculo-skeletal problems was witnessed during our time at the Xi Yuan Hospital in the 'movement room', which is part of the Tuina Department.
A lady in her mid fifties was admitted to the ward in excruciating back pain radiating from her lower spine region. On her first encounter, the patient was virtually unable to walk and her husband supported her as she made her way to the treatment room. Her face told the story of the pain she was experiencing and every movement extracted the sounds of her state.
Apparently, like many back pain sufferers, she had injured her back a few days earlier while doing routine tasks at home. The pain had become so bad that her husband had insisted that she attend the hospital for treatment. This is a common situation that finds its way to the Tuina department.
On the first treatment which our group witnessed, the doctor asked the patient to lie prone on a low plinth wearing her hospital pyjamas. There she lay, emitting occasional groans and wincing as the treatment began. Initially the sight of her body was clearly rigid with spasm and pain. The doctor began by observing the muscles around the troubled area and then examining the whole back. A few investigative questions revealed that this was an occurring problem and that treatment would assist in full recovery. Following the examination, work began through her clothes using the classic Tuina rolling technique along either side of her spine to initially relax her spinal muscles.
The technique looked simple enough, however, when we were invited to participate, we quickly discovered that there was a great deal of skill and practice needed to perform an effective movement. The depth of the massage skills and the event of working through the clothes brought a new awareness to the differences between the western and eastern approaches.
After the doctor resumed the massage, the patient was positioned on her side in preparation for the first manipulation of her treatment. A loud 'click' was heard, identifying a successful manoeuvre. The same on the other side and the treatment was over. Some relief was evident but, it was clear that this case was going to need several sessions.
During our time at the hospital, we witnessed and participated in the treatment of this patient. On each occasion she appeared to be regaining her mobility and generally increasingly looked pain free.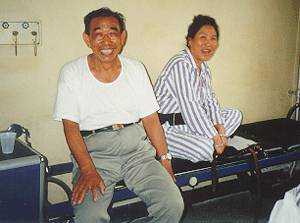 On our final visit to the department, we were delighted to see this same patient sitting cross-legged on a plinth with her husband beside her chatting with the other patients as they received their manipulations and massage. When it was her turn she literally, hopped off the plinth and walked easily to the doctor's side. In lying on the table she knew that this was her last treatment, since she was now pain-free and fully mobile.
This was a very gratifying sight which reinforced the work of the traditional approaches employed at the hospital.
On leaving she thanked the members of our group and gave a beaming smile as she left.
Comments:
No Article Comments available
Post Your Comments: