Your Country

"Tom has always suffered with constipation and often is in pain for up to 24 hours before a bowel movement – this seems to have stopped and Tom is now going to the toilet every other day, rather than once or twice a week."
This parent attributed the remarkable improvement in her son's health to attending the Touch Therapy Training Programme (TTTP). This is an eight-week programme where parents are taught the basics of massaging their children with disabilities/health problems by qualified massage therapists.
I joined the programme when I became a volunteer massage therapist in January 2000. This research and development project is based at The Psychosocial Research Centre: Chronic Conditions and Disability, Coventry University and was developed by Julie Barlow (Professor of Health Psychology) and Lesley Cullen (Research Psychologist). The national programme had been running for two years when I became involved, and, although it began initially in Coventry, it has now spread nationally with qualified therapists in Blackpool, Lincoln, Essex, and Chester taking part.
The primary objective of the programme was to develop a training package designed to equip parents of children with health concerns and/or disabilities with the necessary skills to gently massage their children. The aims of the programme are to enhance parents' perceived ability to cope with caring for their child with disabilities by providing them with practical skills and to strengthen the bond between parent and child.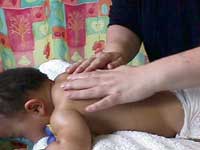 What Happens on the Touch Therapy Training Programme?
The programme consists of eight one-hour sessions delivered over a period of eight weeks. Parents are taught basic massage movements by a qualified massage therapist. Each parent/child dyad attends every week and is expected to practise at home in the intervening days. Parents are given an accompanying training pack, which contains an instructive weekly guide to the massage movements, an illustrative photograph booklet and a bottle of sweet almond oil. Therapists tailor the instruction to meet the needs of each parent/child dyad.
Touch
Touch (i.e. physical contact) is reputed to be essential to human growth and development.[1]ouch can take many forms, but one therapy that incorporates the benefits of touch is massage. The therapeutic benefits of massage have been well documented. Massage is applied to the soft tissues of the body and has a beneficial effect on the nervous and circulatory systems. The physical benefits are improved circulation of blood and lymph, reduction in muscle tension and pain relief. The psychological benefits include a decrease in mental tension, a feeling of well-being and stress relief.
Other Studies
Massage with children with disabilities has been well documented by Tiffany Field in her studies of massage with children with juvenile rheumatoid arthritis (JRA).[2] In this study, children with mild to moderate JRA were massaged by their parents for 15 minutes a day for 30 days. A control group engaged in relaxation therapy. The children's anxiety and stress hormone (cortisol) levels were immediately decreased following the massage. Pain was assessed by self-reports, parent reports and their doctor's assessment of pain (both the incidence and severity) and pain-limiting activities. Over the 30-day period, pain had decreased on all these measures.
Another study of massage with children with cerebral palsy has been documented. Katharine Stewart looked at the physiological effects of massage on children with quadriplegic cerebral palsy (QCP). She noted an increase in circulation in paralysed limbs, with a change in colour and temperature "From being cool and pale to having a healthy-looking, warm, pink glow after the massage."[3] She noted that this may help in reducing pressure necrosis, which can occur when the tissue is starved of nutrients and oxygen.
My Experiences of the TTTP
As a newly qualified therapist, I wanted the experience of massage with children with disabilities. I was very interested in becoming involved with the TTTP because, although I had no doubts about the physical and emotional benefits of massage, this was something different. Instead of simply treating the child, the parent was taught the skill of massage to use with the child, so for the therapist the treatment was secondary to the teaching.
Before I could become a therapist on the programme I had to go through the TTTP induction. During this, I was introduced to the concept of 'touch therapy', shown how to keep appropriate records and informed what to expect from other therapists who had previous experience of the programme.
The programme at this time was being held in a clinic at The Tiny Tim Centre in Coventry. This venue was chosen by the University because of its excellent clinic venue and children's play area.
I can recall that first chilly winter's morning when I waited, in anticipation, for my first parent/child dyad to arrive. Another therapist involved on the programme and I had prepared the therapy room with clean towels, training packs and welcoming cuddly toys. When the children arrived, I found it quite nerve wracking. I did not know quite what to expect from the parent or child or how they would react to being massaged.
When they arrived and I began with the consultation and 'getting to know each other', it was evident that the parent was as keen as I was to begin learning the massage. My first child had a diagnosis of cerebral palsy, and after moving her onto the couch and lying supine (face up) she looked on whilst I demonstrated the massage movement of effluerage on her left leg, then encouraged her mother to copy my movements on her right leg. We were away!
What Happens on the TTTP?
After their initial consultation, I instructed each parent for eight weeks in the basic massage movements of: effluerage (a gentle stroking and soothing movement which is used initially to say 'hello' to the body, although it can be stimulating if used vigorously); petrissage (a kneading and squeezing movement); and friction (deeper, small circular movements against the bone, with the intention of releasing specific areas of tension and blockage).[4]
Parents could follow the techniques in the instruction booklet, which described each technique and showed where, on the body, it was appropriate to use it, e.g. the frictioning of joints, but not up the spinal column.
Techniques were slowly built upon each week, going at a pace suitable for the parent and child. I also discussed contraindications to massage with the parents and kept detailed weekly records of my observations. The parents were asked to keep home record sheets to note down any changes in their child's health or behaviour each week.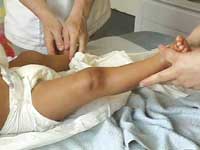 Children's Disabilities/Health Problems
I worked as a touch therapy therapist for six months and with a number of parent/child dyads. The children ranged in age from 18 months to 11 years. Their problems spanned a wide range of physical and learning difficulties and included: arthrogryposis, asthma, autism, cerebral palsy, chromosomal disorder (with associated problems), coeliac disease, constipation, diabetes, Down's syndrome, dyspraxia, dyslexia, hychondroplasia (dwarfism), immune system compromises, prematurity with low birth weight, rheumatoid arthritis, sight problems, Silver Russell growth disorder and sleep problems.
Parents were taught how to massage different parts of their child with reference to any specific problems they had. For example, for constipation I demonstrated abdominal massage, and for asthma, gentle movements on the chest. Joint pains received massage attention and, if appropriate, parents were shown gentle stretches.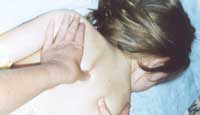 Case Study 1
Steven, an 18-month child and his mother began the TTTP in October 2000. He presented with mosaic trisome chromosome disorder. His resulting problems were: poor sight, sleep apnoea, oxygen dependency (nightly and some days), congested chest, delayed gross and fine motor skills, irratic bowel, underdeveloped left side and generally delayed development.
His mother's aims of attending the programme (as well as to learn massage) were to "build up general well-being, improve circulation and improve use of his hands". From the first session it was apparent that I could help with some of his problems and (as well as teaching massage to all areas of the body) I focused particularly on his abdominal region (to reduce constipation), chest area (to reduce congestion) and hands (to try and develop more sensitivity).
Steven's mother attended every session, growing in confidence in her ability to massage her son, and she practised touch therapy twice weekly before bedtime. Steven's increased development was apparent to me as the weeks progressed. I saw him take his first few steps unaided and clap his hands. Changes perceived by his mother over the eight weeks included: improved bowel functioning, increased duration of sleep, reduction in use of oxygen mask at night, enhanced flexibility and co-ordination in hands, alleviation in congested chest and increased awareness and sensitivity of his body.
His mother stated, "I never knew or expected things to go as well as they have; the programme has surpassed all my thoughts on what it might do and it has given me knowledge to be used weekly or when the need arises."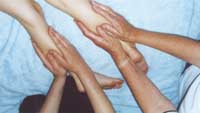 Case Study 2
Alice, a 2-year-old child and her grandmother attended the programme. Alice had a rare form of asthma that meant she had excessive mucus production, resulting in vomiting most nights. She also complained about achy legs, and had a slight build and general poor health, particularly frequent chest infections and constipation. She had been a premature baby and weighed only 1lb at birth.
Her grandmother's aims in attending the TTTP were to improve her granddaughter's health and for her grandchild to enjoy it.
I had to focus on building up a good relationship with Alice as she was unco-operative at first and very clingy to her grandmother. As the weeks progressed she discovered that she enjoyed massage and loved covering herself from head to toe in oil! Her pleasure in the massage increased with her grandmother's confidence. Her grandmother massaged her 3-4 times per week either before her evening bath with oil or after her bath with talc.
Her grandmother reported many changes, including improved bowel functioning, weight gain, better all-round health, improved sleeping patterns and reduced vomiting at night.
In addition to these perceived physical benefits, her grandmother reported that Alice requested massage on her achy legs, was more tactile and actually appeared to have a reduced fear of hospitals and doctors.
Touch and Children with Autism
It was very interesting working with children with autism, who stereotypically do not like touch. In these cases it was essential for me to be flexible in my approach, recognizing the importance of using the same couch and routine every week. To my surprise some of these children began not only to tolerate, but also appeared to enjoy this specific type of touch.
One parent with a child with autism said, "Towards the end of the programme he has shown signs of spontaneously seeking to touch or even hug people!"
Teaching rather than Treating
Up until my involvement in the programme, I had treated adults for sports injuries, bad backs, stress-related muscle tension and relaxation. Working on the programme not only differed because of the age of my patient, but because I was teaching rather than treating. It was all about giving parents a skill that they could use to help their child, rather than just having their child treated by someone else.
I had expected all the parents to be as enthusiastic as I was, but I had not realized how difficult and uneasy some parents were in copying my moves or how unsure they seemed with what I classed to be simple movements. I was surprised at how some of them seemed a bit intimidated by the therapist's knowledge and, conversely, how some picked up the massage very easily and progressed much faster than others. In my role as their 'teacher', it was important to be as reassuring as possible, to work at their pace and to give clear and positive feedback about their progress. I enjoyed meeting and teaching mothers, fathers, grandparents and foster parents from a wide variety of backgrounds and cultures.
Massaging Children
Working with children was also a very different 'patient experience'. Reactions to the massage from children varied as much as children do! Before beginning any massage, it was important to check out with the child that it was OK to begin and get their consent, either verbally or, if their disability presented communication difficulties, with a positive sign.
When the massage began, some children needed constant attention, whilst others were just happy to lie peacefully on the couch with a dreamy look in their eye. With the former, I was surprised at how many other skills I had to put into practice rather than just teaching massage – I had to persuade, cajole, show that 'teddy bears like massage too' and even play 'take it in turns to have a hand massage' when one child insisted it was "Mummy's turn, Katie's turn, then Jamie's turn"! Some days it felt like I spent more time playing with toys and singing than massaging!
Massage Positioning
In terms of positioning the children for massage, some could not or did not want to lie in the usual prone or supine massage position, but could lie on their side or on their parent's knee. If the couch were a complete 'no-no' we put a mat on the floor and worked from there. Some children needed certain areas of the body supported, so extra towels and pillows were used. I learnt that placing toys on the floor under the couch's face hole was a good way of getting to massage children's backs. It goes without saying that I had to look after my own back too, whatever position I massaged the child in.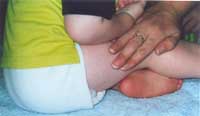 Supporting Parents
As a newly qualified therapist myself, I was still getting used to the semi-counselling role that one has to play as a therapist. In this clinic environment, parents would frequently off-load their concerns and worries about their child. It was obvious that some of them felt a huge strain in not only having to care for their child with a disability, but also coping with running the rest of their family. Parents often had concerns about their own health and how it was difficult to cope with "a perceived lack of understanding by health professionals and insufficient information"[5] regarding their child's disability.
It became apparent to me, during the course of the programme, that there was a lack of support for parents of children with disabilities. The TTTP meets the need for support if only for a few weeks. As a qualified therapist I had been advised on how to maintain a professional and detached relationship with patients, although this was sometimes difficult in this very sensitive area. However, as a TTTP trained therapist I had the support I needed and could debrief after a session.
One parent said at the end of the programme, "I actually really miss going up there every Saturday…it was quite nice to be able to have someone to talk to every week about things that were happening."
Supporting parents appeared to be of equal importance to the learning of a massage skill.
Personal Rewards from being a TTTP Therapist
The personal rewards I received as a therapist were tremendous. It was wonderful to see the children becoming more relaxed and confident in the clinic environment week by week. I will especially remember one little girl with a compromised immune system and asthma. She had been very reluctant to remove any of her clothes, let alone receive any massage, at the beginning of the programme, but by the last session ran into the clinic shouting, "Katie – massage!", undressed herself and lay down on the couch ready for her massage.
It was wonderful to see children's faces begin to relax as the parent and I massaged them. Even faces affected by muscle spasms softened. For me, probably the most challenging aspect of being involved with the programme has been trying to work out my own role within the parent/child relationship. Within this environment I needed the co-operation of both of them, and, as a child-free adult myself, it was all very new and interesting!
Health Benefits for Children
The research aspects of the programme have explained the benefits of touch therapy for parents and how parents perceive changes in their children's condition:
* One of the most consistent satisfactory results reported by parents has been the easing of constipation. For one parent, learning how to perform an abdominal massage meant she could totally resolve her daughter's constipation. This was not only a physical benefit to her daughter, but also reduced the parent's stress levels as previously she always had to supervise her child with Down's syndrome on the toilet;
* An improvement in the quality and duration of children's sleep has been regularly described by parents as being a benefit in attending the TTTP;
* Parents have also commented on a reduction in children's pain from muscle spasms.
Benefits for Parents
The majority of parents have reported positive health benefits for their children and, even when there has not been any noticeable change, parents have enjoyed doing something 'nice' with their child and spending quality one-to-one time together.
One parent says, "I really enjoy giving him his massage because it's time out for us and nice to do, to relax and have time together."
Research findings from this programme have suggested a decrease in parents' levels of anxiety and depression during the course of the programme. Parents' levels of self-efficacy have also improved in relation to how well they feel they can manage caring for their child, meet the demands of everyday life and carry out touch therapy.[6]
One parent says, "The programme was more than I expected and helped me feel better for doing something."
Another parent concluded that his child's "quality of life has greatly improved and this is reflected on the whole family's well-being and happiness."
Funding
The TTTP development and research was funded by a grant from an anonymous charity awarded to Professor Julie Barlow. As with so many other projects, the future of the TTTP now depends on securing funding for its continuation. I have felt privileged to be involved in such an interesting and innovative project that clearly benefits both children with disabilities and their parents. The project has also helped to bring massage into the health-care arena and increase its much needed visibility in research circles.
References
1. Ching M. The Use of Touch in Nursing Practice. The Australian Journal of Advanced Nursing. 10(4):
4-9. 1993.
2. Field T et al. Juvenile Rheumatoid Arthritis: Benefits from Massage Therapy. Journal of Pediatric Psychology. 22(5): 607-617. 1997.
3. Stewart K. Massage for Children with Cerebral Palsy. Nursing Times. 96(1): 51. 2000.
4. Fulder S. The Handbook of Alternative and Complementary Medicine. Oxford University Press. Oxford. UK. pp220-22. ISBN 0-19-262669-8. 1996.
5. Barlow J and Cullen L. Coming Together Through Touch: The Experiences of Parents of Children with Disabilities Learning the Principles of Massage. Early Child Development and Care. 161: 103. 2000.
6. Barlow J, Cullen L and Essex K. The Touch Therapy Training Programme Research and Development Project: Final Report. The Psychosocial Research Centre; Chronic Conditions & Disability, Coventry University. May 2001.
Further Information
For further information on the Touch Therapy Training Programme please telephone Katie Essex or Lesley Cullen, Psychosocial Research Centre; Chronic Conditions & Disability at Coventry University on Tel: 0247 6888525; k.essex@coventry.ac.uk; www.coventry.ac.uk
Acknowledgements
I would like to extend my thanks to the children, parents and therapists who have taken part in the TTTP, and also to Professor Julie Barlow on comments on earlier versions of this paper and to both Lesley Cullen and Professor Julie Barlow for their advice and support in my roles as therapist and research assistant on the TTTP.
Comments:
No Article Comments available
Post Your Comments: