Your Country

As the owner of a children's gym and party business, and previously an accountant, I spent hours sitting at my desk. Over the last few years I noticed that my lower back had become increasingly stiff and thought that a lack of exercise, lifting incorrectly and bad posture had led to the problems. I found relief after my osteopath recommended a different type of office chair.
"Long periods of sitting for work and handling a children's gym club really took their toll on my back, but the right exercise and a new office chair have got rid of the pain and made me much more mobile."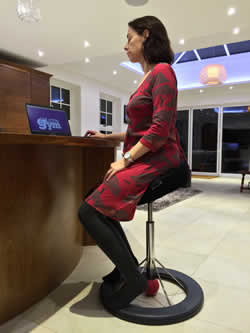 Lindsey Venner
But when I began personal training sessions to get fitter the back problems became worse.
"I didn't know why my back was worse from the exercising as I thought it was supposed to help, but thinking about it I now realize that all the years of sitting on those standard office chairs and slouching constantly as a result had really taken their toll on my back".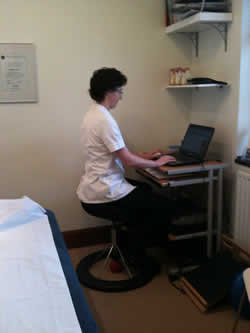 Gillian Brown
Then I consulted a local osteopath, Gillian Brown.
"Lindsey's back problems were a fairly typical and common scenario, with stiffness and locking up. Being around small children, bending down and lifting equipment was also aggravated by long periods of sitting at an office desk. So we agreed to look at an alternative exercise programme and, importantly, have a look at her workstation," said Gillian.
Gillian introduced Lindsey to the chair that she uses all the time, a Back App, which is a 'saddle' seated chair without a back rest and moves around to various degrees via a ball at the base. The movement varies from 'slight' through to 'dynamic'. Unlike a standard chair, which is stable and sets your hips at a 90 degree angle, the Back App seat sets the hips at a larger angle. This means there is less effort on the muscles to hold the body upright, as the spine's position is similar to when standing. As a result, this is less stressful on the back muscles. It basically improves sitting posture, strengthens the core muscles to help support the spine and improves mobility.
"I have used the Back App chair for a while now and noticed that it ensures you don't slouch and use the correct muscles when sitting, not like on standard office chairs. It also reduces the compression on the spine which can contribute to disc disease and leaves you feeling much more mobile at the end of the working day," explained Gillian. And Lindsey, who has now been using the Back App as her office chair for the last few months, said after getting used to it, she would never go back.
"The chair immediately puts you in a better position for sitting. I feel I am more upright, I definitely don't slouch and the discomfort and pain has gone. I even feel myself sitting differently when I sit on normal chairs now."
The UK distributor of the chair, Mike Dilke said: "Using the Back App is all about prevention as well as treatment. It can help reduce lower back pain in those already suffering from it, but it can also prevent its development." And he added that another advantage of using the Back App is that is can also increase alertness and productivity at work.
About Mike Dilke, Relaxback UK and Back App:
Mike came across the Back App Chair when looking at running a business helping people with bad backs, owing to his long-term interest in Yoga. The chair was invented by Norwegian, Freddy Johnsen, who had suffered severe back problems during his life. It is currently manufactured in Sweden. After Mike enquired about the product, he was invited stay with Freddy and following this visit, they agreed to do business together. The Back App is the combination of a chair with an adjustable balancing board. It sets your position, when sitting, in an open hip angle, not at 90 degrees as in a regular chair. This means it's less effort for the body to hold itself in a good posture and the spine is also resting in its most natural position, so the force between vertebrae is less. The adjustable ball makes the chair wobble and prevents stiffness from sitting 'too' still, as well as giving you a low level core workout at the same time.
Further Information
For more information on the Back App contact Mike on Tel: 01727 757221;  mike@relaxbackuk.com  www.relaxbackuk.com
Contact Gillian Brown - Osteopath at Harpenden Injury Clinic on Tel: 01582 764361; Mob: 07969 138607; www.gbosteopathy.co.uk
Comments:
Sue ellis said..

Hi
Can you please advise me of the cost of this wonderful chair.
Thank you.

---
Post Your Comments: