Your Country

A Recurrent Case of Retromolor Triangle Oral cavity, Post standard treatment, Patient Treated with Herbal Therapy - A complete cure shown by Histopathology examination
Introduction
The main causes  of mouth cancer are smoking and drinking  heavily; the  risk is greater if you do both. Other causes include chewing Tobacco or Chewing or PAN , which is cultural tradition in some Asian communities: Lips , Tongue , Hard palate , RMT( Retro Molar Triangles), Buccal Mucosa  are common part for disease. Having a weakened  immune system or a virus called human papilloma virus ( HPV )  are also possible risk factors .
Squamous Cell  Carcinoma
Surgery , Chemotherapy and Radiotherapy are the cornerstones of therapy after surgical resection of the tumour mass. However, tumour recurrence is almost a foregone conclusion in every case, despite the patient undergoing the complete course of Standard therapeutic protocol; after recurrence there is no further line of curative therapy  for diseases . 
Generally, patients turn to alternative and complementary therapies after exhausting their conventional therapeutic options, one of the popular ones among them being herbal medicines. The patient in this case, exhausted the conventional therapeutic options; there was no further line of therapy in this case. The patient's disease was in progressive stage.
Botanical kingdom have a treasure of novel molecules which address and provide multi-level care for patient. In this case Herbal therapies shows curative efficacy. In the past these have been useful in stalling the pace of the disease and improving the quality of life in such patients. However, it was noted that the size of the tumour reduced progressively, along with a concomitant fall in serum CEA levels after the patient was put on herbal therapy. There was also an overall improvement in the quality of life. There was no any adverse event during therapy
This case focuses on the fact that herbal therapies can be useful in some types of cancers and also stresses the need to set up a more elaborate and planned clinical trial in a larger cohort of patients in order to validate the findings in this case.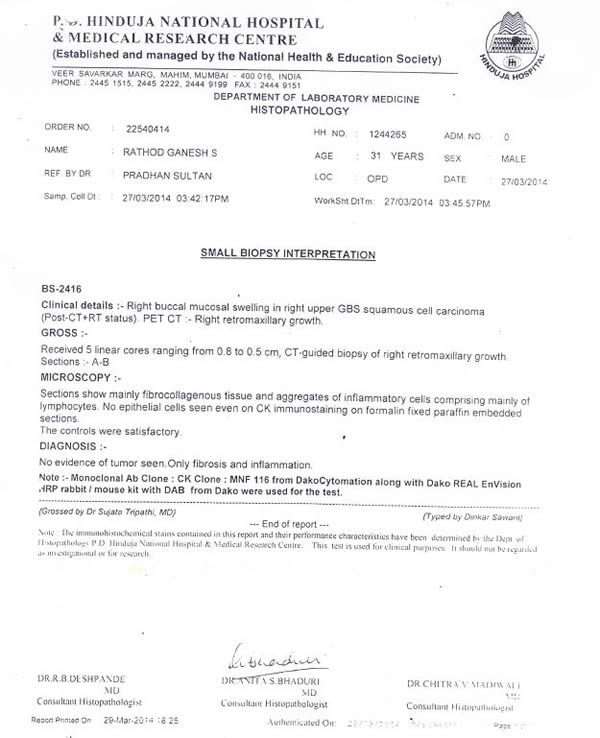 Approach to Treatment
The Novel Approach was developed to prove highly successful in dealing terminal cases of Cancer. In advance malignancies, Holistically multilevel treatment approach is more beneficiary in:
Improving the immunity of patient;
Improving psychological status, feeling of well-being;
Providing dietary guidelines, about macronutrients and micronutrients;
Organically cultivated plant extract used;
Advice about life style changes to suit the disease process;
Inhibit primary disease – mitigation of disease;
Treatment should plan offensively and defensively with phyto medicine;
Synthetic dyes, pesticides should be avoided;
There was no adverse event during therapy. No vital organ including kidney, liver , heart showed any hazardous effects. Therapy targets only cancer cells with great safety
Findings
Most of malignancies detect in advance stage; only palliative management is more helpful;
Improvement of Immunity;
Herbal palliative oncology therapy stimulates endocrine systems;
Herbal-Natural therapy shows no adverse effect. Free from hazard;
Therapy shows mitigation and inhibitor to primary disease;
Patient was cheerful with feeling of well-being;
Holistic approach helpful to reduce social trauma;
Therapy found friendly in all terms;
Improvement in quality of life and life expectancy;
In this case even histopathological finding shows complete resolution of diseases; It was remarkable  in medical sciences. 
References
1.         Own Clinical Outcome.
Comments:
No Article Comments available
Post Your Comments: