Your Country
Clinical Education Calendar of Events 2022
Representing the Institute for Functional Medicine
Start Date

Ongoing

Company

Clinical Education

Address

Clinical Education Nutrition House 24 Milber Trading Estate Newton Abbot Devon TQ12 4SG

Telephone Number

To Register contact Claire on Tel: 0333 241 4289

Email

Website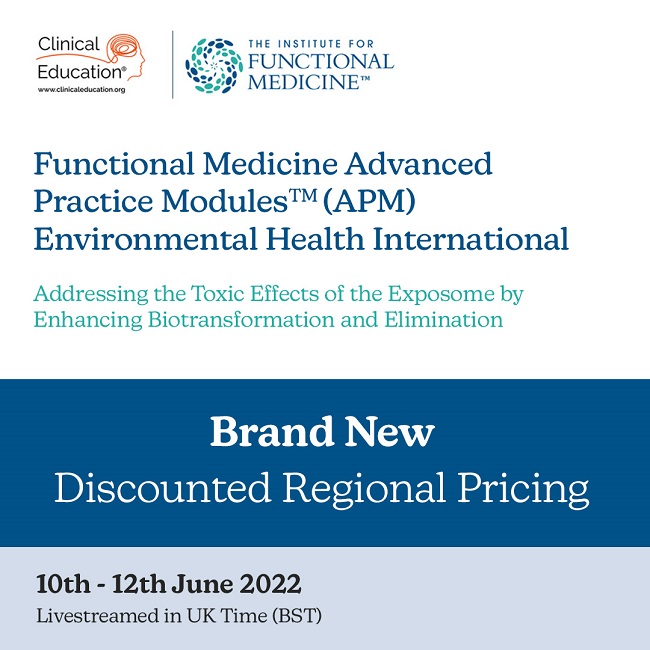 About Clinical Education
Clinical Education is a 'Not for Profit' organisation that brings a range of educational experiences to healthcare professionals.  We also have a hard earned reputation as an independent deliverer of expert led Nutritional Education.
Clinical Education is also proud to represent the Institute for Functional Medicine in the UK and EU, by sponsoring and organising the IFM educational events to cater for practitioners and clinicians unable to attend seminars that are normally held in the USA and also contributes to the presentation formats, and updates intellectual content as required.
Clinical Education and The Institute for Functional Medicine are delighted to expand upon their Education Partnership and announce a special price for Clinical Education Members based in the following regions:
United Kingdom (UK)
Ireland
European Union (EU)
Europe, Middle East, and Africa (EMEA)
Clinical Education Members based in these regions can access the International Advanced Practice Modules for a special price of $1250* (Full tuition price $1975).
*GBP approx £950 at the current exchange rate.
IFM and Clinical Education are committed to removing barriers to entry for training in this region and this special pricing reflects that commitment.
To learn more and to apply for this regional price please visit: www.clinicaleducation.org
Upcoming Events
Functional Medicine Advanced Practice Modules®(APM) Environmental Health International 2022: Addressing the Toxic Effects of the Exposome by Enhancing Biotransformation and Elimination
Today's Landscape
In the 21st century, two things have become increasingly apparent: first, we are exposed to a more complex array of toxic compounds in our air, water, and food than ever before. Second, it has been recognized that an individual's ability to detoxify (i.e. biotransform and excrete) toxic substances is of critical importance to overall health. While the concept that toxicants accumulate in the body and are the cause of various health problems has long been a fundamental tenet of traditional healthcare systems around the world, we have learned a great deal in recent years about how toxicants and toxins affect us, where they originate, and how to improve our ability to detoxify in a toxic world. Understanding toxicity and taking practical steps to improve biotransformation and elimination are essential and critical pieces in any integrative approach to your patients' health and well-being.
Program Highlights
Our expert educator team reviews the foundational biochemistry and genetics associated with biotransformation pathways, connects organ system dysfunctions to potential toxic exposures, and details the useful laboratory evaluations for evaluating toxicant exposure levels and subsequent physiologic stresses in patients. Once these important clinical connections are made, the team will detail specific treatment approaches. This program also uses a case-based, integrated approach to effectively deliver the tools necessary for clinicians to diagnose and treat the toxic component of their patients' total health pictures
Functional Medicine Advanced Practice Modules®(APM) Hormone International 2022 – Re-establishing Hormonal Balance in the Hypothalamic, Pituitary, Adrenal, Thyroid, and Gonadal Axis
18th-20 November 2022; 8am - 3 pm
Today's Landscape
Hormone replacement therapy (HRT) is an extremely common intervention, but it has its own health risks and may not address underlying causes of hormonal imbalance. For some clinicians, HRT in women and men is still considered the fountain of youth; for others, it has become a dangerous area fraught with considerable risk that is avoided completely. Controversies and disagreements abound regarding how to diagnose and measure hormonal dysfunction; how to address safety concerns in prescribing HRT; the form, application, and dosage to use; and when and how to insert lifestyle, diet, nutraceutical, and botanical treatments.
The functional medicine approach is uniquely capable of responding to the controversy surrounding HRT by looking upstream to the wide variety of ways that the hypothalamic, pituitary, adrenal, thyroid, and gonadal (HPATG) axis modulates health. By applying dietary modifications, nutraceutical supplementation, and other lifestyle changes as a frontline treatment, the need for HRT can often be minimized or avoided.

IFM'S (Institute for Functional Medicine) Hormone Advanced Practice Module
This Functional Medicine Advanced Practice Module will clarify exactly how to approach hormonal dysregulation, with discussions on the most important evaluations to make and integrative treatment approaches to apply. We will help you analyze the controversies and provide you with tools that you can use immediately in your practice.
Our expert faculty team will supply you with the foundational background, insight, and in-depth clinical thinking to confidently assess and treat patients who present with hormonal dysfunction. This program will provide a unique, experiential, case-based, clinically practical experience from which you will acquire the tools you need to apply a comprehensive functional medicine approach to hormone dysfunction in your patients.
Further Information
For Information regarding Speakers, Price, Schedule and booking, please visit  https://pponline.clinicaleducation.org/