Your Country
Correct Your Pelvis and Heal Your Back-Pain
Pelvic Correction - Yuan Shi Dian Certified Course
Start Date

Company

Aligned Wellness Academy

Address

200 Vaughan Road, West Harrow

Address1

North West London HA1 4EB

Contact

Alexander Barrie / Wei Wu

Telephone Number

07850 908924 - Alexander; 07503 171377 - Wei

Email

Other Email

Website

Other Website
Announcing a 4 day Course Autumn Sept-Nov 2022

Pelvic Correction & Yuan Shi Dian Certified Course
Dates: Saturday 24 Sept, Saturday 8 Oct, Saturday 22 Oct, Saturday 5 Nov 2022.
​Times: 9.30am to 5.30pm. Refreshments provided, but bring your own lunch. Though many restaurants in the area.
​Venue: Harrow College Campus, Lowlands Road, Harrow-on-the-Hill, HA1 3AQ. (Brunel Building Room BO17). UK.
​Costs: £160 per Workshop. Total of 4 Workshops: £640.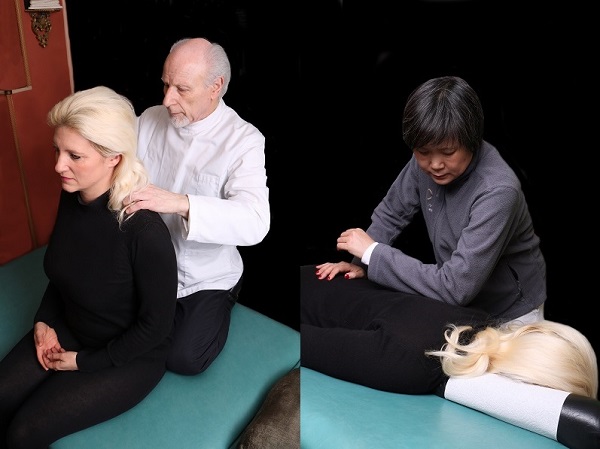 Dr Alexander Barrie, London [Left] and Madam Wei Wu, Beijing.[Right]
Under the Auspices of Aligned Wellness Academy (AWA)
It is to understand why this corrosive State of Health, back-pain and all other musculoskeletal aches and pains are experienced by almost everybody and also more importantly, how you may have control and be able to manage these debilitating Conditions thus returning your life back to you by aligning your pelvis and spine and more.
Operators: Dr Alexander Barrie, London and Madam Wei Wu, Beijing
We include of course, the spectacular Taiwanese Yuan Shi Dian (YSD) (Origin Point Medicine) to assist resolution of disorders of neck, shoulder, wrist, hip, knee, ankle, sciatica, and lumbago but also to bring healing to most other ailments that beset mankind, including, for example, very stubborn Conditions, as with Parkinson's, Diabetes, and Dementia – in this way, we may help reduce the stresses of daily life. To maintain physiological and psychological health, all bodily systems need to be in balance and this means to be interiorly warm to hot – we in the West particularly are too interiorly cold in temperature, giving rise to most illnesses. This concept, strange to our ears is explained with this important Course/Workshop.
This 4-Day Certified Course starts Saturday 2nd October and for the following three dates: Friday 15th October; and Friday 5th and 14th November From 9.30am to 5.30pm at: Alexalign Clinic, 200, Vaughan Road, West Harrow, HA1 4EB. U.K. We will be teaching both disciplines as outlined above which will be invaluable and priceless as adjuncts to your existing therapies. We take enthusiastic Laymen who are willing to learn our Systems. We introduce also the brilliant Pelvic Corrector Ring Device
Further Information
Go to https://www.alexaligntherapies.com/ to access the whole program, costs, details and application form. www.alexaligntherapies.com/ www.alexaligntherapies.com/lectures-courses
Mobiles: Alexander 07850 908924 - Wei 07503 171377
​

Founder of The Alexander Barrie System of Pelvic Correction™︎

Registered craniosacral therapist and shiatsu practitioner

Back pain consultant

British Wheel of Yoga teacher

​Founder of The Alexander Barrie System of Pelvic Correction™︎

​Drawing on 35 years practising a variety of natural therapies, Alexander now takes a deeply intuitive approach to his work. Guided by the recurring problems he witnessed in his clients he founded The Alexander Barrie System of Pelvic Correction™︎ to ease back pain and offer freedom from deep-rooted musculoskeletal issues.

He has written three books, including one specifically on pelvic alignment. A father of one, he lives in North London with his wife, and in his spare time is a musician and astrologer.
Practitioner in Yuan Shi Dian (YSD) / Origin Point Medicine

Registered with the Shiatsu Society as a Senior Practitioner (SRSS)

Traditional Chinese Medicine practitioner

Senior Associate Member of The Royal Society of Medicine

​Growing up in Beijing with a respected medical doctor father, Wei inherited Traditional Chinese Medicine skills and knowledge. Now a pioneering London therapist, she has gained years of clinical experience in the West and Taiwan. Driven by a deep care for others, becoming a healing therapist was a long-held ambition for Wei, whose training extends to the rare Yuan Shi Dian (YSD) / Origin Point Medicine, which eases pain and treats serious disorders.

With a focus on empowering her clients to live their healthiest lives, she is also trained in nutrition and the use of fasting to heal the body.
The Alexander Barrie System of Pelvic Correction™
This System that took many years to come into being, favourably lifts the sufferer out of back pain and other musculoskeletal aches and pains. Though the participant partakes in the rehabilitation process. Thus, success is assured in 98 percent of cases. Bodywork, especially over the spine itself is administered, then gentle adjustments made to the bony joints, and the relevant techniques set to give the patient the ability to have control over his/her body alignment. This is the specialty practiced at Alexalign Clinic under the aegis of: