Your Country
Republished from water-for-health.co.uk
https://www.water-for-health.co.uk/our-blog/2020/11/how-obesity-is-impacting-the-pandemic-an-evidence-based-guide/?s=09
The pandemic continues to affect our lives – perhaps now more than ever.
"Pandemic stress" is a real thing, and it can lead to a wide array of both mental and physical health issues. Not least, overeating and a lack of physical exercise which impacts weight gain.
Worryingly, almost a third of all adults in the UK are obese, and a further third are overweight. Accounting for two-thirds of the UK population. Think about that for a second.
In the UK, a person is classified as overweight if their body mass index (BMI) is over 25 and obese if their BMI is over 30-40.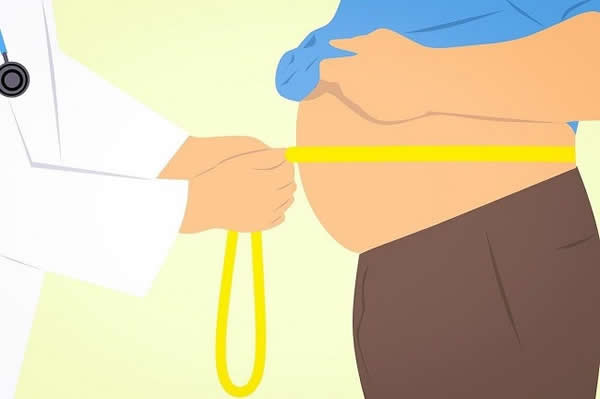 The global upward trend of obesity is proving increasingly dangerous to overall health
Obesity is a known risk factor for cardiovascular disease, dysglycemia [an abnormality in blood sugar stability], metabolic syndrome, type 2 diabetes mellitus, high blood pressure, and hypertension. Additionally, Public Health England and the CDC in America have issued stark warnings about the dangers for those suffering from obesity and the risks of catching viruses.
In this article, we'll dive deep into the scientific findings as to whether overweight people are more likely to catch the virus, and who is at risk of developing serious problems.
Plus 5 steps that you can take to boost immunity and get to a healthy weight to fight off the virus.
Are Overweight People More Susceptible to Viruses?
You may have seen Boris Johnson promoting weight loss on TV, and for good reason. The obesity epidemic and the pandemic have collided, creating a tsunami of health problems.
Evidence from around the world has now pointed to the increased risks for contracting the virus, the increased risk for hospitalization, and also a greater risk for death for those with obesity.
The Centers for Disease Control and Prevention (CDC) in the US has published data saying that anyone suffering from obesity, "at any age" is at a higher risk for contracting the virus.
Here in the UK, Public Health England has said that "excess body weight is one of the leading causes of poor health in Britain," and "people living with severe obesity (BMI > 40kg/m2) are also deemed to be clinically more vulnerable" to contracting the virus.
People suffering from obesity are also at greater risk of hospitalisation for H1N1 influenza and a wide range of other illnesses.
Related: 5 Natural Ways to Protect Heart Health, Lower Cardiac Risk
How to Check If You're Carrying Excess Weight (Without Scales)
All you need is a measuring tape…
One easy way to check if you are at increased risk due to excess weight is to measure your waist circumference. Also known as "visceral fat."
An excess of visceral fat or inches around your weight is a good indicator that shows an increased risk for developing type 2 diabetes, metabolic syndrome, cardiovascular disease, and a wide range of other chronic illnesses.
All factors that put people at increased risk for contracting, shedding and complications when exposed to the virus.
According to the American Heart Association, metabolic syndrome can occur when your waist circumference is larger. More specifically:
For Men – waist circumference of equal to or more than 40 inches
For Women – waist circumference of equal to or more than 35 inches
Related: Junk Food Advertising Drives Obesity Figures
Existing Scientific Research and the Pandemic
The relationship between the virus and obesity has been clearly established. A wide range of studies have found that patients with obesity suffer for longer and are at increased risk of hospitalisation and death if they contract the virus.
Additionally, "shedding" (how the virus spreads) happens for longer in those with obesity because of the severity and prolonged infection time.
75 research papers written in both English and Chinese, were analysed to try to establish the risk and mortality rates. The findings were unanimous – obesity resulted in 46% higher positive test cases, the likelihood of being hospitalised increased by a whopping 113%, ICU admission was 74% higher and mortality was 48% higher. When compared to lean and healthy individuals (with a BMI of under 24) who contracted the virus.
Related: Why Gut Health is Vital for Immunity: A Comprehensive Guide
Chronic Illness & Risk of Catching the Virus
Because those with obesity are at greater risk of having coexisting chronic health conditions like type 2 diabetes, asthma, sleep apnea or metabolic syndrome, we need to establish whether it is these underlying conditions or the actual obesity that is causing the complications.
In one study that looked at 5,700 patients who were hospitalized with the virus from 1st March to 4th April 2020, 553 patients sadly died. Doctors reported that patients who had diabetes were more likely to be admitted to intensive care and require invasive treatment.
Related: Can Viruses Spread Via Water? Plus the Best Ways to Disinfect Water
5 Steps To Boost Your Immunity
Other than the current general public health advise of wearing a mask, washing your hands, and keeping a safe distance, there are additional measures that you can take.
In particular, there are several lifestyle changes that will increase your chances of fighting the virus, such as losing excess weight.
To achieve these changes, there are several important points to consider in a successful lifestyle program such as:
Nutrition –Eat a diet filled with healthy fruits and vegetables. Wholefoods offer valuable phytonutrients that protect your cells from damage. Also eating a lot of good food will crowd out bad foods, as you'll be filled up with the good stuff;
Supplementation –Ensuring that you consume all of the right nutrition from a balanced diet is hard in 2020. Mainly due to industrialised farming practices that have wiped the soil of essential vitamins. Check your vitamin and mineral status, and top up as necessary with high-quality supplements. Especially vitamin D, Omega-3 and multivitamins. B12 and magnesium are also vital, particularly in the current moment;
Mindset –Stress can drive us to overeat and consume the wrong food. Take time to keep yourself on track by focusing on a positive healthy mindset;
Exercise – The NHS suggests that we should aim to be physically active every day. The NHS exercise guidelines are 150 minutes of moderate-intensity exercise or 75 minutes of intense exercise weekly;
Hydration – The NHS also suggests we drink at least 6-8 mugs of water throughout the day. If you feel like you are dehydrated, then you can check your urine colouring. Clear or pale is what you want; darker shades indicate that you need to drink more water.
The Bottom Line
The obesity epidemic and the pandemic have collided, creating a tsunami of health problems.
The pandemic is showing no signs of slowing. Therefore, we must take this time to boost our overall health and wellbeing.
Stress reduction, exercise and a focus on healthy lifestyle practices used to be a choice – before the pandemic hit. But in 2020 (and beyond), leading a healthy lifestyle is becoming a must.
Excess weight can lead to a heightened risk for contracting, spreading the virus and the possibility of hospitalisation. By keeping properly hydrated, exercising and following healthy lifestyle protocols (as outlined above), you can increase your chances for survival, and enhance your overall life experience.
It's a win-win situation.
Acknowledgement Citation
Republished from water-for-health.co.uk
https://www.water-for-health.co.uk/our-blog/2020/11/how-obesity-is-impacting-the-pandemic-an-evidence-based-guide/?s=09
Comments:
No Article Comments available
Post Your Comments: