Your Country
Natural Therapeutics Essential Oils and Essential Oil Training
At Natural Therapeutics, we are passionate about essential oils and essential oil training. We offer a wide range of courses, including a diploma as an Essential Oil Practitioner for people who do not want to train in massage as an aromatherapist does. We have taken the UK core curriculum for aromatherapy and stripped out all of the massage elements, so you do all the rest of the training and will be qualified to blend for clients using all the same products as an aromatherapist would. It includes a separate diploma in anatomy, physiology and pathology and if you already hold a recognised APP diploma, we can exempt you from that part of the course, so you will only need complete the essential oil modules. The course is fully accredited by Complementary Health Professionals, known for high standards who offer membership for practitioners and a discounted insurance scheme.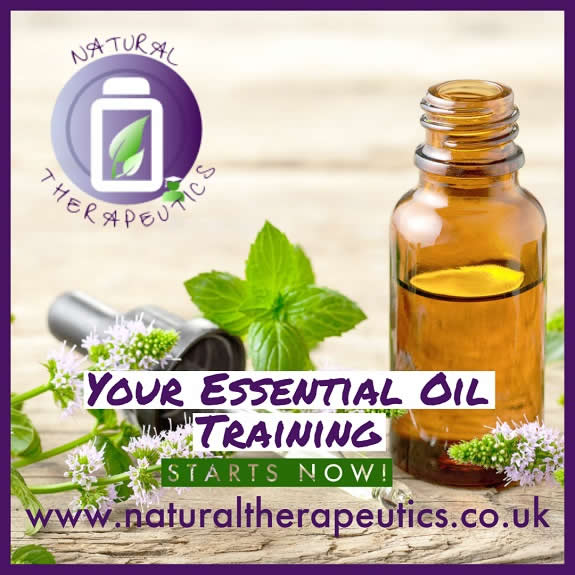 https://www.naturaltherapeutics.co.uk/
Last year we launched our Level 5 Upgrade course for aromatherapists who wish to deepen their knowledge and gain a higher-level qualification. These are all modular and include modules on advanced chemistry and blending, elderly care, care of chronic conditions, energy work with essential oils, working with fertility, pregnancy, childbirth and children as well as aromatherapy to support mental health conditions. You need to complete each module and then write a 3000-word thesis on a subject of your choice to gain the level 5 diploma. You can start this anytime as you can with all of our courses and work online at your own pace. 
We also offer lots of essential oil CPD courses for aromatherapists and essential oil practitioners and although all is done online, you have access to a real live person to ask questions whenever you need to! You can email or video call for support and all of your coursework is marked by a tutor and you get copious amounts of developmental feedback and extra snippets of information. If you do not believe us, check out our Google reviews from past students. 
We do also have some in-class courses on essential oil blending as well as Neuroskeletal Re-alignment Therapy and remedial massage and trigger point therapy. These are currently held in Thetford. You may also enjoy our Aromatic Tour at Kew Gardens, which we do every June. It is a wonderful day out exploring the flowering plants that give us our essential oils and share information on the oils, their properties and blending. 
If you are new to complementary therapies, we have some cheaper introductory courses online so that you can dip your toe and these include essential oils and herbal medicine.
Further Information
For more information and full details of all our courses  please visit our website at www.naturaltherapeutics.co.uk and please do get in touch if you have any questions.
The Distinctive Qualities of Seaweed for Nutrition
by Simon Ranger, Founder of the Seagreens® project
Many kinds of culinary seaweeds are now available, from snacks to pouches of large pieces for use like other vegetables. Although seaweed is a healthy food, these products vary widely and many have little or no nutritional value.
Such is their composition, that the most nutritious seaweeds are best used in very small amounts – a few grams – as a daily 'dietary supplement'. This has been their traditional use in Japan and elsewhere. Larger amounts, once a week or less frequently, do not deliver the unique contribution that certain seaweed species can make to human nutrition.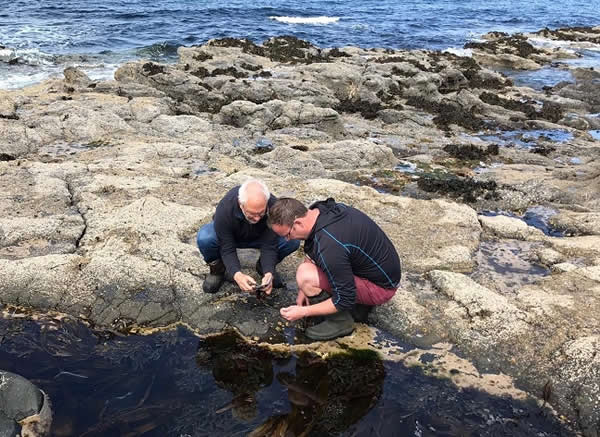 Simon with Geoff Hurst, Director of Seagreens Operations in Mull, Scotland, 2019
The most important contribution is as a natural source of all the micronutrients, including rare vitamins like the entire B group, ideal ratios of Omega fatty acids, high antioxidant capacity, soluble dietary fibre, and all the minerals and trace elements, many deficient in large populations.
Achieving any comparable range of nutrients in a normal diet requires an uncommon variety of land-grown produce. Even if seafood like fish is included, the gaps filled by a nutritious seaweed are still found, and no formulated supplement replicates whole seaweed.
Daily use is critical, because the most valuable seaweed nutrients are neither manufactured nor easily stored in the body Yet only tiny amounts of these nutrients are required, and today it is easy to include between a quarter of a teaspoon (1 gram) and a heaped teaspoon (4 grams) of dried granulated seaweed in any diet.
The traditional Japanese diet included an average 4.6 grams of seaweed per day. Interestingly, during the decade from 1998 when we introduced our first products, to 2008 when our nutrition research began, healthcare professionals using Seagreens® found this to be the level at which our native wild seaweeds become therapeutic.
The Seagreens® project's sole purpose was to get at least a gram of our most nutritious seaweeds into the daily diet, not only to provide sufficiency in 'seaweed' nutrients like iodine, but to address major health concerns like obesity, diabetes, cancer, cardiovascular diseases and dementia.
If you are going to use seaweed every day, in children and old age, pregnancy and special diets, and particularly at higher levels in nutritional therapy, then the seaweed must not only meet the most rigorous food safety standards, but its entire composition must be known to you, closely monitored, and non-allergenic. Within the narrowest possible parameters, its nutritional profile must also be consistent.
This is why Seagreens® has pursued its unique production and independent certification of seaweed specifically for nutrition, so it can be delivered safely and knowledgeably in any kind of food or drink, or in capsules. Only by doing so, can practitioners be confident of potential outcomes.
Further Information
If the difference between seaweed as an occasional vegetable and as a nutrition supplement needs further explanation, explore our information website seagreens.co.uk/profpres and our products at local health stores or www.seagreens.shop. Contact us at Seagreens Ltd, The Warren Estate, Handcross, West Sussex RH17 6DX. Tel 01444 400403;  info@seagreens.co.uk .
Rayonex Exhibition and the New Automatic Body Scan (Rayoscan®)
We are proud to announce that Rayonex Biomedical UK are one of the main sponsors and exhibitors at the next Natural Health Care Show from 17-19 June 2022 at the Business Design Centre (BDC) in London. Please come and visit our stand (M1) at the show to see demonstrations of the company's latest developments.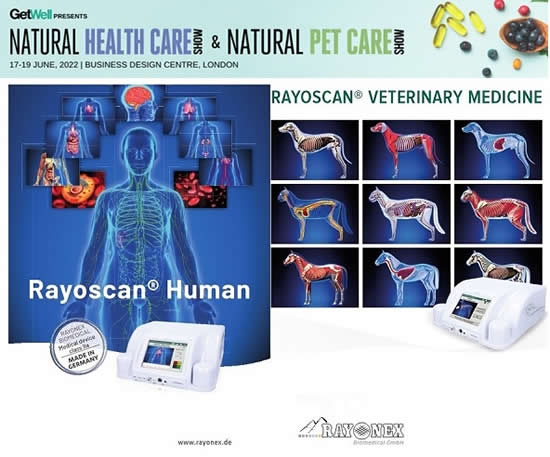 https://getwell.solutions/centre-stage-schedule/
The CEO of Rayonex Biomedical GmbH in Germany, Prof Dietmar Heimes, will be one of the key speakers during the event, presenting the company's recent high profile medical study on pain relief as well as the company's greatest innovation yet: the new Rayoscan® for both the human and veterinary area. His presentation will be on Sunday the 19th of June at 2:00pm on the Centre Stage. Please follow this link for more details.
The Rayoscan® is the high-end software module based on heart rate variability for the Rayocomp PS 1000 polar 4.0. Through a fully automatic energetic test based on ECG analysis, the practitioner will be able to create a fully comprehensive, cause-oriented therapy proposal as a result. 
The new Rayoscan® Human energetically evaluates 22 physiologies to determine those physiological areas that are in need of treatment from an energetic point of view. A further automatic scan in the cause-oriented area of the Rayonex Analysis and Harmonisation System (RAH) then determines the energetic burdens from pathogens, heavy metals, electro-smog, geopathic stress, environmental toxins and other select causes. 
In addition, the new Rayoscan® also features a handy Progress Analysis that shows the course (progress) of the therapy, for example on a weekly, fortnightly or monthly basis.
Your benefits at a glance:
The operation can be learned extremely quickly;
An ECG-based application is known and familiar to both the therapist and the client;
The determined therapy programs can be saved on a memory card for home therapy with a PS10 basic;
The integrated progress analysis shows the progress of the therapy on a weekly, fortnightly or monthly basis;
The Rayoscan® can also be used to determine the energetic fingerprint of the client;
The Rayoscan® software is not a third-party development but was developed in Rayonex's own laboratories;
Further developments of the module can easily be imported via an internet update;
Future updates of the module can be downloaded free of charge on the Rayocomp PS1000 polar 4.0;
The therapy programs determined by the Rayoscan® can be archived and emailed as a pdf file via a dedicated USB stick.
Further Information
For more information about the new Rayoscan® please contact Rayonex Biomedical UK Ltd on Tel. 0203 866 1192; contact@rayonex.co.uk    www.rayonex.co.uk
Clinical Education and The Institute for Functional Medicine™  Special Regional Pricing
Clinical Education and The Institute for Functional Medicine™ are delighted to expand upon their Education Partnership and announce a special price for Clinical Education Members based in the following regions:
United Kingdom (UK)
Ireland
European Union (EU)
Europe, Middle East, and Africa (EMEA)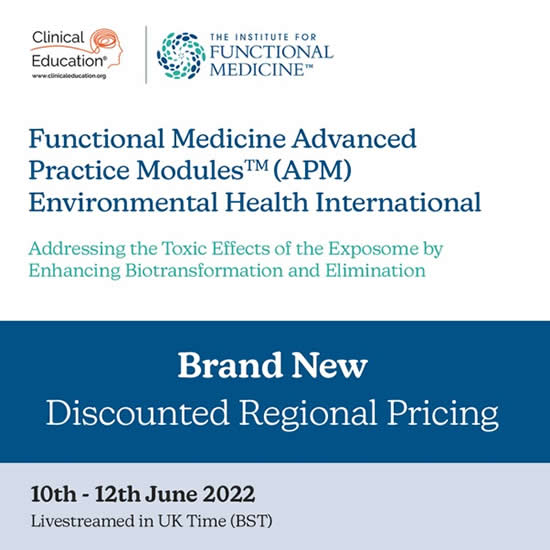 https://www.ifm.org/learning-center/functional-medicine-advanced-practice-modulesapm-environmental-health-international-2022
Clinical Education Members based in these regions can access the Environmental Health International Advanced Practice Module™ (APM) for a special price of $1250* USD (Full tuition price $1975). IFM and Clinical Education are committed to removing barriers to entry for training in this region and this special pricing reflects that commitment.
To access this special price, Clinical Education need to verify your eligibility by location and profession. 
*GBP approx. £950 at the current exchange rate. This estimate is provided for informational purposes only. It is meant only as an approximate conversion amount based on the exchange rate at the time of publication and should not be relied upon for any other purposes.
About the Environmental Health International Advanced Practice Module™ (APM)
There is persuasive evidence that even low-level toxic exposures contribute to the development of a variety of chronic health conditions, including fatigue, endocrine disruption, and chronic degenerative diseases such as Parkinson's. Given the ubiquitous nature of chemicals in the environment, it is likely that the single exposure model of toxicology is more the exception than the rule. It is therefore critical for clinicians to learn how to assess both exposures and total toxic load to appropriately assess and address each individual's toxicological situation.
Program Highlights
Our expert educator team reviews the foundational biochemistry and genetics associated with biotransformation pathways, connects organ system dysfunctions to potential toxic exposures, and details the useful laboratory evaluations for evaluating toxicant exposure levels and subsequent physiologic stresses in patients. Once these important clinical connections are made, the team will detail specific treatment approaches. This program also uses a case-based, integrated approach to effectively deliver the tools necessary for clinicians to diagnose and treat the toxic component of their patients' total health pictures.
Further Information
Find out more and to apply for regional pricing:  https://www.clinicaleducation.org/institute-for-functional-medicine/
4 Season's Well Woman Retreat's – Integrative Health Education
Presenters: Emma Lane & Rachel Gosling
Course Date: 11 July 2022
Location: Broadlands Farm, 101 Durkar Low Lane, Durkar, Wakefield WF4 3BJ
Come and join us on this series of 4 individual day retreats over the next 12 months.
We will be offering a one-day retreat within each season – each day focusing on empowering women to live their best life through education, energy practices, detox, nutrition, beneficial lifestyle choices and group support.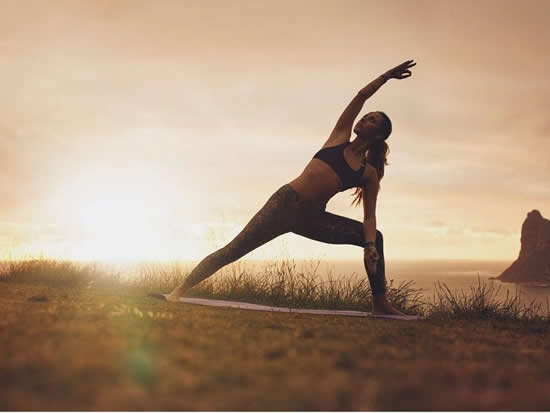 https://www.integrativehealth.co.uk/courses/4-seasons-well-woman-retreats/
The seasonal retreat days will give you the opportunity to:
Disconnect from routine life while connecting with yourself;
Take some time to focus on you and get back in touch with yourself;
Become stronger mentally and find inner peace and awareness;
Immerse yourself into the art of 'being' (Nourish your Feminine, Yin energy);
Gain skills that will make a difference in your day-to-day life leaving you feeling rejuvenated, back in control and able to be the best version of you.
Our first seasonal retreat day will be SUMMER.
This will take place in our beautiful petal tent on the farm where you will be welcomed with a goody bag, delicious juice and experience nourishing catered lunch. During the day you will participate in fun and informative workshops on eating for health, optimal energy creation and balancing digestion. Body reconnection and awareness practices will be experienced through the day including a wonderful yoga and meditation session taught by Rachel Gosling (Rachel.intheflow)
You will have the opportunity to relax, detox and enjoy one of our healing modalities in the afternoon – Far Infra Light Therapy, Chi Machines, Medi Crystal Mats, Frequency Specific Microcurrent (FSM), Ionic Foot Spa (you will be able to experience them all over the 4 retreats). We will finish the day with a fabulous group sound healing experience lead by Julian Ellis who is a qualified practitioner with the College of Sound Healing This will enable you to finalise the reconnection with your mind and body and obviously make you feel GOOD!
During the retreat you will learn simple practices and tools that will enable you to continue with beneficial practices that will trigger a transformation within your energy body and which will directly bring about a unity and balance throughout your entire human experience.
The following retreat days will be held indoors
Autumn retreat focus– Optimizing your immune system for continuous health and wellbeing – be winter prepared. Supporting body rhymes;
Winter retreat focus – Preventing the winter blues, harmonize hormones;
Spring retreat focus – Shedding winter baggage, body and mind detox;
Take this opportunity and sign up for our well women retreat where the whole woman is in focus!
Further Information
You can sign up for either the Summer retreat @ £120 or sign up for all 4 retreats @ £400 and GET TICKETS. Please contact IHE on Tel: Tel: 01924 242 851;   courses@integrativehealth.co.uk   integrativehealth.co.uk
Turning Point Training – Postgraduate Courses in Craniosacral Therapy and Homotoxicology
Turning Point Training offers postgraduate courses in Craniosacral Therapy and Homotoxicology. Our students come from a variety of backgrounds both in conventional and holistic disciplines. This allows an exchange of information and experience that enriches the learning experience. Courses are mixture of leading-edge, scientifically based theory and clinical and practical tuition. Students are encouraged to explore and develop their gifts and talents in bringing their unique experience to the disciplines taught. Students are thus empowered.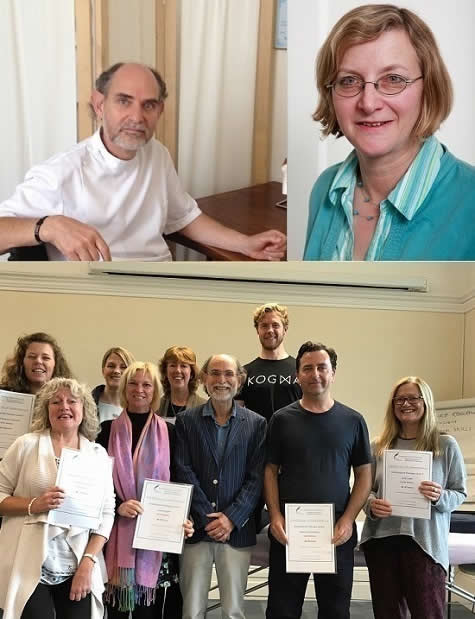 Top: Jonathan Lawrence BA DO Cert Ed and Rosemary Lawrence Dip BFD Cert Clin Hom Cert Ed
Bottom: Craniosacral Course 2019
Small groups help to facilitate this experience. Turning Point teachers are enthusiastic and experienced practicing therapists who keep their knowledge up to date.
The philosophy of Turning Point encompasses the idea that medicine is an art informed by science. We believe that the conventional materialist paradigm is very much out of date and that scientific knowledge has now reached a point where much of holistic medicine can incorporated into a new paradigm.
Turning Point courses introduce the concepts of research and encourage students to critically evaluate current information.
Craniosacral therapy is based on the relation of the relationship between the structure and function of the body and health. Specific, gentle and skilled manipulation can restore the structure-function relationship supporting the patients' own homeostatic mechanisms. This non-invasive and safe therapy can be used on patients of all ages from the new-born to the elderly.
The Practitioner Course consists of 8 modules over 5 weekends (Friday afternoon to Sunday lunchtime) and 20 hours Zoom support days. In addition, students must complete a portfolio of case studies and complete an exam. Practical skills are assessed during the course. This course is recognized by the CMA.
The 2023 dates are: 17th, 18th, 19th March, 21st, 22nd, 23rd April, 19th, 20th, 21st May, 30th June 1st, 2nd July, 15th, 16th, 17th September.
These courses are led by Jonathan Lawrence
Homotoxicology is based on the idea that disease results from toxic load. In modern life we are subject to toxins from a variety of sources. This has the effect of stressing the immune system leading to ill health. Accurate prescribing can help the body gently detoxify aiding the restoration of homeostasis.
The remedies used are single potency homeopathic remedies or combinations of remedies to achieve a specific physiological response.
There is access to online training via the Society of Homotoxicology, UK.
We provide further courses in Electro Acupuncture According to Voll (EAV) for suitably qualified students. This involves electro-acupuncture assessment of meridians and clinical application of findings. Training is via small tutorial groups led by Rosemary Lawrence. For 2023 dates email enquiries@turningpointtraining.org
Further Information
For information about training in these disciplines visit www.turningpointtraining.org
Alliance for Natural Health – ANH is 20: Are You on Board for the Next Part of the Journey?
Rob Verkerk MSc DIC PhD FACN Founder, Executive & Scientific Director, ANH
Twenty years – a little under a quarter of a contemporary lifetime in the Western world. Maybe it doesn't feel like a long time in your life, but that's how long the Alliance for Natural Health – or ANH – has been in existence! Yes, it was 15 May 2002 that ANH was registered as a non-profit to protect and promote natural health. It might feel like yesterday, but that's when I made the decision to refuse a permanent position in the Department of Biology at Imperial College London, 12 years after I started my Master's degree (for which I received a distinction) and my PhD (that I completed in 25 months). There were two choices for me. The choice most immediately in front of me was to build a research group, chase more grants, publish findings in the world's highest ranking science journals, and either – to be realistic – make at best a token net impact through any fruit of my group's endeavour on the dire state of the planet or engage in greenwashing that would end up bettering the financial status of one or another aspect of the corporate sector.

https://www.anhinternational.org/resources/anh-intl-heartbeat/20-years-on-and-shifting-into-overdrive/
Or I could jump out of the matrix and re-engage with the non-profit world that had already monopolized the third decade of my life. But this time I wouldn't be working to stop the pollution and decimation of the Australian natural environment. It would be about doing everything in our powers to help as many people as possible recognize the potency and importance of natural health as the basis of how they manage their health. To create or regenerate health by working with nature, not against it. After deep contemplation, I of course made the latter choice.
Since the inception of ANH, we've taken cases to the High Court in London, the European Court of Justice in Europe and the District Court for the District of Columbia in the USA. And each time we've been successful. We've created new models for the scientific evaluation of the risk and benefits of natural products to prevent legislation that bans products disproportionately based on their potential risk. That would be like banning seatbelts in cars because they have occasionally been known to cause a trip hazard or harm a few people in unusual circumstances. We've also created a blueprint for how we can work in communities, from the bottom up, to create and regenerate health. Respecting bodily autonomy, informed consent and other key bioethical principles. Now we're figuring out how to transition from a blueprint to the real world.
During these last two years, the critical role of natural products like vitamins C and D, zinc, quercetin and N-acetyl cysteine have stood up astonishingly well against the billions spent on genetic vaccines. The global COVID-19 response has ripped the heart out of medical practice. Now it's time to put the heart back in to how we do health, along with its devoted partner – nature.
Further Information
We'd so love as many of you as possible to join us in our continuing journey – as Pathfinder members, as volunteers, or as ambassadors. There's never been a more important time to co-create a health system worthy for future generations. Go to www.anhinternational.org to find out more. 
The Genesis of the Pelvic Corrector Device 
Masterminded out of The Pelvic Correction System™ is the Genius of this Instrument
It was/is generally known with Manual Therapies that the human thighs when pushed outwards laterally from the knees against a resistant object, and then pulled inwards medially against a resistant object, a reasonable balance of the joints of the legs and the pelvis was obtained.  This was/is a clever and effective way of employing the abductor and the adductor muscles of the thighs for therapeutic purposes.
However, this practice is not sufficient enough to correct true pelvic slippage, be it a wholesale prolapse of the pelvis to one side causing the leg on that side to appear longer than its partner leg and also commonly, a dysfunction of the sacroiliac joints, such as to cause the ilia (wings) of the pelvis to twist/torsion in opposite directions, thus, lifting one of the legs upwards superiorly causing leg length discrepancy once again.
Both subluxations/dislocations are damaging to the hapless body as its bony joints in many areas suffer detriment - most often, serious detriment.
Noticing over the years that almost without exception, patients lying on the treatment couch before me, presented leg length discrepancy.  This commonplace presentation almost always followed back-pain and virtually all the other aches and pains of the joints of the shoulders and arms and those of the legs.  In addition, respiration and digestion were affected mildly or seriously.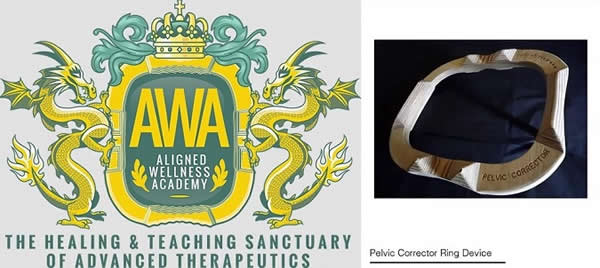 https://www.web.alignedwellnessacademy.com/shop
It was this regular dysfunctional presentation by patients that galvanised me into the making of a simple device, that would not only imitate the actions as described above with abducting and adducting the thighs, but to develop further that basic idea. I experimented with additional movements that twisted, bent and arched the spine.  Eventually obtaining a formula, that if carried-out to the letter, worked 100% every time when the Device was deployed to re-align the pelvis perfectly, and in this way, neutralising and putting right the two basic types of pelvic dislocation.
 I developed the Pelvic Ring Device further by adding some interesting knobbly parts, such, that one could sit into and onto the Device and in this way stimulate especial acupuncture points that assist healing of all the structures in and of that area.  This whole process from beginning to end took around 15 years to develop and to obtain completion. This time factor was required because much testing had to take place to obtain the certainty of efficaciousness in such a crucial area of musculoskeletal medicine.
The primary technique applied executes The Regulator Technique.  This regulates and corrects the pelvic dislocations and is biased towards chronic conditions. The second technique executes The Rump Compressor (the sitting into the device) and this is enjoyed anytime, but mainly for the acute stages of back-pain and more - when for instance your back has just given-way and you can barely move because you are experiencing intense pain and stiffness.
Further Information
Much may be gleaned reading from the website address below about what we do and what we teach and a viewing of The Pelvic Corrector Ring Device  www.alignedwellnessacademy.com     www.alexaligntherapies.com 
© Dr Alexander Barrie. May 2022.
Lipolife Liposomal Magnesium
Lipolife liposomal supplements are designed to ensure your body absorbs as much of the nutrient as possible. It is hard to downplay the extraordinary capabilities of a liposome. Oral liposomes can be instantly absorbed into circulation which results in significantly higher absorption than other, widely available supplements. A liposome is a protective bubble comprised of phospholipids, the very same phospholipids which make up human cells.
To ensure nutrients reach your cells and tissues, a supplement needs to withstand the digestive process and your stomach acid has a pH only slightly higher than battery acid!
A liposome protects the nutrients as the body recognises the phospholipid material, allowing the bubbles and their contents into circulation.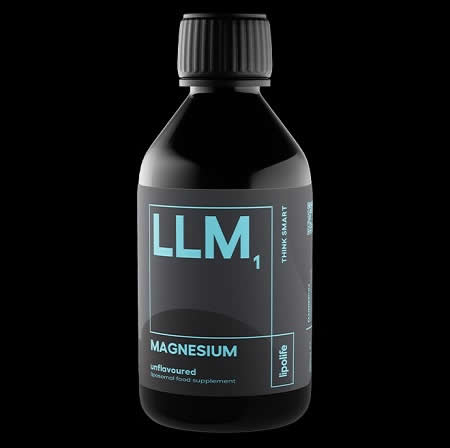 https://lipolife.co.uk/product/magnesium/
What is Magnesium Good For?
Magnesium comes in different forms and each plays a different role in your body, from mood to metabolism. In fact, magnesium is a hugely important mineral, playing a role in over 300 enzyme reactions in the human body, supporting muscle and nerve function, energy production and optimal brain function.
Is it OK to take Magnesium Every Day?
The NHS advises adults should aim for 300mg of magnesium a day to maintain optimal levels. Magnesium can be found in wholemeal bread, nuts, spinach and other dark green leafy vegetables.
Does Magnesium help you Sleep?
Make sure you choose the right form if you are looking to magnesium for its relaxation benefits. Magnesium glycinate is one of the most common magnesium supplements used for achieving better sleep due to its combination with glycine, a sleep-inducing amino acid.
Further Information
For further information and to purchase please visit https://lipolife.co.uk/  https://lipolife.co.uk/product/magnesium/
Comments:
No Article Comments available
Post Your Comments: