Your Country
FundRaising by CCK Support  – In Memory of Kate Arnold 11.3.1973 - 26.6.2018
CCK Support was founded by a small group of people, all working in care and all feeling that they could do better! Kate was one of those founding members and progressed to become one of the Registered Managers, and became the face of CCK the people's person.
She was instrumental in helping to set up CCK Support Ltd and always maintained her hands-on approach with our Service Users. She obtained the love and respect from the service users and staff alike. Always fair in her approach and always helping above and beyond wherever she could. Kate had a vision and a passion to find ways of making people's lives of all disabilities that much brighter and had a genuine care for their partners, carers, family members and others.
On the 14th June 2018, Kate was diagnosed with Acute Myeloid Leukaemia and passed away on 26th June 2018 in the prime of her life, leaving her family and friends devastated. A Tribute Obituary to Kate Arnold was published in Positive Health PH Online Issue 248. We at CCK Support would like to do something in her memory, to continue to help people in her name, to reflect on what a special person she really was.
Kate understood the forever increasing stretch of time and money on the local authorities to provide and pay for care in the community, therefore, CCK Support are driven to continue with Kate's legacy and dream to put money back into our local communities by setting up fundraising in her name, and would like to invite everyone to join in with our fund raising schemes to raise money to put towards this foundation to provide respite care.
Most people will know somebody who suffers from some form of Mental Health condition, Physical Disability, Dementia etc.  Our idea is to be able to make a difference no matter how big or small by giving back to our service user's and others in our local communities by providing a respite service by way of a couple of hours or more sit in service, an overnight stay, a day out somewhere, food bank, clothing, the list is endless, but whatever it might take to make a difference in someone's lives and this will be paid for by the money we raise.
We'd also like to donate money to help the charity "Bloodwise". This is a charity that researches and helps people with blood cancer, the third biggest cancer in the UK. We are aiming to set up various sponsorships and events, with family, friends, clients and anybody who would like to be involved, to raise money not only for "Bloodwise" but in the hope that the "Kate Arnold Foundation" will become fully formed to support our local communities in respite care. A group of family and colleagues including Kate's daughter Shelby Partridge is taking on a Race for Life Pretty Muddy – Margate, 20 July.
Further Information
Should you wish to contact us with any ideas for fundraising events, help or to donate please contact us on Tel: 01227 668 041;   fundraising@ccksupport.co.uk     www.ccksupport.co.uk/     https://fundraise.cancerresearchuk.org/page/shelbys-race-for-life-84
Integrative Health Education IHE
Integrative Health Education (IHE), independent healthcare training provider founded by Emma Lane, works with organizations such as the Naturopathic Nutrition Council, the Federation of Holistic Therapists and BANT. Emma has over 29 years' experience working as a naturopath, naturopathic nutritionist and functional medicine practitioner, operates from two clinics, one in central London and one in Yorkshire. She is a director of PCI Europe offering a variety of parasite testing services. Courses, many of which meet practitioner CPD requirements will be of interest to naturopaths, nutritionists, exercise specialists, physiologists, chiropractors, physiotherapists, osteopaths and holistic health practitioners. Upon completion attendees are given a certificate confirming the number of hours and CPD points gained.
Choice of Courses
IHE offers a comprehensive programme of more than 15 training opportunities:
Emma Lane – Naturopathic Nutritionist, Naturopath and Functional Medicine Practitioner
Holistic Approaches To A Fully Functional Gut, London 14-16 June 2019;
The World of Parasites, Fungus and Bacteria, London 14-15Sept 2019;
Destination Wellbeing – Health Evolution, London 15-17 Nov 2019;
Understanding and treating SIBO effectively;
Tells of the Dis-eased Body;
Messages from within – Emotions and the Organs;
Facial Tells of Emotional Dis-ease;
Return, Rebalance, Regenerate - The Art of Energy Healing.
Dr Omar Amin – Professor of Parasitology and founder of Parasitology Centre Inc. USA
Graeme Jones – Clinical Physiologist, Specialist Consultant and Lecturer in Physiological Testing for Stress and Weight Loss
Stress – A Modern Day Epidemic;
Success Strategies for Weight Loss and Management;
Understanding HPA Axis Dysfunction;
Understanding Blood Results.
Deborah Grayson – Pharmacist, Naturopathic Nutritionist and Expert in Pharmacology / Nutrient Interactions.
Basic Pharmacology & Drug Nutrient Interactions;
Level 2 Award in Emergency First Aid at Work: One-day course;
Level 2 Award in Emergency First Aid at Work for Health and Fitness Professionals -Two-day course.
Rachel Jacobson - Eden Energy Medicine Clinical Practitioner, Eden Energy Medicine authorized teacher, Option Process Counsellor
Eden Energy Medicine Foundations Training Program
Upcoming Classes you may be Interested In
Holistic Approaches to a Fully Functional Gut in London on the 15-16th June 2019.
Destination Wellbeing - Health Evolution in London on the 15-17th November 2019
The World of Parasites, Fungus and Bacteria in London 14-15th of September 2019
Further Information
Please contact Integrative Health Education IHE on Tel: +44 (0)1924242851;
courses@integrativehealth.co.uk         www.integrativehealth.co.uk      www.facebook.com/integrativehealtheducation
London Hosts International Congress on Naturopathic Medicine ICNM
ICNM - Where the best in Natural Medicine meets!
The 6th International Congress on Naturopathic Medicine ICNM 2019 will take place in London, 5-7 July 2019, at the prestigious Millennium Conference Centre, in the heart of the city. This leading annual congress unites hundreds of renowned experts from 55 countries and is organized in collaboration with the British Naturopathic Association, BNA, and the General Council of Registered Naturopaths, GCRN. The Congress is dedicated to promoting excellence in natural medicine, with a strong focus on the future of Natural Healthcare, in the wake of increased consumer demand for access to Natural Medicine.
Global patient care - Restoring Health Naturally - is the ICNM 2019 theme. The event is attended by influential and inspiring healthcare experts who collectively aim to promote and improve patient care. Attendees have the opportunity to network with the finest Natural Medicine practitioners coming from more than 55 countries, to update their knowledge and skills, learning from 30 internationally-recognized Keynotes & Speakers, alongside dozens of research practitioners.
The ICNM Association & Executive Committee encourages the general public, who are interested in acquiring knowledge, to attend one of the 3 days of the event.
The conference program is officially accredited by major official Boards of Natural Medicine to deliver continuing medical education credits.
"We believe it is a good thing for Natural Medicine experts from around the world to connect & share ideas on healthcare challenges from a different perspective. We are excited to present an outstanding program that will play a pivotal role in helping to shape the future of the natural medicine profession. Over 30 internationally-renowned Natural Medicine Professors & Doctors will present exceptional lectures to hundreds of attendees from 55 countries. The Congress is endorsed by more than 185 universities & institutions worldwide for the quality of the program and the event", says Anne Marie Narboni ND, President ICNM.
About ICNM International Congress on Naturopathic Medicine
ICNM is a nonprofit international educational organization with covenants determined by state law in the context of FR law 1901 and in the European Union. ICNM's mission is to provide recurrent, high quality continuing medical education for healthcare professionals.
Further Information
Mention Positive Health Online on registration form andsave 50% 195€ (standard 395€). For more information, please contact AM Narboni ND, President ICNM via secretariat@icnmnaturopathy.eu   http://icnmnaturopathy.eu/en/
Clare G Harvey Working with CBDa 10x Pure and Flower Essences
Combining the different therapeutic aspects of Plants and flowers of the nature kingdom, whether it's the roots, leaves, or flowers, despite whatever extraction method is used to obtain the therapeutic value, can be beneficial to the human body and create an overall synergy. When medical cannabis (Hemp), ancient plant used by the Egyptians as a staple medicine as mentioned in The Ebers Papyrus (c. 1550 BC) to alleviate pain, inflammation as the result of diseases and injuries and for depression in women makes a reappearance after years of suppression, one can only be a delighted.
Macrocarpa (Bottom Left), Black Eyed Susan (Middle), Dynamic  Recovery
It's also become clear that not all CBD is equal so it's important to discover a CBD oil that has proven to protect CBDa (Cannabidiolic acid) during the extraction/heating process, CBDa is the precursor to CBD which activates the human systems in the exact same pathways but with the added plus of being much "purer." and cleaner in the sense that there is no combustion involved, solvents, and toxic residue, and is also considered to be the most healing part of the plant! Early research suggests that in its raw form the compounds in cannabis/hemp leaves and buds are  loaded with a non-psychoactive, antioxidant, anti-inflammatory, and anti-cancer nutrient compounds that are proving to be a miracle 'superfood' capable of preventing and reversing a host of chronic illnesses & (CBDa), a common constituent in fresh cannabis plants & juicing raw cannabis/hemp  provides powerful CBDa to your body, which is lost in the heating and extraction process as well as the body's own heat when ingested into the system where it turns into CBD.
A full Spectrum CBD Oil that delivers supercharged, oxygenated, is fast absorbing, with high potency CBD to the target - our Endocannabinoid System - while keeping the CBDa intact is the one to go for. Scientist with expertise in targeted organic biological processes have developed a combination of CBD and CBDa along with all other cannabinoids and micronutrients present in a full Spectrum CBD which protects the CBDa during the extraction/heating process and is organic, non-GMO Hemp converted to water solubility by a patented process. 10X PURE CBD oil is hydrophilic which means it has an affinity with water all its associated molecules, since most of the human body systems are water based it can travel effectively through the body. Being super light it can rapidly penetrate membranes resulting in faster reaction and potency and does seems to be a cut above the rest and has proved to be antibacterial, anti, microbial and pre-biotic with Anti-inflammatory, Arthritis ,Anti-nausea ,Anti-Cancer, Antioxidant, Painkiller, Anti-proliferative.
Combining Flower Essences with CBDa is proving to be mutually enhancing & particularly synergistic due to the patented hydrophilic method of extraction of the CBD making it compatible as Flowers essences are energetic imprints suspended in water. The endocrine balancing & boost effect of the Flower Essence of Australia's Dynamic Recovery, whose proprietary blend of flower essences seem to lend themselves to this marriage of synergy is  beneficial for the  after- effects of stress and illness when exhaustion can set in and low adrenal energy prohibits recuperation and get going again.
Contains: Banksia Robur, Macrocarpa, Black Eyed Susan, Crowea, Old Man Banksia, Yellow Cowslip Orchid
Further Information
Available from FlowerEssence CGH: contact Clare G Harvey on Tel:  019632 50750;  flowersenseinfo@googlemail.com   www.flowersense.co.uk  
Dynamic Recovery: https://www.flowersense.co.uk/proddetail.php?prod=281004  
CBD 10 x Pure: https://www.tryctfo.com/creatinghealth
Moorvale Creative Certificate in Song Therapy
Music has the power to brighten our lives, whether in community choirs and music groups to share the pleasure of song with others or perhaps to  address specific health challenges in our lives. GPs also recommend community based music, art and exercise to complement prescribed medications and talking therapies. The Moorvale Creative song therapy course was launched in the UK fourteen months ago there are currently fifty eight enrolled students from all walks of life; a very wide range of life experience, musical influences and academic qualifications. They include a number of international students from Ireland, Germany and further afield.
This year we are offering five intakes in January, April, June, September and November. Our June intake is now full but we have a further nine places for the September intake. You are also welcome to register your interest for November 2019 and January 2020 and this will ensure you get sent updates throughout the year. We welcome applications from both those trained formally and indeed those self-trained, whether singers or instrumentalists. The academic content is equivalent to a first year undergraduate degree course and is suitable for anyone who has studied to A level, degree level or above. We offer one to one academic support by email and, if required, by phone too. The course offers three specific study areas split between ten modules. Each module is designed to be studied over three to four weeks, two hours per week. The course can be completed in ten months or up to thirty six months to finish the course
Course Structure
Part One : Building Human Relationships
Part one explores building good human relationships as a practical transferable skill ; the importance of the way we think about ourselves and others in our lives; the impact that this has upon the quality of our working relationships including its effect upon our music group participants.
Part Two : Song Therapy
Part two explores our practical music making and we identify the specific therapeutic outcomes that we can responsibly explore as song therapists.
Part Three : Health and Professional Practice
Part three offers an introduction to the health challenges some are facing in their lives and explores the professional responsibilities that we have to our music group participants.
Course Outline
This is a flexible e-learning course, delivered online over ten to twelve months but you can take up to three years to complete the course if required. You can start the course in January, April, June or September and study at your own pace to fit in with other commitments
Costs
Tuition fees for the certificate in song therapy course are £400 and are paid monthly in arrears From September 2019 we are also offering four annual subsidized places, based upon personal circumstances.
Further Information
Nigel Neill is a professional community musician based in South West England, and an associate of Moorvale Creative CIC. To find out more about song therapy training please contact Nigel on Tel: 01398 371291;  nigel@moorvalecreativecic.org.uk    http://www.moorvalecreativecic.org.uk/songtherapy.htm
Turning Point Training Offers Postgraduate courses in Craniosacral Therapy and Homotoxicology
Our students come from a variety of backgrounds both in conventional and holistic disciplines. This allows an exchange of information and experience that enriches the learning experience. Courses are mixture of leading-edge, scientifically based theory and clinical and practical tuition. Students are encouraged to explore and develop their gifts and talents in bringing their unique experience to the disciplines taught. Students are thus empowered.
Jonathan Lawrence BA DO Cert Ed; Rosemary Lawrence Dip BFD Cert Clin Hom Cert Ed; Class; Craniosacral Course 2017
Small groups help to facilitate this experience. Turning Point teachers are enthusiastic and experienced practicing therapists who keep their knowledge up to date.
The philosophy of Turning Point encompasses the idea that medicine is an art informed by science. We believe that the conventional materialist paradigm is very much out of date and that scientific knowledge has now reached a point where much of holistic medicine can be incorporated into a new paradigm.
Turning Point courses introduce the concepts of research and encourage students to critically evaluate current information.
Craniosacral therapy is based on the relation of the relationship between the structure and function of the body and health. Specific, gentle and skilled manipulation can restore the structure-function relationship supporting the patients' own homeostatic mechanisms. This non-invasive and safe therapy can be used on patients of all ages from the new-born to the elderly;
The Level 1 Practitioner Course consists of 7 modules over 8 days including practical tuition. In addition students have to complete a portfolio of cases and complete an exam. Practical skills are assessed during the course. This course is recognised by the CMA;
Level 2, Advanced CST consists of five modules; Mother/Baby and Reproductive, Visceral, Immune System and Lymphatics; Physical and Emotional Trauma, and Dental, Facial and Cranial Base. Assessment is via Case studies;
These courses are led By Jonathan Lawrence.
Homotoxicology is based on the idea that disease results from toxic load. In modern life we are subject to toxins from a variety of sources. This has the effect of stressing the immune system leading to ill health. Accurate prescribing can help the body to gently detoxify aiding the restoration of homeostasis;
The remedies used may be single potency homeopathic remedies or combinations of remedies to achieve a specific physiological response;
There is access to online training via the Society of Homotoxicology
We provide further courses in Electro Acupuncture According to Voll (EAV). This involves electro-acupuncture assessment of meridians and clinical application of findings;
We also offer Homeopathic Mesotherapy for suitably qualified doctors and practitioners. A subcutaneous injection technique to support healing;
These are led by Rosemary Lawrence and Jonathan Lawrence
Further Information
For information about training in these disciplines visit www.turningpointtraining.org
Courses: Homeopathy Intro, Practitioner Diploma, Reiki – Sayer Complementary Health
At Sayer Complementary Health is now based in Burnham on Crouch, Essex, a historic town on the banks of the River Crouch.   Here we are pleased to be able to offer you consultations either in person or via telephone, Skype or FaceTime and the use of technology has made it easier for clients to get help determining what issues they wish to address and to discuss a plan of action in order to get their health back on track.
Pulsatilla Flower from June's Garden
We also offer a range of courses: Introducing Homeopathy is a one-day course designed to give you an insight into homeopathy, how the remedies are made, their source materials and how they can be used for yourself and your family when an acute situation occurs such as headaches, coughs, colds and other minor ailments that could alleviate the need for visiting your doctor.   Homeopathic remedies are non-toxic, non-addictive and safe for all ages.
The Homeopathic Practitioner Diploma course is an in-depth apprenticeship style course spread over three years.  During this course you will learn about how the philosophy of homeopathy has evolved over the years since it was introduced by the German physician Samuel Hahnemann.  The course includes the basics of anatomy and physiology and pathology and disease, taking the case and differentiating between an acute and more chronic condition.  Home study is essential to the course as are written assignments and throughout the course you will work closely with June Sayer, a homeopathic practitioner with over 24 years' practical experience.  On successful completion of all the necessary criteria you will be entitled to register as a homeopathic practitioner with a registering organization and build your career as a homeopath.
Other courses on offer are Reiki. Level one Shoden is a one-day course that opens you up to the healing power of Reiki and enables you to carry out Reiki healing on yourself and your family.  Reiki level 2 Okuden is suitable for people who have already been empowered or attuned to the Reiki healing energy and once completed allows you to offer Reiki sessions to the general public but you will need to have the relevant complementary health insurance cover in place to do so.  Pre-course material is provided for both Shoden and Okuden so that you may study the materials prior to attending the practical course.  A Certificate of Attendance is provided on completion. 
Should you wish to take your Reiki one stage further then the Reiki Master/Teacher Course also comes complete with a comprehensive manual as well as audio and visual materials and it is this course you would need to undertake in order for you to be able to prepare others on their journey with Reiki.  Reiki consultations are held in Burnham on Crouch, Essex.
Further Information
For further details on any of the above, please contact me via Tel: 01621 730664;  june@betterhealthnow.co.uk
  http://www.homeopathinessex.co.uk/   and please mention Positive Health when making contact.
Sheik Imam BestHealer and the Imam Jaiteh Charitable Foundation
Sheik Imam – leading African healer and advisor with 25 years' experience – has dedicated his life to solving problems and advising clients from around the world. Sheik Imam's father Imam Basaikou was born into a family with a reputation for helping people, guiding and solving people's problems for relationship, love and guidance. His grandfather is Sheikh Ahmad Bamba, and his great grandfather Sheik Abdulqadir Jelani. Sheik Imam is fluent in English, Spanish, Arabic and French and is well known throughout Africa for his good work and advice for which he has been honoured.
Imam Jaiteh distributing food to needy village people, schools and orphans in the Gambia
Imam Jaiteh Charitable Foundation
The Imam Jaiteh Charitable Foundation Charity Registrations Number 58/2013 is registered in the Capital of The Gambia West Africa. The non-profit making charitable foundation, based in Jarumeh Koto Village, supports an integrated development programme in The Gambia.
During this month of Ramadan with the help of sister charities in the Gambia they have distributed food to the needy peoples in the villages, schools and orphans.
It helps the village of  Jarumeh and satellite villages in their health care programme, sending doctors, nurses and eyes specialist every two months to provide free health care support. Additionally  the charity provides six class rooms to provide help and good care of poor students and helps to provide clean water  for the villages.
The Imam Jaiteh Charitable Foundation have built 4 toilets for the community in the Gambia who appreciate how the toilets and hygienic system support their good health. The Foundation has also supported school fees, clothing and extra support to the children in need of and having difficulties in school and living.
The Foundation is in need of more support in cash or kind to donate to the charity. The Chairman & Founder of the charity is Mr Imam B Jaiteh - an Imam, who is based in the UK.
Further Information
To help or for further information please contact Mr Imam B Jaiteh on Tel: 07985691335;  info@besthealer.co.uk   www.besthealer.co.uk
Extract from the Rose Priory Dialogues
by Allan Armstrong
Published by Imagier Publishing. 2014. Paperback. £8.99. ISBN: 978-1-910216-03-3.
As to the question 'where is the spirituality in thinking?' I would ask you to be mindful of who it is that thinks, for I was taught that which thinks is a living spirit made in the image of God. It should be obvious, even to a casual observer that this image isn't simply a physical representation, but a symbol or metaphor alluding to the divine potential residing at the heart of our being. It is the ideal that we are driven by necessity to express, and the evolutionary imperative 'to be' or 'to become' is the mechanism by which the unfolding of that divine potential will reach its fullest expression.
In short, within every human being there is a spiritual being seeking to realize its true 'divine' nature. You may not realize it but thinking is a divine act, unfortunately; for most of us our thoughts are far from the divine; indeed, they are actuated in the chemistry of the natural world, which stimulates thought at an instinctive level, the articulation of which is the language of the mundane world. I was informed that if I would commune with the Divine then I must rise above the carnal influences of the mundane world, and that can only be achieved by daily purifying mind and soul that they may reflect clearly the light of divine inspiration, and to that end I was taught a metaphysical language to better articulate that inspiration.
It is not greatly appreciated by the novice, never mind armchair mystics, just how much of the spiritual work consists of emancipating the soul from the shackles of that world. Therefore, please understand, no one just 'does spirituality', we must become it, but first we must grow out of the mundane world, and that in itself is a most serious undertaking, then we are able to grow in the spiritual life. The first requires courage, effort and will power; the second requires humility and patience, and evolving our thinking is a part of both, because we don't stop thinking when we realize our spiritual potential."
Further Information
Please contact Allan Armstrong on Tel: 07770 810941;   Allan@imagier.co.uk    
www.imagier.co.uk. To order this book.
Clinical Aromatherapy on the International Stage
Essential Oil Resource Consultants together with the International Journal of Clinical Aromatherapy continue to lead the way in promoting the clinical use of essential oils. They are offering two major educational opportunities in 2019 and 2020 featuring expert speakers from around the world. At each event, participants are assured of world-class information and education coupled with the chance to network with peers and source quality products related to the clinical aromatherapy field. Certificates of attendance for both events provide evidence of continuing education.
October 18th & 19th 2019 – London
The second edition of The Essence of Clinical Aromatherapy conference series is taking place at the Royal Marsden Hospital Conference Centre, London. Here, participants will learn from 11 experts about the use of essential oils in hospital, oncology, palliative and elderly care. In addition to a full day of lectures on a range of topics, this second edition also features masterclasses on chemotherapy-induced peripheral neuropathy, agitation in dementia care and the use of essential oils in the dying phase. Places are limited at this event so early booking is advised. https://www.royalmarsden.nhs.uk/essence-clinical-aromatherapy
May 22th-24th 2020 – Bled, Slovenia
The fifth edition of the botanica conference series, botanica2020 will be taking place for the first time on mainland Europe, on the shores of lake Bled, Slovenia. With three days of international conference and trade show followed by a full day of workshops on May 25th, botanica2020 is set to build on its reputation as the leading clinical aromatherapy conference worldwide. botanica2018 welcomed speakers and delegates from 49 countries and the next edition is already attracting great interest. The main themes for botanica2020 are Efficacy, Safety and Sustainability. Registrations open soon with an early bird discount period. www.botanica2020.com
Host and Organizer of both these events, Rhiannon Lewis says: "The keys to the continued safe, effective and successful integration of clinical aromatherapy within mainstream healthcare are good education coupled with international collaboration. The Essence of Clinical Aromatherapy conference and Botanica2020 provide unique opportunities to enable further access to clinical aromatherapy interventions by patients in need."
Further Information
Rhiannon may be contacted via Tel: 00 33 483 11 87 03; Mob: 00 33 632 39 58 43; rhiannon@essentialorc.com    www.essentialorc.com       www.ijca.net
Royal Jelly Formulation by Irene Stein – Turning 80 Years Old
by Christopher Pogson
Irene Stein, who turns 80 this year enjoys enviable health - freedom of movement, no aches/ pains and a full healthy head of hair, with no grey and doesn't need reading glasses – and her brain works faster than many people half her age!
Irene Stein aged 70 years, her mother Sophie Hollander, aged 83 + Irena Products
Irene Stein Royal Jelly clients describe, how, in their opinion many ailments, medical conditions have been improved and in some instances totally eradicated. The Morris family, of Weymouth, Dorset had their 90 year old mother spring back into life after taking the formulation. Her daughter Avril explains:
"Whenever I find something good I always want to share it with my Mother- she has always been a beautiful woman both physically and in character but was beginning to look old and lose the colour of her eyes because she was 90 years old at that time. To my amazement within a short time the colour of her eyes returned, also a lot of her former beauty. Her nails had always been brittle and breaking but Irene's Royal Jelly has enabled them to become strong and attractive. We still paint them for her and people admire them.  Her hair had become very thin and even bald on top. She was desperate that she would lose all her hair and would beg the doctor to help her but, of course, he could do nothing. So we decided to buy her a wig as a last resort. She only used it once as by then some fresh hair was beginning to appear and soon - she had a fairly good head of hair again!! The years have gone on and our Mother is 100 years old!! Her mobility is not good and for some time she had memory loss and a certain amount of dementia but always remains sweet and appreciative of all we do for her. A short time ago Irene suggested giving her 2 capfuls of Royal Jelly and I did so. This has brought some extra good results.
"Amazingly she became lucid again and able to express herself clearly once more, to take more interest in visitors and even her memory improved. Before, I would take her out for lunch or to a day centre which she would enjoy but, after an afternoon rest would remember nothing about it. Now she can recall what she ate, where she went etc. A few weeks back she went into a decline; we thought we were going to lose her. The doctor called and said she probably would die that night but she made an amazing come back"
Irene comments on her Formulation; "I have been involved with my unique formulations for over 45 + years with many customers and have seen improvements with various health conditions including hormonal imbalances, (Male and Female), Menopause, mental emotional difficulties, Fertility, hair loss/ re growth and improved condition, as well as the prevention and reversal of the greying process. I consider this to be the most superior Royal Jelly Formulation in the market place today and have worked with two Masters in the field of Complex Homeopathy and plant knowledge."
Further Information
You can phone Irene personally on Tel: 07831 641199 / 0208 455 5745 email via ireneroyaljelly@gmail.com  or visit her in Golders Green, London. She will explain in detail how these two products work and cover the health conditions you wish to improve and arrive at the right dosage.  Please visit the website for further information:
http://www.irenesteinrj.com/asp/main.asp    
Hair:   http://irenesteinrj.com/asp/int.asp?GeneralID=30
Please also see the video footage link which is in 3 parts:-
http://irenesteinrj.com/asp/int.asp?GeneralID=64
The London School of Sports Massage (LSSM) - Home of Soft Tissue Therapy
The UK's ONLY Soft Tissue Qualification - no better place to train – we are the team who developed it. 
Pioneer and leader of the profession since 1989.
Headed by Mel Cash, author of four Internationally renowned textbooks
The most experienced tutors who teach with real passion, dedication and humour
At the LSSM we train people to become complete therapists with the best career potential. Soft Tissue Therapists treat clients who have musculoskeletal injury, pain or dysfunction caused by any of life's stresses and from all walks of life. Although sport can be a common factor with many of our clients symptoms, this is far from being the main issue we deal with.
Soft Tissue Therapy integrates three essential clinical elements:
Assessment
Applying a range of assessment methods to determine whether Soft Tissue Therapy is appropriate and devise a suitable treatment plan for the individual client.
Treatment
Applying a range of soft tissue techniques (including massage) to aid recovery from injury and improve soft tissue condition and joint mobility.
Rehabilitation
Offering advice on a range of remedial exercises and lifestyle factors aimed at speeding up recovery, preventing injury recurrence as well as improving posture, performance and function.
The London School of Sports Massage (LSSM) has been instrumental in setting up the Institute of Sport & Remedial Massage ISRM which is the professional body promoting our needs and aspirations as clinical therapists. (see www.theisrm.com)
Graduates can become full members of the ISRM which has an online register of therapists, continual professional development programme, and all the professional support a therapist needs, such as insurance etc. Through ISRM, members are eligible to register with the Complementary and Natural Healthcare Council CNHC which is the new government-backed regulator for the profession.
The LSSM operates the ISRM qualification which is externally validated by Edexel/BTEC (the national awarding body for professional education and training in the UK). It is highly respected in the UK and recognised in many other counties too.
Graduates Receive:
BTEC Professional Diploma in Soft Tissue Therapy (Level 5)
LSSM Diploma in Soft Tissue Therapy.
Further Information
For further enquiries please contact Mel Cash at LSSM on Tel: 44 (0) 20 8452 8855; https://www.lssm.com/index.html  
First Steps in Developing Your Spiritual Nature
It is said that the early astronauts went out into space as scientists and returned spiritualists .. what could have enabled this shift in their perception? Perspective? Seeing our beautiful blue planet from another angle? Noticing that there are no lines of separation drawn at the so called borders and that we are all simply common passengers on mothership Earth(Gaia). 
I feel that we all have a spiritual side to us, which is sometimes asleep. It's usually awoken often after a trauma in our lives of some description or fir some perhaps a kundalini rising experience.
My personal "wake up" call was reading a book called the Celestine Prophecy in the mid-nineties. This reminded me that we are all made of vibrational molecules of energy and that there is a bigger picture other than that which is obvious to the human eyes . 
As vibrational beings , made up of atoms and particles, we feel energy, we know if there is conflict in a room or joy for instance. The impact of the electromagnetic fields of the heart are entirely measurable and reach far beyond the physical body. 
Like Russian nesting dolls our physical body is inside an emotional(feeling) field is inside another of mental (thoughts) and encompassed by a spiritual field. 4 bodies in 4 density's. This has nothing to do with religion. 
Receiving a treatment like shiatsu, Reiki or a similar healing, practising yoga ,meditation, Tai chi or Qigong may enhance your receptivity and awareness of these 4 energy bodies. 
It often takes a big impact on one of these to "wake us up" to feeling them. This is usually a life changing experience causing us to view things from an entirely new perspective i.e. a divorce, relationship break up, serious illness or loss. 
The truth is simple. We are all connected, what we give out we get back and it's all about unconditional love forgiveness and kindness to all that lives. " 
About Sarah Williams
Sarah Williams is an experienced aromatherapist, masseuse, health and nutrition, is a healing expert / intuitive , inter-dimensional teacher and time/lightweaver.
She has been working in these fields since 1995 having also studied nutrition, shamanism, angelic and Christed inter-galactic work so therefore offers a broad spectrum. 
She will be sharing more on Raising your personal vibration , kundalini, accessing the bliss and joy of the 5th dimension and beyond , manifesting your dreams and the safe and effective use of essential oils and other vibrational healing tools to address the health and wellbeing  of body, mind and spirit .
 Working interdimensionally, she shares Raise your Vibration workshops, Munay Ki , is a wellness advocate for DoTerra and offers readings/workshops on Skype and FaceTime as well as personally. 
Munay Means Love 
The munay ki Rites are life changing sequence of transmissions upgrading your luminous energy field to enable you to dream your perfect reality Into being, changing the way you see the world ,heal, live and die. They consist of 9 energetic transmissions and encompass the energetic vibrational frequencies and wisdom of the Christed galactics, angels and archangels which are all grounded shamanically through ceremony.
Further Information
Please contact Sarah Williams on Tel: 0844 357 9843 / 02392 453204; sarah@organic-aromatherapy.co.uk   www.organic-aromatherapy.co.uk
Iliotibial Band Stretching – Is There Any Point?
Stretching the iliotibial band (ITB) is a popular idea, often prescribed by manual therapists of all disciplines, but it's hard to do and probably not worth trying anyway.  Firstly, most commonly used stretches to the ITB are mechanically ineffective.  But secondly, it's doubtful that ITB tightness is the problem to begin with.
Even if we look at the muscles that may be creating 'tightness' within the ITB, it's almost impossible to self-administer an effective stretch.  The two main muscles that pull on the ITB (and for which the ITB is in effect a tendon) are the tensor fasciae latae (TFL) and the gluteus maximum (GM).
TFL's main mechanical function is to abduct the leg, so the best direction in which to stretch it therefore is adduction.  But with the other leg immediately in the way, it's impossible to adduct it sufficiently to create a stretch.  GM's main mechanical function is to extend the hip joint so to stretch that, we need to move it into flexion.  But most people can flex their hip until their thigh bangs up against their belly without feeling a stretch at all.  So any attempt at stretching isn't going to elicit results.
But what about using a foam roller, I hear you say.  Who knows where this idea first came from, but it remains a perennial suggestion of personal trainers.  The ITB is really too tough to be stretched.  Even smaller tendons are extremely difficult to elongate.  Look how hard dancers, gymnasts and martial artists have to work to achieve their flexibility.  The ITB is long, massive and attached for most of its length to the side of the femur.  You can probably apply some tension to it, just as TFL and GM are designed to do, but you won't lengthen it.  Hideous experiments have been carried out on dissected ITBs in the name of science (freezing, heating, machine washing (!) and the application of huge mechanical load) but none has made a clinically significant difference.
So what do we do in cases of ITB syndrome, often referred to as Runner's Knee?  This can be either acute or chronic.  It can start as one and become the other.  As you'd imagine, there isn't a quick fix - and this article does not have all the answers.  Manual Therapists have to work into all the structures that the patient can't (TFL and GM) as well as assessing the patient's gait mechanics to work out what may have caused the symptoms.  But one thing the treatment won't involve is the therapist plunging their thumbs deep into the ITB or suggesting the patient undertake hours of painful foam-rolling.
Further Information
Justin Johnson MOst is a UK registered osteopath and sports massage therapist.  He also runs Accredited Massage Courses, massage training company in north London. Please contact on Tel: 020 8340 7041; info@accreditedmassagecourses.co.uk  www.accreditedmassagecourses.co.uk
Explore, Expand, Engage: Live a Life Less Ordinary
by Philippa Bottrill
Published by Lotus Publishing. 2019. Paperback. £8.99. ISBN-10: 1913088006 
This book is a collection of inspirational insights and thoughts on how simple it is to live a life that is less ordinary. We all know that what we believe has a huge impact on the life we create for ourselves, but lots of us have no idea how to start making those changes. It takes normal events, ideas and concepts and encourages us to think about them differently.
The author, Philippa Bottrill, says: "I know that when I began my journey into taking more responsibility for the life I was creating, I would have loved a book that was a gentle introduction to just that. A book that held my hand as I started to explore more about how and why I was repeating the same mistakes. A book that helped show me a way to grow and expand my awareness of how powerful our mindset truly is. And a book that helped me to engage with simple, easy concepts that made sense to me and that I could apply to my life straight away."
This book is all that - a collection of some of the thoughts and ideas that have brought about consistent, positive changes in all aspects of my life, so that I have and may continue to lead a life less ordinary.'
Philippa is the owner of Balance, a Pilates and well-being studio dedicated to encouraging people to live healthier, happier lives. In addition to being a Pilates teacher, she is also an Advanced Rapid Transformation practitioner, Mindset coach, Soul Realignment practitioner and founder of the Three Es. She has drawn on her twenty years' experience of working with mind, body and soul to produce this book. Her passion in life is to encourage us all to Explore, Expand, Engage, so that we can all live a life less ordinary.
Further Information
Available from Amazon.co.uk and Philippa Bottrill
The Acupuncture Point Functions Charts and Workbook Paperback
by Erica Joy Siegel
Published by Singing Dragon. 2019. Paperback £16.99/ $24.95. ISBN: 0857013904. 
A clear and accessible two-part resource to learn the location and function of the acupuncture points. Part I of the book comprises a series of 27 charts covering the primary meridians plus the extraordinary meridians and the known extra points. These charts show the location of the meridians and acupuncture points within the body, while explaining the functions of the points.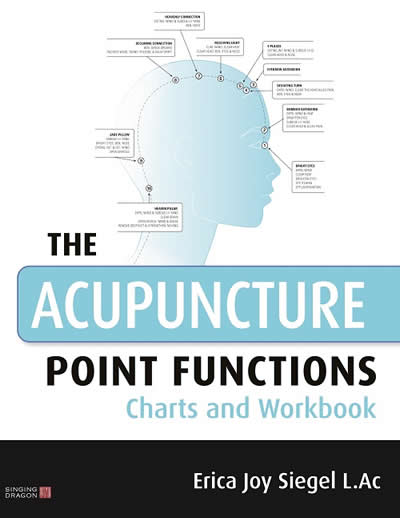 The second part of the book provides blank charts for the student to annotate. Containing a vast amount of information in an engaging format, this book offers the perfect visual reference for acupuncturists and students, and the blank sheets offer a proven and interactive way for students to learn the different points or meridians.
Erica Joy Seigel is a licensed acupuncturist with a private clinic in Indianapolis. She has
been in private practice for 11 years, and is a graduate of PC OM, San Diego.
Further Information
Available from Singing Dragon Amazon.co.uk and Amazon.com
Herbal Formularies for Health Professionals, Vol 3
by Dr Jill Stansbury, ND
Published by Chelsea Green Publishing. 2019. Hardcover.  $49.95 US /$69.95 CAN /£39.99 UK. ISBN: 978-1-60358-855-3. 
Dr Jill Stansbury offers a master reference tool for herbalists, doctors, and health care professionals focusing on endocrinology.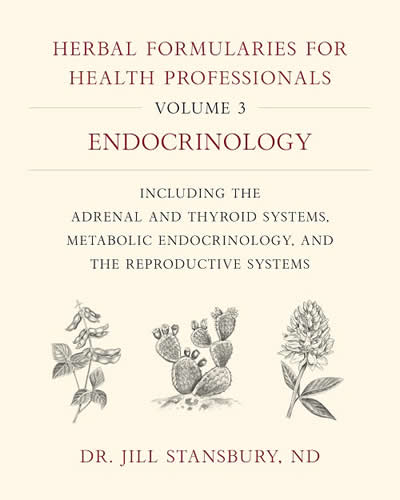 Herbal Formularies for Health Professionals is a five-volume set that serves as a comprehensive, practical reference manual for herbalists, physicians, nurses, and allied health professionals. Dr Jill Stansbury, a leading clinical herbalist in the United States, draws on her decades of experience and her extensive research to provide an unparalleled range of herbal formulas.
Organized by body system, each volume includes hundreds of formulas as well as a materia medica section describing individual herbs with tips on their properties, modes of action, and the specific symptoms each plant best addresses.
The latest Herbal Formularies for Health Professionals, Volume 3 (May 29, 2019) focuses on endocrine systems, including:
Formulas and supporting information for treating thyroid disease, adrenal disorders, diabetes, and metabolic syndrome;
The female and male reproductive systems covering conditions related to menstruation and PMS, fertility and pregnancy, and the prostate;
Herbal formulas and therapies for pelvic inflammatory disease, genital herpes, ovarian cysts, endometriosis, PCOS, uterine fibroids, low libido, erectile dysfunction;
The role of herbal medicine in prevention and treatment of reproductive cancers.
Dr Stansbury's formularies are also a tutorial for budding herbalists on the sophisticated art of fine-tuning an herbal formula for the constitution and overall health condition of an individual patient, rather than prescribing a one-size-fits-all treatment for a basic diagnosis. The text aims to teach by example, helping clinicians develop their own intuition and ability to create effective herbal formulas.
Dr Jill Stansbury is a naturopathic physician with 30 years of clinical experience. She served as the chair of the Botanical Medicine Department of the National University of Natural Medicine for more than 20 years and is now the medical director of Battle Ground Healing Arts in Washington where she also runs an herbal apothecary.
Further Information
Available from Chelsea Green Publishing, Amazon.com and Amazon.co.uk
Comments:
No Article Comments available
Post Your Comments: