Your Country
A Time for Positive Change - New Flower Essence Formulated by Clare Harvey
In a time when change is a constant, learning to ride the waves in a positive creative way is essential. As we all know, not all change can turn out to be beneficial, or life enhancing, and making the right decisions about the course of action we take isn't always easy and can create an inordinate amount of angst and stress, especially when the clarity that is needed seems to be just beyond our reach.  This is the point where essences can come into play as they can hold the frequency for enabling the course of change to be productive and forward moving.
Bottlebrush, PawPaw and Sturt Desert Pea
A new aboriginal combination from the Flower Essences of Australia seems to be hitting the spot. Some of the attributes are highlighted in the formulae below:
Positive Change Combo
 
Bottlebrush: Overwhelmed by major changes, support for all significant life's transitions from birth to death.
Red Grevillea: Emotionally, blocked and stuck, negatively affected by criticism, cultivates independence and moving on.
Sturt Desert Pea: Releasing part emotional wounds and trauma, grief and deep seated sadness, supporting a fresh start and emotional ease.
Sturt Desert Rose: Held back by past regrets and guilt, compromising self esteem, supports integrity, and the courage to letting go of regret & allow change & growth.
Jacaranda: Tail- chasing, scattered due to overwhelm & being un-centred. Focused, centred & decisive follow through. Great aid in times of change when focus is needed.
Isopogon: Learning from repeating the same mistakes and finding oneself in similar situations due to inattention or stubbornness.
Paw paw: Overview, unresolved problems, lack of integration, overwhelm creates absorption & assimilation issues. Assimilation & integration, problems solved with clarity.
Southern Cross: Positive abundant mindset, letting go of past negativity & victim mentality, supporting empowerment.
Turkey Bush: Frustration due to blocked creativity. Supports focus , confidence to tap into creative expression inspiration.
Bauhinia: Thinking outside the box, for difficult with change, resistant and inflexible, encourages an open & flexible mind.
Christmas Bell:  Manifestation of dreams into reality eliminates belief in lack, and undeservedness.
Banksia Robur: Low energy levels, burnout after setbacks renews energy & enthusiasm. It takes energy to sustain change.
White Spider Orchid: Overwhelmed by sadness of life creating nervousness and anxiety encourages protection for over sensitivity of the gentle soul and a wider more philosophical world view. Protection in times of major change & transition.
Not only has this combination proving to be very effective, in helping us to steer our own course it seems to support and stabilize the transition process in a very productive and life affirming way.
Further Information
From Flower Essences of Australia available online at FlowerEssences CGH Please contact Clare Harvey on Tel:  019632 50750.   flowersenseinfo@gmail.com      www.flowersense.co.uk
Turning Point Training Courses - Craniosacral Therapy, Homotoxicology and EAV
Turning Point Training is run by husband and wife team Jonathan and Rosemary Lawrence. Jonathan is an Osteopath, Craniosacral therapist and Homotoxicology practitioner. He has lectured extensively in the UK and abroad, including presentations at prestigious conferences. Rosemary practices Homotoxicology using an EAV machine to aid accurate prescription of remedies. She is currently completing training in Nutritional Therapy. Between them they over 50 years' experience in practice. They run courses via Turning Point Training for conventionally and alternatively trained practitioners in Craniosacral Therapy and Homotoxicology.
Educational Philosophy
Students are trained in small groups where a good level of interaction takes place, students as well as teachers drawing on their own experience encouraging the development of confidence as well as reinforcing appropriate skills. Learning is viewed as a creative experience in which even the tutors gain insights!
Training Courses
Craniosacral Therapy. Turning Point Training has been running practitioner courses in Craniosacral therapy for over a decade. Craniosacral Therapy uses very gentle and specific manipulative techniques to balance tension patterns within the body structure, which have arisen as a result of illness trauma, physical and emotional as well as habits such as poor posture. A good knowledge of anatomy and physiology is essential as well as development of manual sensitivity. Students are all qualified practitioners of conventional medicine such as complementary therapists.
Homotoxicology and Bioregulatory Medicine is a system of treatment using homeopathic remedies and formulas to detoxify the body from the results of illness, injury and intoxication from environmental factors such as chemicals and pollution. This requires knowledge of the remedies and their skilled application. Courses in Homotoxicology are run by Turning Point Training in conjunction with the Society for Homotoxicology GB. The first course was a postgraduate practitioner training in Homotoxicology in 2014. This course is planned to run again next year.
Homeopathic Mesotherapy involves the injection of specially prepared injectable remedies into specific areas of the body such as trigger point, acupuncture points and reflex points to help the body control inflammation and pain, reduce toxicity and support organ function.  This is a 2 day course available to post graduate homeopaths, doctors, dentists, osteopath, chiropractors and similar professional graduates.
EAV Training. The EAV machine tests conductivity of key acupuncture points in the body to assess the health of major systems. The testing aids in the prescription of the optimum homeopathic remedies. This has proved useful in chronic conditions such as allergies or ME. This course takes place over 4 days in small tutorial groups. The course runs on request. The course is best suited for homeopaths and homotoxicology practitioners.
Further Information
For information about training in these disciplines visit www.turningpointtraining.org
Hawkwood College: Summer Rest-ival - Deep Rest Retreat Sun 30 Jul - Thu 03 Aug
Looking for some space for rest and renewal? There will be daily mindfulness practice, writing, meditation and Qi Gong or yoga, as well as time in nature and studio time. Pampering therapeutic treatments are on offer (extra charge), free time alone and evening sharing time, reflection and relaxation. Come with a partner or make new friends in a tranquil, beautiful setting.
Single £495; Shared £425; Non-res £340
Margot Henderson is a Scots-Irish poet, storyteller and community artist. She teaches mindfulness meditation and is a Cultural Creative specialist with The Art of Mentoring UK.
Katie Lloyd-Nunn teaches yoga in the Scaravelli style and loves being outdoors in nature or gardening with others. She is part of the Hawkwood team.
"The balance of activities was perfect: movement, mindfulness, nature and creativity all contributed to the restful and peaceful experience."
"Deeply touching, more than I ever thought was possible. It felt like a pilgrimage to my heart and it felt effortless.
Further Information
Cost: single £495; shared £425; non-res £340. Please contact Hawkwood College on Tel: Tel: 01453 759034; info@hawkwoodcollege.co.uk     www.hawkwoodcollege.co.uk/courses-and-events/well-being/summer-rest-ival---deep-rest-retreat
Results RNA - How to Safely and Easily Remove Heavy Metals
Heavy Metals have long been recognized to cause serious long term harm to humans health. Effects include damage to the immune system, central nervous system and heart. Inorganic mercury can also damage the kidneys. The developing brains of foetuses and young children are especially vulnerable. Children exposed to methylmercury while they are in the womb can have impacts to their:
Cognitive thinking;
Memory;
Attention;
Language;
Fine motor skills;
Visual spatial skills.
We are exposed to mercury is mainly through pollution in the air (coal burning is responsible for a great deal of this), eating fish and the release of inorganic mercury from amalgam fillings. Removing heavy metals has always been a challenge often requiring expensive treatments like intravenous DMPS or EDTA. These also remove valuable nutrients from the body and have to be replaced or other problems can arise. Others use nutritionals like chlorella and coriander, these can redeposit the metals in other places in the body, like the brain or other essential organs. There is also very little data on actually how effective these are in helping the body to remove the metals. Fortunately, there is solution to this called - ACZ Nano, a natural zeolite in liquid form, independently proven results.
ACZ Nano Extra Strength has been developed especially for heavy metal detoxification. ACZ Nano is one of the best and safest chelators available. This natural zeolite (a type of volcanic ash) has a cage like structure that irreversably binds heavy metals and removes them via the urinary system. Other chelators can actually mobilize the metals and then redeposit them to other parts of the body, ACZ will not do this. It also has the highest affinity for the heaviest elements, so will preferentially bind Mercury before say Aluminium and because it has been pre-treated with Ca, K and Mg, it will replace the toxic metal with one that the body actually requires. It is independently proven to be able to increase urinary output of Mercury by over a 1000 times.
It is also been shown to remove volatile organic compounds like PCP's and DDT as well as fluorine and chlorine.
For the safest, most effective, proven detoxification - choose Results RNA.
Further Information
Products are available from www.resultsrna.co.uk for customer, practitioner and wholesale accounts or more information please contact info@resultsrna.co.uk
Towergate Professional Liability Insurance
Because we would all prefer to be safe than sorry
We provide specialist insurance for all types of professional practitioners of Acupuncture, Aromatherapy, Homeopathy, Hypnotherapy, Life & Executive Coaching, Massage Therapies, NLP Practitioners, Personal Trainers, Psychotherapy, Reflexology, Reiki, Talking Therapies, Yoga and Pilates Instructors, Chiropodists and Podiatrists.
In your sector, things don't always go 100% to plan, no matter how diligent you are. It is important to remember that you don't have to actually do anything wrong – it just takes someone to allege that you have and you may still need to defend yourself. Although instances of litigation being brought against members of your professions are rare, they do occasionally happen and if it does, you could be faced with paying substantial damages and having to fund expensive legal fees yourself, alongside the inevitable personal stress and anxiety this type of action can cause.
Thankfully there is an answer. We've designed our professional liability cover specifically for your unique requirements. So if you need protection against potential libel or slander, or are looking for indemnity cover, our insurance will protect you against the expense and worry associated with any legal action being taken against you.
With our cover there's no need to purchase a whole host of separate policies to protect you against civil liability claims. Our policy includes as standard: Professional Indemnity, Public Liability, Product Liability, Libel and Slander and Legal Expenses.
Because we have experience of dealing with a variety of professions, we understand that every claim is unique and needs to be handled with expertise. If you are unfortunate enough to need to defend a claim, we will support you through the process, providing you with all the help and support you will need. Our market knowledge, coupled with a strong track record in insurance, means we are best placed to assist you in achieving an effective and efficient settlement – so you can focus on your job.
Professional Liability insurance that covers your business, wherever you go
We know that your work can take you all over the world. That's why our policy covers you when you are working oversees – as long as you live and have your business registered in the UK. So you can always be reassured that you are protected in the event of:
Contract disputes;
Debt recovery;
Public liability claims;
Libel and slander claims;
Professional negligence;
Breach of confidentiality;
Copyright disputes.
You'll also benefit from legal expenses cover and a free legal and tax helpline. If you do not reside in the UK, or if you work outside of the EU, call us for an individual assessment. Don't leave the potential consequences of litigation to chance.
Further Information
For a quote and to find out more, get in touch with us on Tel: 01438 739691 or visit www.towergateinsurance.co.uk/liability
Active School of Complementary Therapy ASCT – Introductory to Professional Courses
ASCT has been supplying courses since 2002 offering a range of courses from, Introductory courses to those for the fully qualified professional.   We are an ISRM Accredited School delivering their BTEC (Level 5) Professional Diploma in Soft Tissue Therapy (formerly Clinical Sport & Remedial Massage Therapy.
ISRM/BTEC Course Student numbers are a maximum of 12 per course, thus enabling us to give you the student a more personalized learning experience and offering you a friendly and relax environment in which to do so.
We also offer CPD courses and workshops which will assist you to work smart not hard, and at the same time enhance your treatments and their effectiveness. 
As part of our CPD programme we also offer a BTEC (Level 5) Bridging Programme for those who are already a qualified Massage Therapist, as well as Osteopath, Chiropractor or Physiotherapist, who may wish to add the more advanced soft tissue skills to their portfolio.
Upcoming CPD Courses include:
Neurology De-mystified;
Muscle Energy Technique;  
Myofascial Techniques;
First Aid in Sport;
Fascial Techniques for releasing tension in the Thoracic Region.
ASCT is located in the centre of the Country in the East Midlands, with courses held in Leicestershire, and Lincolnshire.
Further Information
For further information on our courses please contact us on Tel: 01509 551513; admin@ukmassagecourses.co.uk    www.ukmassagecourses.com
Accredited Massage Courses Ltd  run Myofascial Release Courses
Fascia – it's a word that manual therapists use all the time, but surprisingly there's no single definition of exactly what the term includes. For a long time it was the stuff that the anatomists simply used to cut out in order to get a good view of the organs, muscles, bones, etc, that it enveloped.  But over the last few decades we've realized that fascia isn't just 'stuff'. It has structure and it has function. And we've expanded the list of things that we class as fascia from the simple sheets of fibrous tissue that envelope bones, muscles and organs to include denser forms of the same tissue such as tendons and ligament, as well as softer, collagen-laden tissues such as superficial fascia and endomysium, as well as structures such as the dura mater and the, bronchial connective tissue and the mesentery that supports the digestive system.
At the same time, we've discovered that fascia doesn't just tie things together.  It has elastic and plastic properties; it is richly innervated, contributing to the body's proprioception and nociception; and it is dynamic, contributing to movement and stability.
As we've discovered its function, so we have uncovered its dysfunction and therefore the many ways in which we can specifically treat fascia rather than just the muscles and bones that were originally the domain of manual therapies.  It's hard to ignore the important of fascia. Leon Chaitow suggested that, instead of regarding the body as a series of structures each enveloped in fascia, we could think of it as a floating structure of fascia containing densifications of tissue (organs, bones, etc).  It's a challenging approach, but an interesting perspective.
So, as manual therapists, we ignore fascia at our peril.  A course in Myofascial Release provides an informative way of keeping up to date with thinking about and approaches to fascia. Muscle and fascia react very differently to the forces we apply to them, so we need to be specific about our aims and our methods.  What works well for muscle tissue may be counter-productive for fascia and vice versa.
Myofascial Release is therefore an essential technique for all manual therapists. It's a gentle technique which has profound effects, but it is also an easy technique to learn.  Courses can be as useful to newly qualified massage therapists as they can be to osteopaths, physiotherapists and medical doctors. 
Further Information
Accredited Massage Courses Ltd runs Myofascial Release courses every term.
www.accreditedmassagecourses.co.uk
Fascial Fitness - How to be Resilient, Elegant and Dynamic in Everyday Life and Sport
by Robert Schleip
Published by Lotus Publishing. 2017. Softback. £14.99/$19.97. ISBN: 978 1 905367 71 9.
Anyone who wants to be active, mobile, and pain-free in everyday life should be aware of the importance of their connective tissue!
A greater knowledge and understanding of connective tissue has been gained in recent years in the fields of physiotherapy, sports science, and medicine. Muscular connective tissue, known as fascia, plays a large role in health, well-being, and mobility - it transmits the power of the muscles, communicates with the nervous system, and serves as a sense organ. Fascia ensures the protection of internal organs and forms the basis for a naturally beautiful body shape.
Connective tissue can perform in a similar way as your existing muscles. Fascia responds to stress and nerve signals, and if it becomes tangled or stuck together, pain and movement problems can occur. The fascia should therefore be specifically targeted by exercise, and 10 minutes twice a week is all you need.
In this book the leading German fascia researcher and Rolfing practitioner Robert Schleip describes how new findings in practical exercise programs for the fascia can be translated to everyday use. 
About the Author
Robert Schleip directs the Fascia Research Project at Ulm University, Germany, and is Research Director of the European Rolfing Association.
Further Information
Available from Lotus Publishing and Amazon
http://lotuspublishing.co.uk/books/health-fitness/fascial-fitness-how-to-be-vital-elastic-and-dynamic-in-everyday-life-and-sport/
www.amazon.co.uk/Fascial-Fitness-Elastic-Dynamic-Everyday/dp/1905367716
www.amazon.com/Fascial-Fitness-Elastic-Dynamic-Everyday/dp/1905367716
Coriolus versicolor as a Prebiotic in Gut Health
A team of researchers from the School of Biotechnology in Catholic University of Porto (Portugal)  determined that mushroom polysaccharides may initiate prebiotic activity by stimulating the growth of probiotic bacteria in the colon. The researchers evaluated the prebiotic activity of Coriolus-MRL, a biomass form of the mushroom Coriolus versicolor in in vitro gastrointestinal tract conditions (GTI). 

Coriolus Prebiotic Activity
The study determined that there was strain-dependent prebiotic effect on select probiotic sub-types. For example, there was a with higher activity on the Lactobacillus casei L26, Bifidobacterium animalis B0 and some activity in Lactobacillus acidophilus L10. However, there was no activity in Bifidobacterium longum BG6.
The head researcher, Prof Manuela Pintada, contends that as a prebiotic agent, Coriolus-MRL may have an indirect inhibitory effect on pathogenic bacteria through selective fermentation by probiotic bacteria in the colon. In addition to this effect, the agent, may have antiadhesive attributes as another potential strategy to inhibit undesirable bacteria.
The adhesion of bacterial pathogens can be inhibited through two processes:
a)      Receptor analogs, which are usually carbohydrate that can mimic the epithelial receptor sites and bind to the bacterial adhesion receptors preventing the bacteria from adhering to the host cells, and
b)      Adhesion analogs that bind to the host cells surface receptor blocking the pathogens.
With this premise in mind, mushroom nutrition may constitute a new source of bioactive molecules with the ability to inhibit pathogen infections. The adhesion of undesirable bacteria to host tissue is the first step in pathogenesis.
As a follow-up to their observations, the same researchers measured the effect of Coriolus versicolor biomass upon Salmonella enterica (ATCC 13076), Staphylococcus aureus (ATCC 6538) and Escherichia coli (ATCC CRM 8739) adhesion to mucin. The evaluation was made in vitro using mucin (Type II Sigma-Aldrich) as a model of the intestinal mucus.
The result showed a potential inhibitory effect of Coriolus-MRL, especially in the case of Salmonella enterica. However, additional studies are needed in mixed cultures and faecal samples in order to assess the bioactivity in an environment involving complex microbiota.
Further Information
The Coriolus-MRL was supplied by Mycology Research Laboratories  www.mycologyresearch.com and is stocked by Revital and Natural Dispensary.
International Ayurveda Conference
The College of Ayurveda (UK) and Middlesex University are jointly organising the 4th Svastha International Conference on Ayurveda and Integrative Medicine on 21st and 22nd October 2017 at the Middlesex University Hendon Campus, London. The main theme of the conference is 'Mental Health & Elderly Care'.  This conference will be attended by practitioners, academics, researchers and students of a multi-disciplinary nature around the world, as well as many eminent speakers and dignitaries.  This event is in celebration of the 20th Anniversary of the College of Ayurveda (UK).
Although the main theme of the conference is on Mental Health Elderly Care, you may submit your Research work for Oral/ Poster presentation in any of the subject areas of interest including Research, Clinical, Pancakarma & Rasayana, Pharmacology & Pharmacognosy, Yoga & Meditation and Integrative Medicine.  Please submit your abstracts on the main topics before 30 July 2017. The Conference also includes a Symposium on 'Traditional & Integrative Medicine Research' and a Workshop on 'Integrative Mind & Body Therapies'. Post conference Workshop is on the 'Clinical Pancakarma'
Further Information
For more information please contact Dr Mauroof Athique on Tel: +44 (0) 1908 664518; m.athique@hotmail.com or Middlesex University Hendon campus on Tel: +44(0) 79030 82453; info@iayurvedaconference.com or visit www.iayurvedaconference.com
Training Geovital Radiation FREE Living  - Get Better Patient Results
Treating the ailments of a suffering patient, without addressing the life draining Electromagnetic Fields - EMF - in the environment your patients are living, cannot return best treatment results for you and your practice. Geovital works hand in hand with private doctors and alternative medicine practitioners, supporting your treatments, delivering the best possible solutions to your patients.
Train with Geovital with Sascha Hahnen
Join Geovital as a referrer, or train to become a Geovital Geobiologist. Ill-health from the low radiation emitted from technology products such as Mobile phones, WiFi, Baby Monitors etc. has massively increased over the last 10 years. Geovital carries out Home Radiation Assessments, giving tips how to simply reduce the radiation found in all our homes, and offers product solutions to block EMF out of the home.
Geovital is looking for people to train from England, Scotland, Ireland and Wales. No previous experience required. Full Home Environment Geobiology Training and the Geovital Methodology followed by ongoing support will be provided.
Many UK citizens know little or nothing of this subject. Start by visiting www.en.geovital.com and working with Geovital https://en.geovital.com/work-with-geovital/ and also our Facebook page www.facebook.com/geovitalacademyuk
You can also apply for a seat at one of our FREE introduction event day's  https://en.geovital.com/events-calendar/. Following this comprehensive and instructive day, you may decide to join Geovital, and come on one of our 4 days Geovital Geobiology courses to become part of our growing team of Geobiologists.
Start your enquiries today, join our ever growing team of consultants, making the home and workplace a healthier environment to live in. Help suffering EHS victims to recover, and help home buyers purchase a healthy dream home. Geovital, established in Austria 1983, is No.1 in EMF and Geopathic Stress shielding worldwide.
Recent Case Report:
Mrs x from Ascot had been sleeping in a shed in her garden, due to her pain and conditions from the EMF in her home. The Geovital consultant carried out a home EMF assessment, giving immediate tips and advice. EMF and Geopathic Stress shielding was undertaken and Mrs x is now happily sleeping back in her home. Follow this link to Radiation Symptoms Poster, and see some of the many conditions linked with EMF Radiation: www.facebook.com/geovitalacademyuk/photos/pcb.708386119317402/709268119229202/?type=3&theater
Further Information
Please contact Geovital on Tel: 0800 130 3309; uk@geovital.com ; https://en.geovital.com  https://en.geovital.com/event/uk-free-one-day-introduction-event/
The Kinesiometer for Bio-Resonance
The Kinesiometer, an innovative digital device based on a highly sensitive electronic sensor and a revolutionary software program, can be slotted into a majority of alternative medicine practices, including Body Talk, KST, acupuncture, chiropractic and the variations of kinesiology. This system works better than anything I've ever seen for 'bio-energetic' testing, because it sets up in advance a deliberate, precise system of recognisable signals the unconscious can use to communicate with you.
https://www.youtube.com/watch?v=XwQb36TGQG8
The Kinesiometer System consists of a guiding wizard software program and a small separate USB Interface with the Sensor Pad on it. This turns your computer into a powerful Radionics Device, managed by an on-screen Control Panel. Its system of flow charts will unerringly guide you to a correct analysis of the imbalances of any subject you are testing.
It's easy to learn...There's a computer "game" which trains you in the technique;
All signals are transmitted through your middle finger ( or index finger if you wish);
There's only a Yes or No answer at any time because it's a binary system;
What the YES or NO means at any particular time depends on the question and the guiding program;
The training program brings the beginner repetitively through the mechanics of the test process, registering Yes and No, mechanically and deliberately, and scoring the effort;
In a short time the brain and central nervous system goes on automatic, like driving your car.
There's no question of doing "medical diagnosis". And you avoid ethical and legal problems by operating strictly in the bio-energetic arena as a "complementary practitioner". All that's outside the computer is a sensor pad and a usb. In its simplest form you can just choose natural remedies for your client. Or you can learn how to do a complete analysis of the person, address the emotional blockages, check food or other allergies, nutritional supplements, vitamins and minerals , herbs etc.
Here's what you'll be able to do with the Kinesiometer and the Bio-Resonance system…
1. Test the exact Vitality level of the subject on a scale of 1 to 10;
2. Test the level of Nutritional Deficiency;
3. Test the overall level of Allergy or Sensitivity;
4. Test the level of Blockage on the Emotional level;
5. Check the health of the Chakras;
6. Test an unerringly correct homoeopathic or herbal or nutritional remedy for the subject.
This is a tried and tested  and valid system of alternative medicine, which can be practised by health professionals in any field as a main approach or an adjunctive method.
Further Information
Please contact Turner Clinic of Advanced Alternative Medicine at www.pekana.co.uk/kinesiometer/  
Acorns to Great Oaks – Meditations for Children
by Marie Delanote, illustrations by Jokaniesm. Music Ellen Verheyen
Published by Findhorn Press. June 2017. Paperback / CD. £9.99 / £9.99. ISBN 978-1-84409-721-0 / 978-1-84409-727-2. Distribution Deep Books
Why Every Primary School should have a Mindfulness-Room.
It is great news that nowadays doctors are prescribing meditation and mindfulness to patients presenting with anxiety, stress and depression,  but it would be better if taught to all children, equipping them for a healthy future, used as a preventative rather than a cure.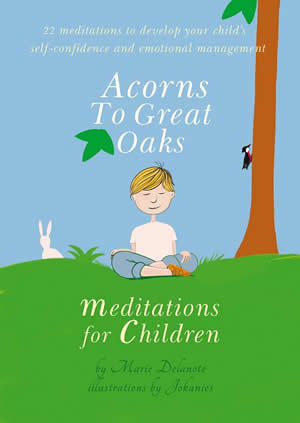 To relax and calm the mind involves learning two complementary skills. The first is to relax consciously. The second is 'thought control' - the skill of focusing and becoming able to voluntarily select, switch and abandon thoughts. Mindfulness is a great way to learn both; focusing on the body relaxes it, and the act of focusing calms the mind. Like learning a second (or third) language, this is easiest done as early as possible in childhood.
It is estimated that by 2026 in England £3 Billion will be spent every year to help people with depression.  Shouldn't we also work on prevention? Think about the effect that could have on shrinking that predicted £3 billion budget in the long term! Mental health problems are on the increase, and good mental health begins in infancy. Teaching a child coping mechanisms can have an enormous impact on their emotional wellbeing throughout the rest of their life. Through teaching children to meditate, we help our children to:
•   Boost their self-esteem; Sleep better;
•   Strengthen their immune system; Increase their attention span;
•   Handle stress better; Have better control over their emotions;
•   Increase their mental strength; Enhance creative thinking.
We teach our kids the importance of healthy diet and exercise -  let's now add number three and teach them about mindfulness. This is crucial education for our children and I feel should be part of the national curriculum. Good healthy food fuels our bodies to function optimally, exercise keeps our bodies supple, strong and fit, mindfulness reduces stress, recognized as the source of most illnesses.
About the Author
Marie Delanote, author of Acorns to Great Oaks – 22 meditations to develop your child's self-confidence and emotional management ( CD also available), has a Master's Degree in music, has worked as a teacher, and has long been a practising healer. Marie is also a mother; her first book, The Healing of the 1lb Baby published in Nov 2014, captured the attention of the media in the UK and USA. www.acornstogreatoaks.com  www.mariedelanote.com
Jokanies' illustrated the book Acorns to Great Oaks. His great love for music and drawing has always helped him in collecting and creating ideas, designing posters, book illustrations, animation characters and digital paintings.
Ellen Verheyen composed the music for the Acorns to Great Oaks CD. She is an award-winning composer chosen as the 'Cultural Children's Ambassador of Flanders' for her musical 'A New Me'.
Further Information
Available from Findhorn Press and Amazon
www.findhornpress.com/acorns-to-great-oaks  
www.amazon.co.uk/Acorns-Great-Oaks-Meditations-Children/dp/1844097218
www.amazon.com/Acorns-Great-Oaks-Meditations-Children/dp/1844097277 
New Website Identifies 12 Dangers of the British Countryside
A new website has been launched to educate the British public about the serious dangers the countryside contains, with twelve being highlighted for particular attention.
Enjoythecountryside.com sees two non-profit organisations, Caudwell LymeCo charity and Lyme Disease UK, collaborate to raise awareness and provide support to people who have suffered the bites of Britain's most dangerous arachnid, the tick. Ticks are nature's dirty needles, spreading devastating infections, including Lyme disease.
Speaking at the launch of the website, John Caudwell, Founder, Chairman and Trustee of Caudwell LymeCo said:
"I am proud that my charity is launching this new website and I hope it will help reduce the number of people catching Lyme and other tick borne diseases in Britain.  Every year, according to the NHS, two to three thousand people contract Lyme disease. That's a staggering 5-8 cases every single day. I hope Enjoythecountryside.com will help others enjoy our natural beauty spots safely."
The website offers vital information on how to recognize, avoid, and deal with bites, stings and encounters with the 'Dirty Dozen Dangers' in Britain. Advice ranges from how to avoid stepping on adders, to the safe removal of toxic hairy caterpillars. The website, Enjoythecountryside.com, features a 'Dirty Dozen' list of dangers, general information around the threats they pose and treatments. The full list includes:
Ticks;
Bees, wasps and hornets;
Horseflies;
Biting spiders;
Hairy caterpillars;
Adders;
Deer & Cows;
Stinging nettles;
Giant Hogweed;
Thorns;
Poisonous plants;
Parsnip plant
The CEO of Caudwell LymeCo, Veronica Hughes said:
"Our aim is to encourage people to go out into nature and enjoy all its beauty through walks, sports and healthy activities whilst raising awareness of how to stay safe. Few British people would know what to do if they got bitten by a tick, which can paralyse or cause encephalitis; how to help someone if a bee sting leads to anaphylactic shock; or how to placate stampeding cattle."
Future projects will see Enjoythecountryside.com develop activities and educational materials for schools and sporting organisations, online competitions and other community-building projects.
Further Information
For further information please visit Enjoythecountryside.com
nutrii Quark - The Healthiest Food You've Never Heard Of
Have you heard of quark before and if so do you know exactly what it is? If not you could be missing out on one of the healthiest protein packed snacks out there. Comparable in terms of taste and texture to a thick yoghurt, quark is made similarly from milk, but uses a different strain of good bacteria. The result is a tasty dairy product that is creamier and less acidic than Greek yoghurt or Skyr, but richer in high quality protein and lower in fat.
Particularly popular in Nordic countries, where quark foods take up most of the space on supermarket dairy shelves, it remains relatively unheard of in the UK. A new brand called nutrii, launched by two London based Nordic adventurers, hope to change this for the better with their exciting new quark snacking pot range…
Why include nutrii in your diet?
A quick scan through the nutritional information on the back of a nutrii pack makes you soon realise why it's the perfect snack for anyone living an active and healthy lifestyle. Each tub has less than 150 calories and over 20g of high quality protein. nutrii quark is virtually fat free and has no added sugar. The high quality protein will keep you full for longer and help you repair and recover after a tough workout or a gruelling day. Each tub is also packed with gut friendly probiotics to help you maintain a healthy digestive system.
nutrii are just as proud of what's not in their pots as what is. There's not an artificial colour, flavour or preservative in sight. The milk used is from non-intensive Dorset farms that uphold strict environmental policies. Perhaps most importantly nutrii tastes great and there's a flavour to please everyone - Raspberry, Mango & Passionfruit and Plain.
Ways to Enjoy nutrii
The easiest way to enjoy nutrii is to tuck into one of their delicious snack sized tubs after a gym session, hard morning in the office or busy day running around after the kids. nutrii also makes a great breakfast, which can be added to granola or topped with fruit and honey, to help keep hunger at bay until lunch. Get a little more adventurous by spreading it on toast as a cream cheese substitute, adding it to smoothies for a high protein boost or using it as a base for healthier sauces.
Further Information
The nutrii range (Raspberry, Mango & Passionfruit and Plain) launched in Sainsbury's stores in May, from £1.15 a tub. For more information visit www.eatnutrii.co.uk   @nutriiofficial
Tripping Over The Truth - How the Metabolic Theory of Cancer Is Overturning One of Medicine's Most Entrenched Paradigms
by Travis Christofferson, Foreword by Dr Dominic D'Agostino, PhD; Epilogue by the author
Published by Chelsea Green Publishing. 2017. Hard Back £18.99. ISBN 978-1-60358-729-7.
This ground-breaking book will challenge
everything we thought we knew about cancer
In the wake of the Cancer Genome Atlas project's failure to provide a legible roadmap to a cure, science writer Travis Christofferson illuminates a promising blend of old and new perspectives on the disease. In this newly updated edition of his book, Tripping Over the Truth, he takes readers on a compelling historical journey challenging the current paradigm that cancer is a genetic disease and uncovering its metabolic origins.
Christofferson also highlights the efforts of researchers and clinicians who are finding innovative ways around the glacially slow speed and titanic expense of traditional clinical trials, and studying the benefits of metabolic therapies in patients with promising results.
The topics Christofferson covers in the book or can talk about in an interview also include:
The history and evolution of present day cancer therapy that spans over the last 100 years;
How cancer became known as a genetic disease and why we need to change this paradigm;
What the metabolic theory of cancer is all about, and the profound impact it will have on cancer management and prevention;
A new integrative approach to patient care including nontoxic metabolic therapies such as the ketogenic diet;
Insights into the latest research that supports the effectiveness of treating cancer as a metabolic disease.
About the Author:
Travis Christofferson MSc received his undergraduate degree in molecular biology from the Montana State University Honours Program, and a Master's degree in material engineering and science from the South Dakota School of Mines and Technology. Today he's a full time science writer and founder of the cancer charity Single Cause, Single Cure. He lives in South Dakota, USA.  
Further Information
Available from Amazon
www.amazon.co.uk/Tripping-Over-Truth-Travis-Christofferson/dp/1603587292
www.amazon.com/Tripping-over-Truth-Overturning-Entrenched/dp/1603587292
Carun SOS Balm -  Organic Natural Rescue For Any Skin-Emergency
Carun's SOS balm harnesses the healing super-powers of Cannabis Sativa to rapidly relieve and revive stressed-out-skin. Spot outbreaks, cold-sores and chapped lips always strike at the worst possible times. Luckily, Carun SOS Balm speedily restores skin to full health and comes in a handy pocket-size to heal skin woes, on the go.
Made from the highest quality organic and vegan ingredients, Carun's Active Hemp products use the whole cannabis plant which makes them super rich in beneficial cannabinoids. The human body has cannabinoid receptors in every cell and a deficiency can cause a host of health and skin problems. Carun ingredients support the body's endocannabinoid system helping to restore skin to its' natural vitality. So whatever your skin-emergency, soothe and banish blemishes with this handy healing balm.
Can be Used to Treat:
Spot outbreaks;
Dry/chapped lips;
Cold sores;
Psoriasis;
Eczema;
Acne;
Sores;
Dry and irritated skin;
Ulcers;
Grazes & burns;
Insect bites.
Why It's Different:
Carun uses the whole Cannabis Sativa plant extract (rather than just hemp seed oil);
The CO2 cold extraction preserves the full spectrum of Cannabinoids and Terpenes;
Carun skin care products are naturally anti-bacterial, anti-inflammatory and non-allergic;
Carun's SOS Balm is enriched with Olive Oil and Shea Butter and also contains Lavender and Rosemary Oils;
Carun products can be used in conjunction with medicines, as they supplement and support the natural human endocannabinoid system;
Carun products contain no THC so are completely legal;
Further Information
Carun SOS Balm is available to buy for £11.99 from www.carun.uk To explore the complete Carun offering visit www.carun.uk/
Comments:
No Article Comments available
Post Your Comments: