Your Country
You may treat chronic pain or long term pain efficiently using physical therapy. You may rectify any injury to a large extent by using this method. It can help you move and feel better and help you gain strength in the long run. You will have to go for a series of visits to your therapist and also do some exercises for the best results. The therapists are experts to guide you appropriately as they know precisely how to deal with the situation. You can go for professional Guelph physiotherapy to experience skilled treatment.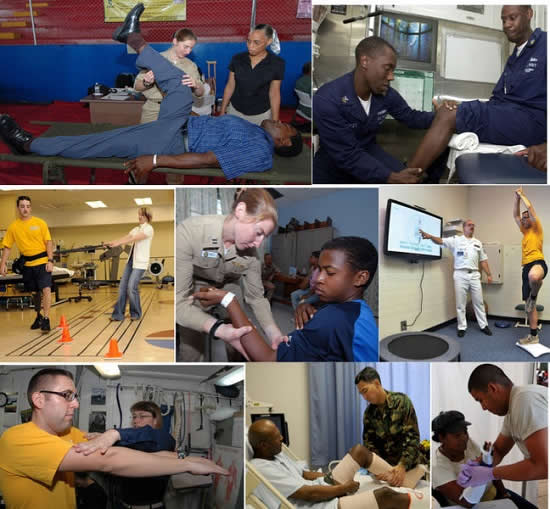 Physical Therapists at Work.  Courtesy: Wikipedia
https://en.wikipedia.org/wiki/File:Physical_Therapists_at_work.jpg
 How does Physiotherapy Work?
Low impact aerobics training: Workout will increase your heart rate and ensure good blood circulation, relieving joint pain. You might use a stationary bike or brisk walking to warm-up instead of running just before starting your strengthening exercise. The therapist will look for weak or stiff areas for adding stress to the specific site. They will focus on those areas and treat them with relevant exercises to ease the pain. It has emerged as a new tool in the hands of the therapists; 
Strengthening exercises:You may use a range of machines offered by the therapist'. You might use resistance bands, dumbbells and body weight for push-ups, squats, and lunges. They aim to work on your core muscles like belly, back, and glutes. It might help to release the tension in specific areas. It can increase blood circulation in the joints to ease out your pain. 
Pain relief exercise:The therapy targets the areas that are affected. It tries to include the activities that can release the pain of the site. Also, they are aimed at making you stronger and help you move quickly and without any help. Stretching is an essential exercise that is very popular for warm-up before activities; 
Heat and ice bags:During your session, your therapist might use heat and ice bags to calm inflammation. Heat also warms up your muscles and helps them to move better. Both heat and cold compressions help to resist pain;
Massage:Massaging an affected area may not feel relaxing. However, massage is an integral part of the therapy. The therapist will take good care not to cause any problem in the long run. Often massaging helps to increase the strength of a person to deal with the pain;
Ultrasound:Ultrasound targets to send sound waves to the area that are injured. They may relieve your pain by blocking the path to prevent sending messages to the brain. 
Physiotherapy is not something that will hurt. It is safe. But as you might use the treatment for the injured areas, it may be a bit challenging. It might require your therapist to take extra care while conducting the therapy. 
Each session has a specific target to achieve; plan it accordingly to ease out the pain. The therapist opts for tough training in the last phase when your body becomes fit to take them. Initially, they use soft approaches for the treatment of the area. Hence a proper plan is essential before treating a person.
Comments:
No Article Comments available
Post Your Comments: